Story highlights
Detroit doctor Jumana Nagarwala is accused of mutilating two girls' genitals
Dr. Fakhruddin Attar and his wife, Farida Attar, are accused of assisting her
In the first federal case involving female genital mutilation filed in the United States, two Michigan doctors and the wife of one of the doctors have been charged with performing the banned procedure on two 7-year-old girls.
Dr. Fakhruddin Attar, 53, and his wife, Farida Attar, 50, were arrested Friday at their medical office in Livonia, Michigan, west of Detroit.
They were charged with three federal criminal counts including conspiracy, female genital mutilation and aiding and abetting.
Detroit emergency room physician Jumana Nagarwala, 44, was arrested April 12 and is currently in jail awaiting trial after a federal judge deemed her a flight risk and a threat to the community.
The three defendants belong to a "religious and cultural community" that investigators allege practices female genital mutilation on young girls – a painful surgical procedure to remove part of the clitoris or clitoral hood to suppress female sexuality.
During a court hearing April 17, Nagarwala's defense attorney, Shannon Smith, told a judge the procedure did not involve cutting and was religious in nature, CNN affiliate WXYZ reported.
Smith argued the procedure is practiced by the Dawoodi Bohra, an Islamic sect based in India, and that the clinic was used to keep procedures sterile, WXYZ reported.
The Detroit Free Press reported from the hearing that Smith said her client removed membrane from the girls' genital area using a "scraper" as part of a religious practice. The girls' parents would then bury the membrane in the ground in accordance with their religious custom, Smith said, according to the Free Press account.
Clinic under surveillance
A 2012 US Centers for Disease Control and Prevention report found that roughly 513,000 women and girls in the United States were at risk of undergoing female genital mutilation, which was more than twice an earlier estimate based on 1990 data. The World Health Organization considers the procedure a violation of human rights of girls and women.
According to the complaint, the case against Nagarwala and the Attars dates to at least February, after the FBI had received information that the procedure was being performed at the clinic. Court documents do not indicate the source of the information.
Investigators were watching the clinic and saw the two girls and their mothers arrive at the Burhani Medical Clinic, which Attar owns.
Attar, his wife and Nagarwala were already inside.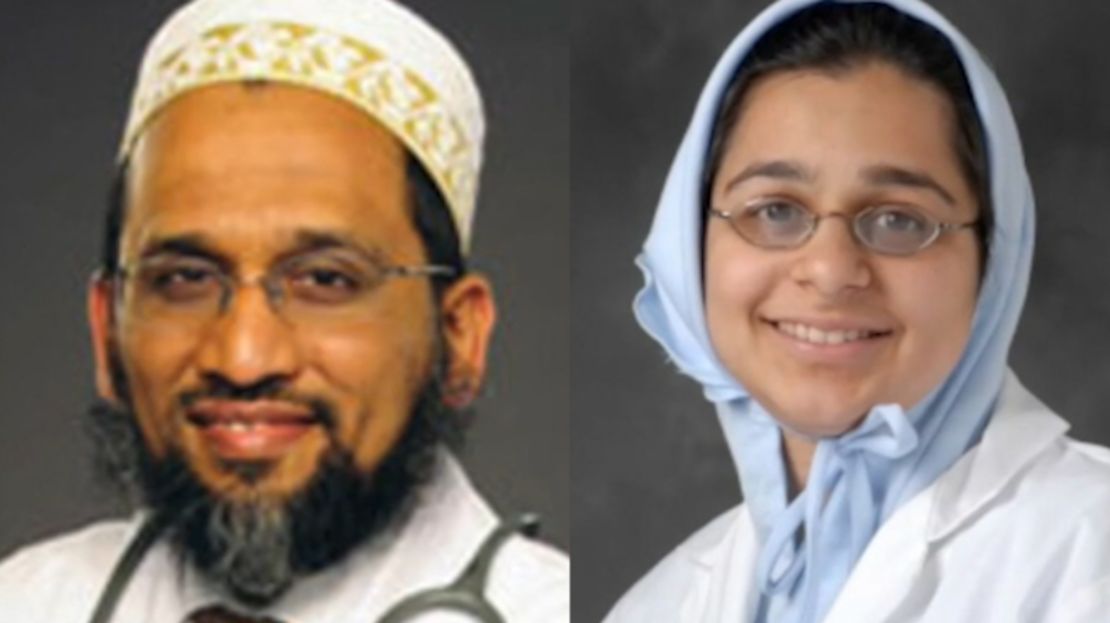 The girls, both from Minnesota, later told investigators their mothers said they were going to Detroit for "a special girls' trip," according to court documents.
According to those court documents:
One girl said they had gone to the doctor's office because their "tummies hurt" and the doctor had to "get the germs out." The second girl said that after the procedure, "she could barely walk, and that she felt pain all the way down to her ankle."
Both girls said their parents told them not to talk about the procedure. When investigators questioned the parents, one couple described the procedure as a "cleansing" of extra skin.
Investigators believe there are more young victims in Michigan.
Nagarwala is accused of performing the mutilation while the Attars allegedly assisted.
Attorney: Attar 'will be vindicated'
"Dr. Attar is not aware of any crimes that occurred at his clinic," Attar's defense attorney, Mary Chartier, told CNN. "He has confidence that he will be vindicated through the justice system because he has done nothing to violate the law."
Attar told investigators that Nagarwala used his clinic to treat girls between ages 6 and 9 for genital problems and that Nagarwala didn't charge for her services. Attar said his wife was present during the examinations to "comfort" the girls and "hold their hands," according to court documents.
Attar said Nagarwala saw patients in his clinic five to six times a year.
"Dr. Attar voluntarily spoke with the FBI without an attorney," said Chartier. "He has no criminal history. He knew his colleague had been arrested, yet he continued to live in his home and work at his clinic serving his patients. He certainly did not try to flee. He is a respected and trusted community member."
The Attars had an initial appearance on Friday.
"The court did not ask for a plea at the initial appearance, but Dr. Attar is pleading not guilty and will be vigorously defending against these charges," said Chartier.
Farida Attar's attorney, Matt Newburg, told CNN his "client has not admitted guilt."
He said she has not entered a plea, "but we look forward to defending the case against her."
Mosque says it's assisting investigators
The Detroit News reported that members of the Dawoodi Bohra sect in the area where the defendants live and work belong to the Anjuman-e-Najmi mosque, the only Dawoodi Bohra mosque in Michigan.
Leaders of the mosque released a statement Friday saying they are offering assistance to investigators, according to the News.
"Any violation of US law is counter to instructions to our community members," the statement said.
"It is an important rule of the Dawoodi Bohras that we respect the laws of the land, wherever we live," the statement continued. "This is precisely what we have done for several generations in America. We remind our members regularly of their obligations."
CNN's calls to Nagarwala's attorney and the mosque were not returned. It was not clear Saturday whether Nagarwala has entered a plea.
Nagarwala, who has four children of her own, has no prior criminal history, according to court documents.
She has been charged with female genital mutilation, transportation with intent to engage in criminal sexual activity and conspiracy, and making a false statement to a federal officer.
Nagarwala's employer, the Henry Ford Health System, told CNN in a statement, "the alleged criminal activity did not occur at any Henry Ford facility. We would never support or condone anything related to this practice. The doctor was immediately placed on administrative leave and her clinical privileges have been suspended."
A detention hearing for the Attars is scheduled for Wednesday at 1 p.m. ET.
A preliminary court examination for Nagarwala is scheduled for Thursday at 1 p.m. ET.
No charges have been filed against the parents of the girls.
The FBI has a tip line for victims of female genital mutilation, or anyone who might suspect such activity. They can call 800-CALL-FBI (225-5984) or submit a tip via FBI.GOV/FGM.
CNN's Laura Jarrett and Mary Kay Mallonee contributed to this report.