Story highlights
Macron, 39, married his former teacher, who is 25 years older than him
The French generally don't care, and some think the relationship helps Macron
It's an improbable love story that, in some countries, would violate social norms.
A teenage student falls in love with his high school teacher and vows to marry her. Eventually, he does.
That's the story of the couple who could become France's next president and first lady.
Emmanuel Macron's victory in the first round of the French election has sparked global interest in Brigitte Trogneux, the frontrunner's wife and former teacher.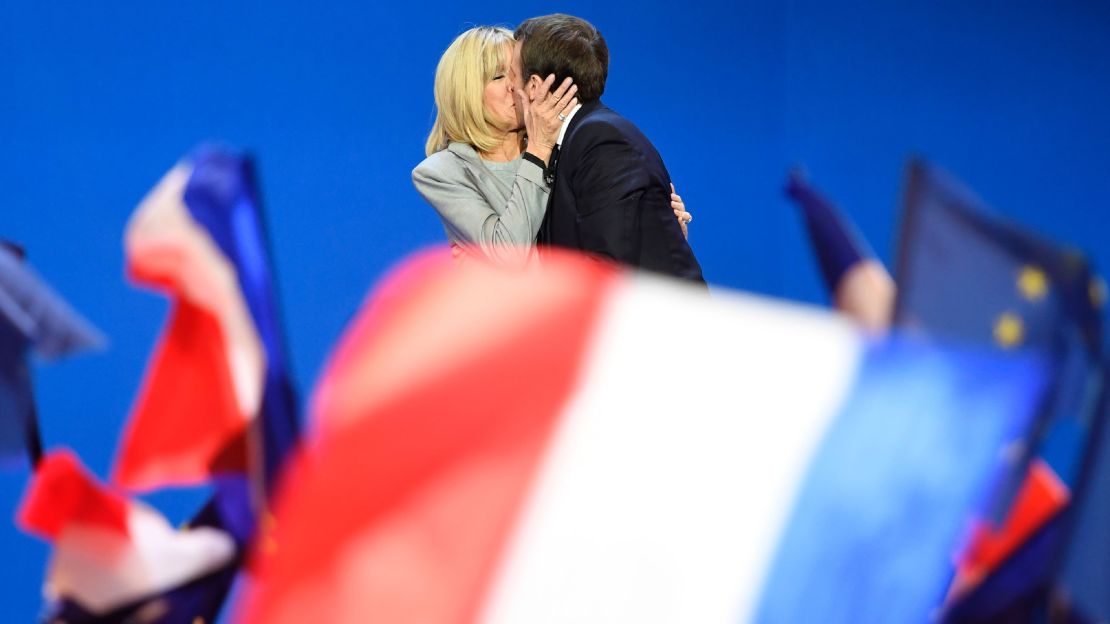 Here's the story of their relationship – and why it's actually helping Macron's image in France.
The controversial romance
Macron, now 39, met Trogneux, now 64, when he was in high school in the northern French city of Amiens. By the time he was 17, he said he would marry her.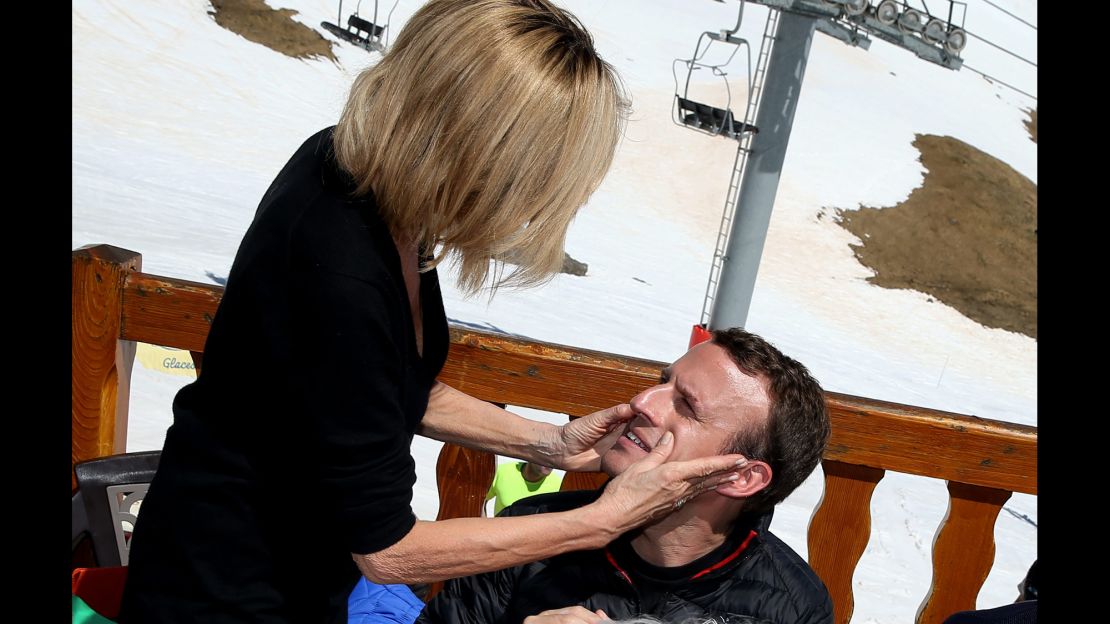 But Macron's parents didn't approve of their son's romance with the teacher, who was married and had three children at the time. His father told Trogneux to back off until his son was at least 18, Reuters reported, citing a new book on the candidate.
"I cannot promise you anything," Trogneux tearfully replied, according to the book "Emmanuel Macron: A perfect young man" by Anne Fulda.
It's not clear when a serious romance began between the two.
"Nobody will ever know at what moment our story became a love story. That belongs to us. That is our secret," she was quoted as saying.
Macron eventually married his longtime love in 2007, after Trogneux was divorced. He was 29 at the time; she was 54.
But he made sure to get the blessing of Trogneux's three adult children first.
"When he decided to marry my mother, because he told her he would marry her, he came to see us and told us that he wanted to marry our mother," Trogneux's daughter Tiphaine Auzière told BFMTV.
"It was a strong act because not everybody would have taken this precaution and had asked us before. He made sure to know if it would be something that her children would accept."
But Philippe Besson, a friend of the couple, acknowledged that not everyone was so accepting of their relationship.
"They both had to face hostile looks, even the reluctance of their respective families and also the view of our society about the age difference," Besson told BFMTV. "Especially when the woman is older, (it's) always suspicious."
Why France doesn't really care
While such a relationship could affect campaigns in other countries, most people in France aren't really blinking.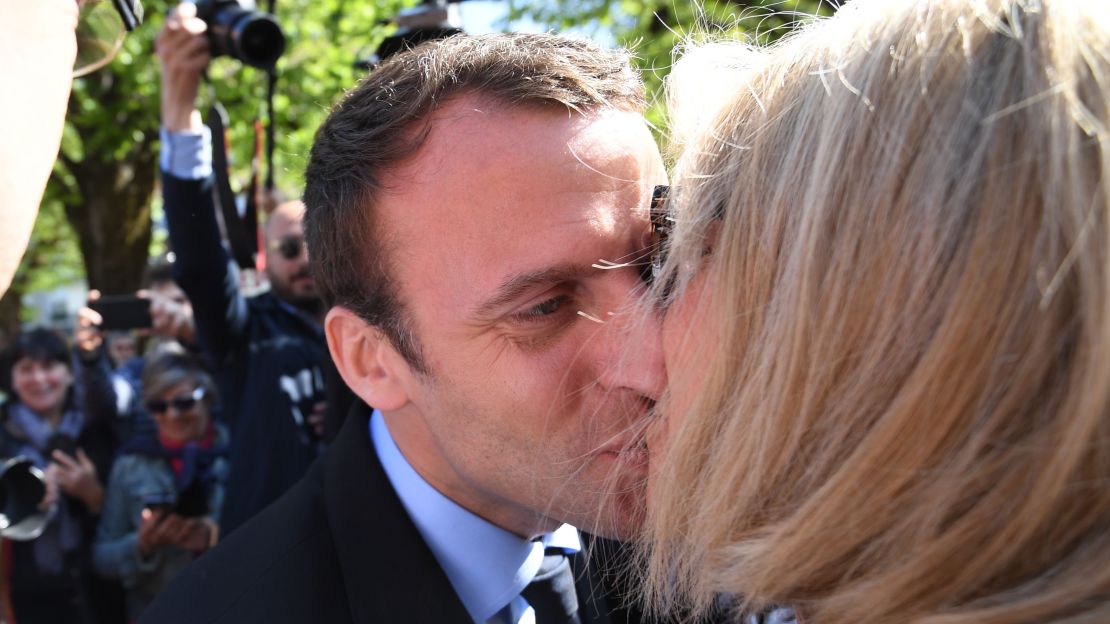 "Basically it's a non-issue," CNN Paris correspondent Jim Bittermann said. "You have to ask yourself why Americans make such a big deal about it. Does it affect the way they govern?"
In France, what some would consider "scandals" are common in politicians' personal lives. President François Hollande has been spotted riding a moped back and forth from his mistress' apartment.
Former President Jacques Chirac reportedly spoke openly about his affairs, and former President François Mitterrand had children with his mistress.
Bittermann said he suspects the 25-year age difference between Macron and Trogneux – and the fact that the woman is the much older one – is what's really raising some eyebrows.
"I suppose there might be laws in the US involving statutory rape as a minor, but they weren't carrying on as a couple when Macron was a student and she was his teacher," Bittermann said. "That's just where they met."
To put things in perspective, US President Donald Trump is 24 years older than Melania Trump – who's also his third wife. But few people are making a fuss about their relationship.
And while Macron and Trogneux have certainly garnered headlines in French tabloids, many of the stories are simply curious in nature – not critical.
"I think she's been pretty well accepted," Bittermann said. "The issue has not been raised at all. It's not like it's an issue that people would vote on… It's not like a secret."
If anything, Macron's relationship with his wife may be helping his political profile, Bittermann said. One friend of the couple told him Trogneux has a calming effect on the novice candidate.
"In a way, having her around gives him an air of more maturity."
CNN's Melissa Bell and Nick Thompson contributed to this report.