The world is anxiously waiting for North Korea's sixth nuclear test.
More than a month after US and South Korean officials publicly declared North Korea was ready to set off a nuclear bomb and almost two weeks since analysts said North Korea's only nuclear test site, Punggye-ri, was "primed and ready," no detonation has happened.
With every nuclear or missile test, North Korea gets closer to its stated goal of developing a nuclear weapon that can be mounted on a missile capable of reaching the United States.
So what's with the delay?
"I think it's safe to say that they will conduct a sixth nuclear test at some point," Jean Lee, a global fellow at Wilson Center and a lecturer on North Korean studies, told CNN. "But they do calibrate the timing very carefully and are really taking a number of factors into consideration."
A US official told CNN Tuesday that the military had observed significant activity at North Korea's Punggye-ri nuclear testing site, with a new digging effort at the tunnel entrance. The official said that this activity suggests a nuclear test is not imminent.
US warships sent to Korea: What to know
The pattern
Domestic affairs and geopolitics are carefully considered when the secretive communist state conducts these tests. They're used for technical and political purposes, trumpeting the regime's strength and sending messages of defiance to North Koreans and adversaries abroad.
Tests often come in somewhat predictable cycles, says Lee, timed to capitalize on geopolitics or fall near holidays to take advantage of nationalist fervor.
Most recently, North Korea conducted a failed missile launch on April 16, the day after the Day of the Sun, the country's most important holiday. The first missile test after US President Donald Trump's inauguration came when he was meeting with Japanese Prime Minister Shinzo Abe in February.
There had been some speculation that North Korea would use the 85th anniversary of the founding of the army, which fell on Tuesday and is a significant date on the country's calendar, to conduct a missile or nuclear test. In the event, the country conducted large-scale artillery drills.
The June 25 anniversary of the Korean War could be options for Pyongyang's next nuclear test, analysts say.
"With these important dates on the North Korean state calendar, they can dial them up and dial them down as they want to," said John Delury, an associate professor at the Yonsei University Graduate School of International Studies in Seoul.
The problem with reading too much into this pattern is Pyongyang can recognize if the world is following along and react accordingly.
"If these dates are driving the positioning of the (USS) Carl Vinson, the obvious problem is the Vinson can leave and the North Koreans can do a nuclear test the week after that," Delury said. "They don't have to do these tests pegged to any particular date."
Assessing the North Korean threat
The long game
Some predicted the sixth nuclear test would come on or around the Day of the Sun, the anniversary of the birth of the country's founding father, Kim Il Sung.
But the holiday came and went without one.
There's been some movement at Punggye-ri, including what could've been some volleyball games.
This could be part of a long game.
By getting the nuclear site ready and then holding off on a test, North Korea keeps the world on pins and needles, analysts say.
"Part of what they want to do is get on the radars of Donald Trump and world leaders. And they have done that," said Lee.
Pyongyang's ultimate goal is clear: obtain a nuclear weapon that can reach the United States.
Being ambiguous about their immediate intentions and capabilities gives them an advantage when dealing with adversaries, as no one outside of Kim Jong Un's inner circle can say with absolute certainty what North Korea can, can't or will do.
They've already got it
Michael Hayden, the former head of the CIA, has predicted that North Korea will probably be able to hit Seattle with a nuclear weapon aboard an indigenously produced intercontinental ballistic missile.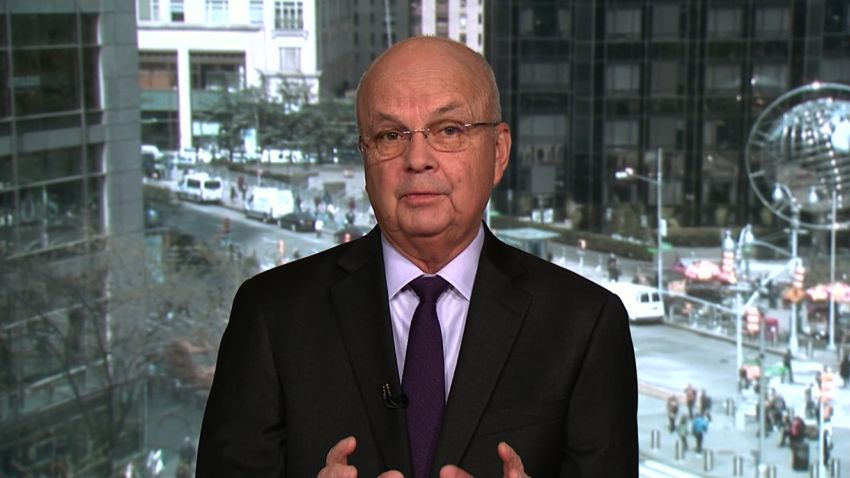 Hayden: North Korea may reach US with weapon
North Korea says it's already halfway there.
A series of photos released in March 2016 showed Kim inspecting what the North Koreans claimed was a miniaturized nuclear weapon.
Analysts call it the disco ball, and its reveal led to a flurry of speculation about the purported weapon itself and North Korea's nuclear capabilities as a whole.
Pyongyang said after its fifth nuclear test in September that it detonated a miniaturized nuclear warhead that could be mounted on a missile, though analysts say the claim is nearly impossible to verify.
Developing working intercontinental ballistic missiles would be the next step for the rogue state to legitimately threaten the mainland US with those nuclear warheads.
Tong Zhao, a Beijing-based fellow at the Carnegie-Tsinghua Center for Global Policy's Nuclear Policy Program, says that after five tests North Korea likely has the capability to shrink a nuclear weapon that fits atop a missile.
More tests are just a way to increase a warhead's yield, or destructive power – and aren't vital to their end goal.
"Having a bigger yield doesn't add too much onto its existing nuclear deterrent capabilities," Zhao said.
"That means they can afford postponing or even canceling additional (nuclear) tests and therefore they could use them as potential leverage, as a potential bargaining chip or even something they can offer to give up as a good gesture in case the Trump administration is interested in engagement."
Global pressure working?
Pressure from China and the United States could be a factor, though experts caution it's hard to tell, as North Korea often reacts to international pressure and punitive measures with defiance.
China, North Korea's most important backer and economic lifeline, appears to be getting fed up with the destabilizing behavior from its neighbor. If Beijing were to hit Pyongyang with stringent measures like stopping oil exports, the North Korean economy could flatline, experts say.
On the US side, President Trump and his administration say that "all options are on the table," including military action.
It's also moving military assets to the region – including the USS Carl Vinson Navy strike group, though there was some confusion about the timetable, and one of its most powerful submarines – in what analysts say is a show of force.
U.S. Navy's submarine fleet
If North Korea believes Trump is serious about putting a military option on the table, that looming threat could push Kim to the negotiating table as it did his grandfather, former US Secretary of Defense William J. Perry told CNN's Christiane Amanpour.
In 1994, Kim Il Sung, the then-President of North Korea, "believed that the United States was prepared to take military action, and that played a big role, I think, in his calculus," he said.
"Today, I think it's probably true that the present North Korean President believes it's possible the United States is prepared to take military action," Perry said. "Paradoxically, the dangerous situation we're in right now has created the environment in which diplomacy actually might be successful."
Inside North Korea on Army Day
CNN's Ryan Browne contributed to this report.