Story highlights
North Korea official says sixth nuclear test will take place
NEW: Top US Cabinet members stress sanctions, diplomatic pressure
Pyongyang, North Korea
CNN
—
A North Korean government official in a rare interview promised his country's nuclear tests would "never stop" as long as the US continued what they viewed as "acts of aggression."
Speaking to CNN Wednesday, Sok Chol Won wouldn't confirm when the country's long-anticipated sixth nuclear test would take place but said it wouldn't be influenced by outside events.
"The nuclear test is an important part of our continued efforts to strengthen our nuclear forces," he said.
"As long as America continues its hostile acts of aggression, we will never stop nuclear and missile tests."
Sok's official title is director of North Korea's Institute of Human Rights at the Academy of Social Sciences, but he was authorized to comment to CNN on all matters.
His comments came as top US Cabinet members put a stress on economic sanctions and diplomatic pressure to rein in North Korea, calling for a return to dialogue after a Senate briefing on the threat posed by Pyongyang's nuclear and missile program.
The calmer tone came in contrast to US President Donald Trump's tough rhetoric toward North Korea earlier this week.
N. Korea holds large-scale artillery drill
Tense times
Another nuclear test could further inflame an already tense situation on the Korean Peninsula, at a time when the Trump administration is moving large amounts of military hardware to the region.
The USS Vinson aircraft carrier is currently on its way to the peninsula, while a nuclear-powered submarine, USS Michigan, arrived in a South Korean port on Tuesday.
And the THAAD anti-missile system designed to mitigate the threat of North Korea's missiles will be operational "in the coming days," the top US commander in the Pacific said.
Sok said Tuesday's massive artillery drill, held on the 85th anniversary of North Korea's army, was a warning to the US President.
"This exercise is a direct response to acts of aggression by the United States," he said.
But despite the dramatic drills and the deployment of military assets, analysts said that outright conflict between North Korea and the US and its regional allies was unlikely.
"We are in a phony war phase," Euan Graham, director of the International Security Program at Sydney's Lowy Institute, wrote for CNN.
"If there's an underlying motive to Washington's increased belligerence … it is to get the Chinese sufficiently rattled that they become serious about sanctions beyond tokenistic enforcement."
Trump has repeatedly called on China, North Korea's only real ally and main economic benefactor, to do more to bring its neighbor into line.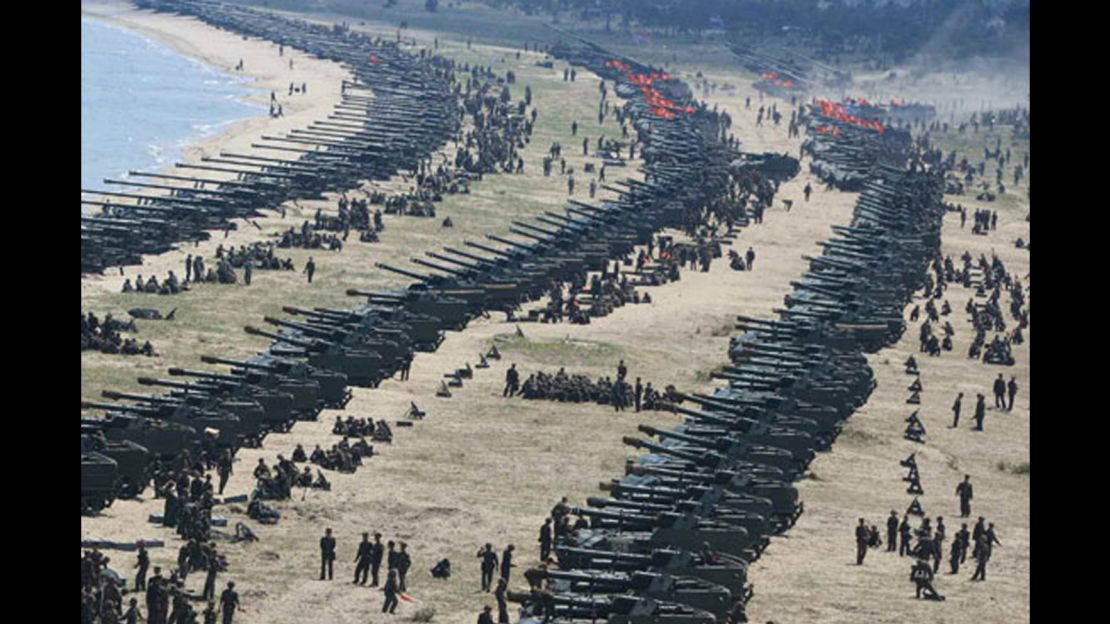 US calls for tighter sanctions, diplomatic pressure
The entire US Senate was briefed on North Korea in an unusual meeting at the White House Wednesday.
Some senators who attended the briefing said they were unimpressed with the lack of new information given the increasingly tense situation on the Korean Peninsula.
"We learned nothing you couldn't read in the newspaper," said Senator Jeff Merkley, an Oregon Democrat.
A joint statement released after the briefing said the US was focused on stability and the peaceful denuclearization of the Korean Peninsula.
"We remain open to negotiations towards that goal. However, we remain prepared to defend ourselves and our allies," the statement by Secretary of State Rex Tillerson, Secretary of Defense James Mattis and Director of National Intelligence Dan Coats said.
Reports of human rights abuse 'fiction'
When asked about the three US citizens currently held in North Korean custody, including Kim Sang Duk who was arrested on Saturday, Sok only said they were being kept in the same conditions as other prisoners.
He strongly denied statements made by defectors of brutal North Korean prison camps, where up to 120,000 men, women and children are believed to be held.
"Those people (defectors) are criminals who ran away, they're paid to lie and encouraged by the US and their followers," he said.
"The UN wants to politicize the human rights issue, use it to interfere with our internal affairs. Their reports are nothing but fiction."
Sok said human rights meant defending North Korea and its supreme leader Kim Jong Un, even if it meant nuclear war.