Story highlights
Pope, Grand Imam meet, speak at conference
Pope Francis meets with the Coptic Pope
Pope Francis, speaking at the heart of Sunni Islam scholarship, stressed the importance of unity between Muslims and Christians to shape world peace and emphasized the "incompatibility of violence and faith."
"Let us say once more a firm and clear 'No!' to every form of violence, vengeance and hatred carried out in the name of religion or in the name of God," the Pope said in Italian in a speech at a peace conference at Al-Azhar University, the premier seat of high learning among Sunni Muslims.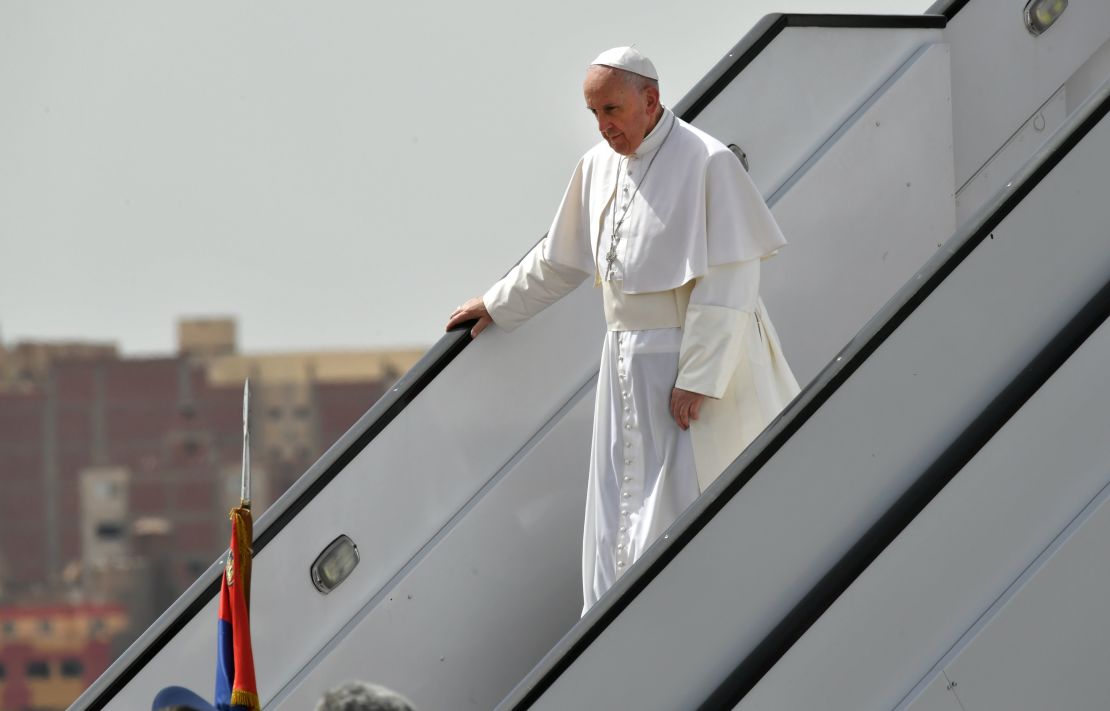 The Pope arrived in Egypt on Friday, kicking off a two-day trip designed to forge Muslim-Christian brotherhood and show solidarity with the country's persecuted Coptic Christian minority.
Francis met with Sheikh Ahmed el-Tayeb and became the first pontiff to visit the institution since Pope John Paul II in 2000.
The Pope and the Grand Imam spoke at the closing of the International Conference for Peace, organized by Al-Azhar. When he greeted the Grand Imam, the Pope called him "my brother." The men sat side by side at the conference.
The roots of extremism
The Pope's visit comes nearly two weeks after the Palm Sunday bombing of two Coptic churches, brazen strikes that left at least 45 people dead. He addressed a familiar theme: the roots of violent extremism.
Francis opened his speech with "As-Salaam Alaikum," the traditional Muslim greeting in Arabic that means "Peace be upon you," after the imam's address.
"In order to prevent conflicts and build peace, it is essential that we spare no effort in eliminating situations of poverty and exploitation where extremism more easily takes root, and in blocking the flow of money and weapons destined to those who provoke violence," he said.
Francis called for an end to the "proliferation of arms" and lambasted "demagogic forms of populism."
"If they are produced and so