Story highlights
Police left Los Angeles' Koreatown to burn during the 1992 riots
Some Korean-Americans say riots made them realize importance of political power
Chang Lee gripped his fingers tighter around the gun and screamed at potential looters from the rooftop of the small strip mall where he stood. The 35-year-old had never held a firearm before the LA riots. Lighting up the blocks around him, Lee could smell the fires burning in Los Angeles' Koreatown.
"Where are the police? Where are the police?" Lee whispered over and over from his rooftop perch. Lee would not see law enforcement for three days – only fellow Korean-Americans, who would be photographed by news agencies looking like armed militia in what appeared to be a guerrilla race war on the streets.
It was April 30, 1992, and the city of angels raged in a second day of looting, armed assaults and arson in the wake of the acquittal of four white LAPD officers for use of excessive force in the videotaped beating of Rodney King.
The nearly weeklong, widespread rioting killed more than 50 people, injured more than 1,000 people and caused approximately $1 billion in damage, about half of which was sustained by Korean-owned businesses. Long-simmering cultural clashes between immigrant Korean business owners and predominately African-American customers spilled over with the acquittals.
The Rodney King verdict and the ensuing riots are often framed as a turning point for law enforcement and the African-American community. But it's also the single most significant modern event for Korean-Americans, says Edward Taehan Chang, professor of ethnic studies and founding director of the Young Oak Kim Center for Korean American Studies at the University of California, Riverside.
"Despite the fact that Korean-American merchants were victimized, no one in the mainstream cared because of our lack of visibility and political power," Chang said. "Korean immigrants, many who arrived in the late 1970s and early 80s, learned economic success alone will not guarantee their place in America. What was an immigrant Korean identity began to shift. The Korean-American identity was born."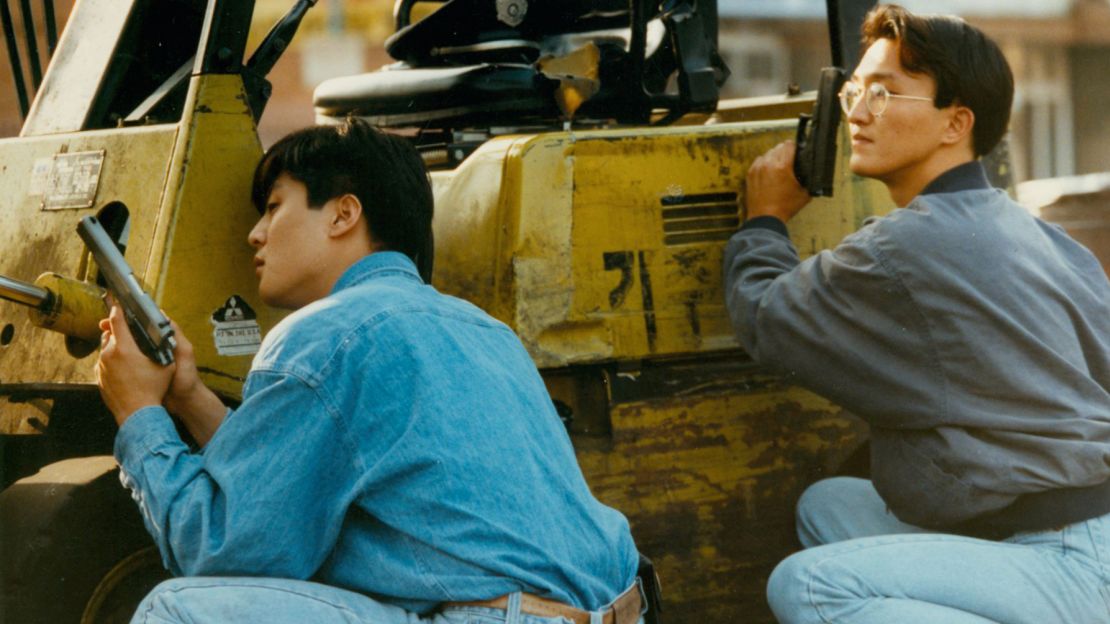 The 25th anniversary of the LA riots falls on the same day as Trump's 100th day in office – and for the Korean-Americans CNN interviewed, the coincidence is significant.
"Twenty-five years ago, we learned a lesson in what the lack of political power and cultural misunderstandings between minority groups can do," Lee said.
"It can destroy us."
Asian immigrants, once a conservative bloc, have steadily moved to the center and left of the political spectrum, especially as their US-born children identify with more liberal beliefs. Exit poll data show that since 1992, Asian-Americans have steadily moved further away from the Republican Party, shifting to the Democrats and independents.
In 2016, exit polls showed Asian-Americans broke 65% for Clinton to 27% for Trump. As the country's fastest-growing immigrant group, the trends don't bode well for the GOP, who lagged behind the Democrats in Asian-American engagement in 2016.
"What I'm hearing from Trump and the rise in hate crimes in this country is scaring me," Lee said. "Los Angeles had this painful past. Now it's time for minority ethnic groups to talk to each other, stay bound together, understand and support each other."
'They left us to burn'
Lee was the only son in his family, so as the riots spread into Koreatown, the duty of protecting his parents' business fell on him. Lee left his own gas station unprotected.
In the middle of those three chaotic nights, Lee recalled watching the local news on a portable TV on the rooftop.
"I watched a gas station on fire, and I thought, boy, that place looks familiar," he said. "Soon, the realization hit me. As I was protecting my parents' shopping mall, I was watching my own gas station burn down on TV."
That he ended up on a rooftop with a borrowed gun was never in Lee's life plan. He had quit his job as an engineer at an aerospace company to pursue what he hoped would be life as an independent businessman, opening up three businesses in Koreatown.
"I truly thought I was a part of mainstream society," said Lee, who immigrated with his family to the United States as a child. "Nothing in my life indicated I was a secondary citizen until the LA riots. The LAPD powers that be decided to protect the 'haves' and the Korean community did not have any political voice or power. They left us to burn."
'We were trapped'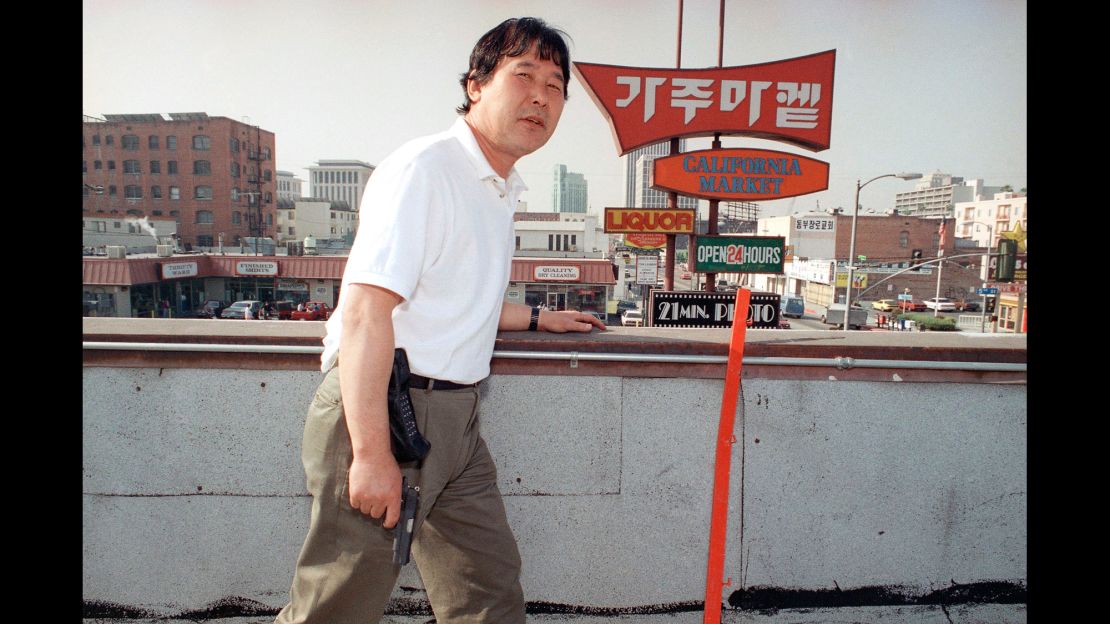 Andy Yoo was confused. He stood on his apartment balcony, watching men his father's age pace in front of the California Supermarket with long guns. To the seventh-grader, they looked like action figures in the war movies he'd seen. The boy thought, this must be war. Born and bred in Los Angeles, Yoo just didn't understand who was fighting whom.
Yoo's mother told him to get back inside. But his childhood curiosity kept getting the better of him, as he peeked out at the gunmen and the chaos outside the supermarket. He wanted to know how Koreatown in America could be equivalent to a war zone, with no police coming to help families like his.
The image of the gunmen on that supermarket rooftop would become the iconic, and enduring, picture of the LA riots.
Yoo's balcony, his family's car and the streets were covered in soot, as ash rained down from the fires across Koreatown. He also remembers police lining Crenshaw Avenue, cutting off access to the west side of Los Angeles.
"It was containment," said Yoo, now a lawyer who works in Koreatown. "The police cut off traffic out of Koreatown, while we were trapped on the other side without help. Those roads are a gateway to a richer neighborhood. It can't be denied."
A shifting political bloc
That single childhood realization, the separation of Yoo's community from the richer, white neighborhoods with a police barrier, drove Yoo to become a lawyer.
"I realized I needed to learn the law, learn the rules of this society. If you're going to play the game you need to learn the rules and be a part of this system. What happened to us as children led to a political awakening in young Korean-Americans. We would help our parents as the American-born children of immigrants and not let what happened to them happen again."
At the time of the riots, many businesses in low-income, majority-black neighborhoods like South Central were owned by Korean immigrants, who were able to purchase them for low prices from white owners who were leaving the neighborhood.
Tensions between the two groups came to a head on March 16, 1991, when Soon Ja Du, a Korean store owner, fatally shot Latasha Harlins, a 15-year-old African-American girl. Du accused Latasha of trying to steal a bottle of orange juice. The girl threw the juice on the counter and began walking away when Du shot her in the head. That incident, along with the acquittal of the officers who beat Rodney King, contributed to the anger that exploded on April 29, 1992.
In the wake of the riots, the nonprofit Korean American Coalition formed the Alternative Dispute Resolution Center to mend cultural tensions and resolve anger between the communities, Yoo said.
Today, the KAC center works with the diverse ethnic populations of Los Angeles County.
"We, the black and Korean communities, were pitted against each other without understanding each other. We have to engage each other. I learned that the powers that be will try to divide and conquer. This is why I'm engaged politically and why I'm a liberal," Yoo said.
A race 25 years in the making
Robert Lee Ahn wasn't sure he would ever see his father again. In 1992 the high school student lived in West LA, but his family's business was based in Koreatown. Ahn's father owned a real estate business in a strip mall and he had gathered with the tenants to protect their businesses as the riots spread. He watched the unfolding chaos on television, wondering why the police would leave his father alone as Koreatown burned.
Ahn saw his father on the second or third night, he recalled. "The community felt abandoned by law enforcement," said Ahn, adding that the tenants managed to protect the strip mall from being set on fire. "They were deemed expendable. The reason was simple: a lack of political voice and political power."
Ahn, 41, a former LA city planning commissioner, is now a candidate in the runoff race for the 34th congressional district seat, which includes Koreatown.
"That's why I think my race is so important, because it's the culmination of 25 years in the making," he said.
Xavier Becerra vacated the seat to become California's attorney general. In the primary with a field of more than 20 candidates, a strong Korean-American vote buoyed Ahn into the runoff where he'll face state Assemblyman Jimmy Gomez, a fellow Democrat. Gomez captured the most votes in the primary and has higher name recognition. But if Ahn manages to win, he'll be the country's first Democratic Korean-American congressman.
Ahn is clear that while his political ambitions may have originated from those days when he was a teenager, what propels him in his campaign now is trying to bridge minority groups and extend their political reach. Ahn points out that Koreatown today, a thriving economic engine for the city of LA, is home to more Latinos than Koreans or African-Americans. Ahn also doesn't mince words about President Trump's first 100 days in office, which he called divisive and frightening.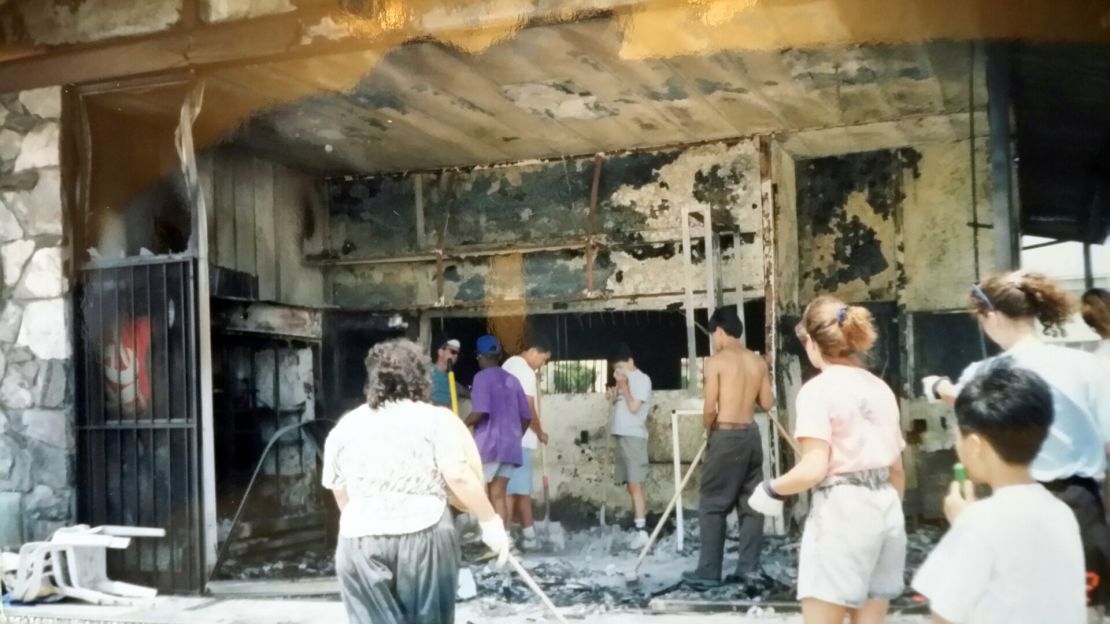 Latinos, African-Americans and Korean-Americans have "a lot more in common than differences," Ahn said. "In the midst of this Washington chaos and uncertainty, I see an opportunity to coalition build and really improve the district."
In Ahn's congressional race, UCR Professor Chang sees the progression of Korean-American engagement, although he says, "we have a long way to go." Only one Korean-American is in California statewide office and if Ahn loses, Congress will remain at zero representation for the community.
Twenty-five years after Lee's gas station burned down, he is once again a businessman in Koreatown. He has since served as an LA-area planning commissioner, and calls members of the Latino and African-American communities his friends and colleagues.
Lee believes he managed to come back from the ashes because of one act by the community, a day after the fire that destroyed his business. Lee remembers that for some reason, perhaps out of shock, he began to pointlessly sweep the debris around the shell of the gas station.
"One by one," said Lee, "neighbors came out to help. They were black, Korean, and Latino. 30 people. They gave me hope. They are my community. And it's time again to stay bound together these next four years."