Families carry white flags and sob as they escape from their homes.
A car bomb explodes. Then another. The rotting bodies of ISIS soldiers, abandoned by their units, contaminate the streets.
Children walking through the rubble of what was once their home don't flinch. To them, this is the new normal.
These are scenes from western Mosul as Iraqi forces wage a street-to-street battle to retake the city from ISIS, which the group has controlled for almost three years.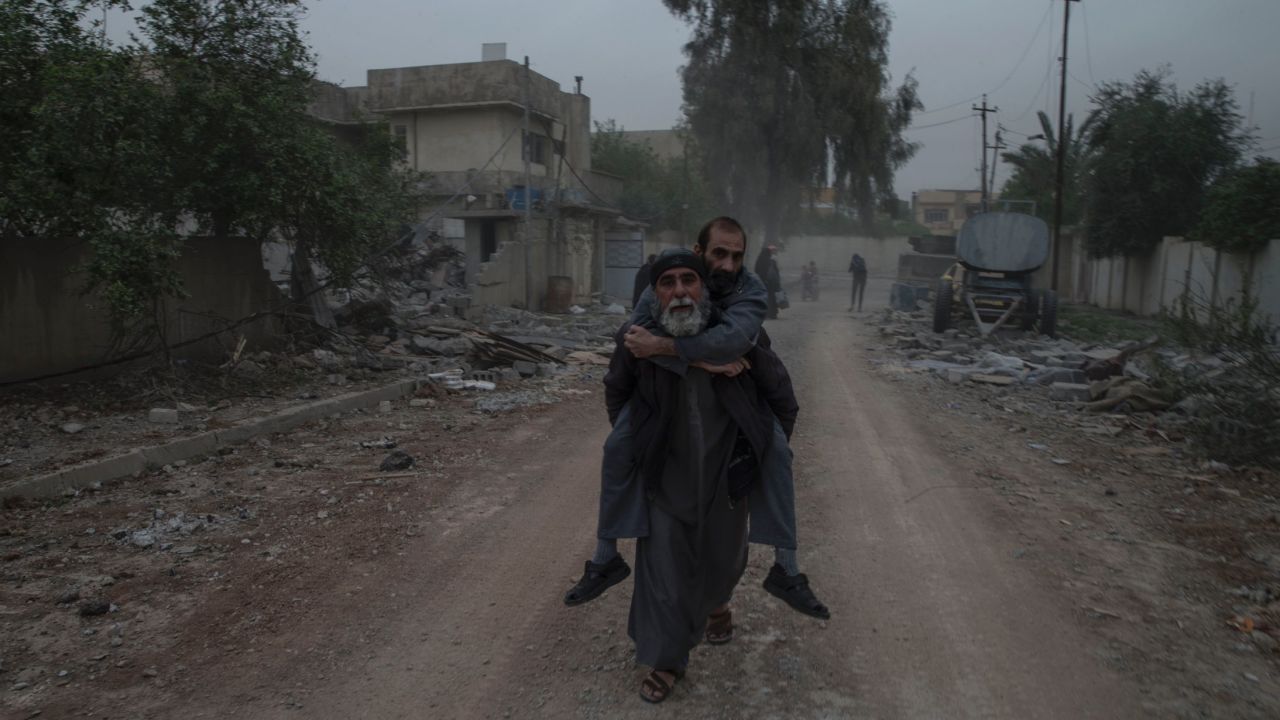 Equipped with a drone and a camera, Brazilian photojournalist Gabriel Chaim spent 20 days embedded with Iraq's Golden Division, capturing harrowing footage of the destruction and the chaos there.
Chaim followed special forces as they moved through the city's narrow, winding streets, searching for signs of ISIS. The unit is the first to clear homes where the militants live among a marooned civilian population.
In the raids, Chaim saw how ISIS fighters navigated through bombed out parts of homes to move around the city unseen, using a labyrinth of destroyed houses in a frightening game of cat and mouse with anti-terrorism units.
Chaim told CNN he had to conceal himself and his equipment to capture some of the scenes from the air, masking the drone's GPS coordinates and data to avoid being tracked.
"When you are flying in the Daesh (ISIS) area you never want to capture yourself – if they get this drone they could get all your information and position," he told CNN.
"The drone provided me with a different perspective of the war," he said. "It is impossible to get that view of the severe destruction and civilians fleeing from a traditional camera."
Chaim, whose work has taken him to Syria and the Palestinian territories, said the sheer number of civilians caught in the crossfire in Mosul surprised him.
"In Aleppo I have seen civilians in a war zone, but not with heavy armored vehicular tanks and heavy clashes that were fought in the middle of them… it was mostly airstrikes," he said.
"The fact that a huge number of civilians continue to live in neighborhoods that are under heavy clashes is what makes Mosul different."
Chaim said he also saw ISIS propaganda graffiti, in Russian, tagged onto the walls of homes in western Mosul's al Yarmouk neighborhood. Civilians told Chaim that a growing number of Russian-speaking foreign fighters, including Chechens, are bolstering the terror group's ranks in Mosul.
Mosul, Iraq's second-largest city, fell to ISIS in June 2014. A US-backed coalition-led offensive to regain control of the city began in October 2016. East Mosul was liberated in January and the second phase – clearing ISIS militants from the west – was launched in February.
Interactive: Hell and Humanity in the Shadow of ISIS
In western Mosul, 382,000 civilians have fled since February 19 alone. Many of the displaced are housed in emergency refugee camps set up by the Iraqi government and international relief groups. According to recent UN estimates, as many as 800,000 civilians are still living in western Mosul – with half of them are trapped in the Old City. Leaving the city is not an easy task.
Chaim recalls hundreds of civilians running through the frontlines to escape from ISIS, a scene he said he would never forget.
As they ran for their lives, civilians told him that ISIS screamed insults at the crowd, including the word "kafir," the Arabic word for "non-believer," and fired shots into the moving mass.
"They must take care of how they cross (the frontline), and make sure Daesh won't see them running," Chaim said. "But they also must take care of making sure Iraqi soldiers don't think they are Daesh," he said.
"It's like running from hell."