Story highlights
Darth Vader Williamson is a surgical tech at a hospital in suburban Memphis
"Some people go overboard," he says. "I've been asked for autographs"
You probably think Darth Vader died on the Death Star back in "The Return of the Jedi." But no.
He's alive and well and living in Tennessee.
Darth Vader Williamson, 39, is a surgical technician at St. Francis Hospital-Bartlett in suburban Memphis. And yes, that's his real name. His parents gave it to him at birth in 1978, less than a year after the original "Star Wars" came out.
"When I was born my mother wanted me to be named Junior, after my father. But my dad was a 'Star Wars' buff," Williamson said. "He was so enamored with the character Darth Vader that he was like, 'This would be one bad name for our son."
Bad, as in good.
"Under the effects of anesthesia, (my mother) would have agreed to anything. She was like, 'Yeah, OK, fine.' And … afterward, she was like, 'Uh, what have we done?'"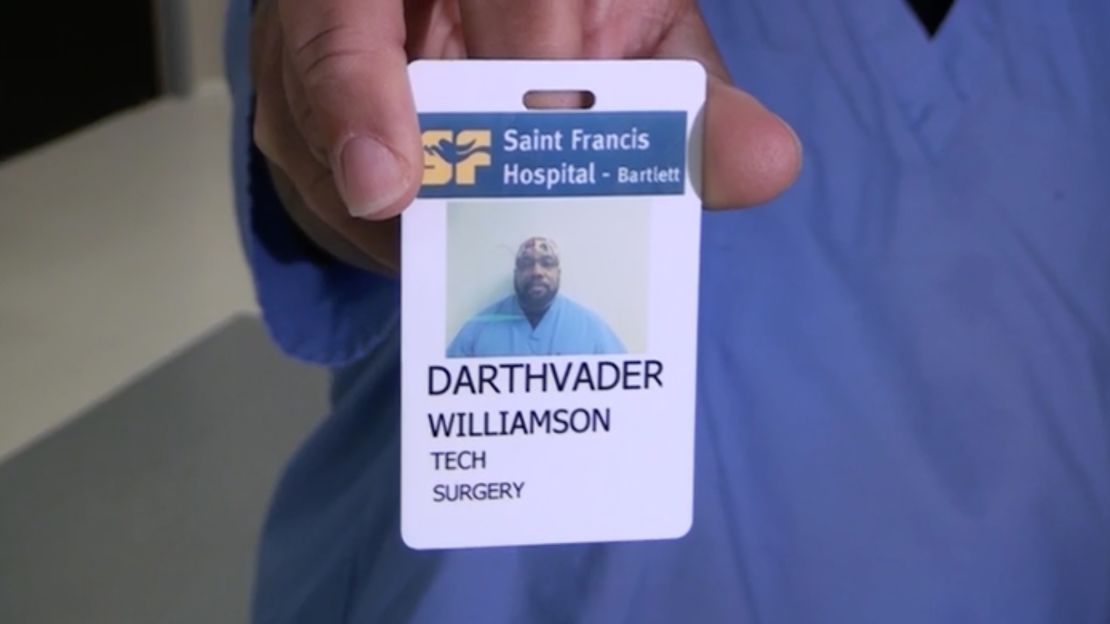 Williamson has worked at the hospital for 10 years without much fanfare. That changed this year, thanks to an enterprising hospital spokesman named Derek Venckus.
"I had heard people at the hospital refer to Darth Vader in surgery," Venckus said. "And I was like, 'That's not his real name."
So Venckus tracked Williamson down, filmed a short video with him and posted it online in time for May Fourth, the unofficial "Star Wars" holiday ("May the Fourth be with you," get it?).
In the clip Williamson explains the origins of his name, wields a lightsaber and shows off a Darth Vader doll, "Mini V," that a coworker knitted for him.
Williamson says he didn't like his unusual name as a child. Kids teased him on the playground. Teachers giggled while calling on him in class.
"At first I was like, 'Man, what have you all done to me?' he said. "But once I got through high school and the girls were digging it, I thought, 'I can use this to my advantage.'"
Williamson describes himself as a low-key guy who has never sought any special treatment for being named after one of the most iconic villains in movie history. His two daughters, 15 and 10, roll their eyes whenever anyone makes a fuss over it.
That hasn't stopped some other people from freaking out, though.
A state trooper pulled him over for speeding last year and was so delighted by the name on Williamson's license that he let him go with just a warning.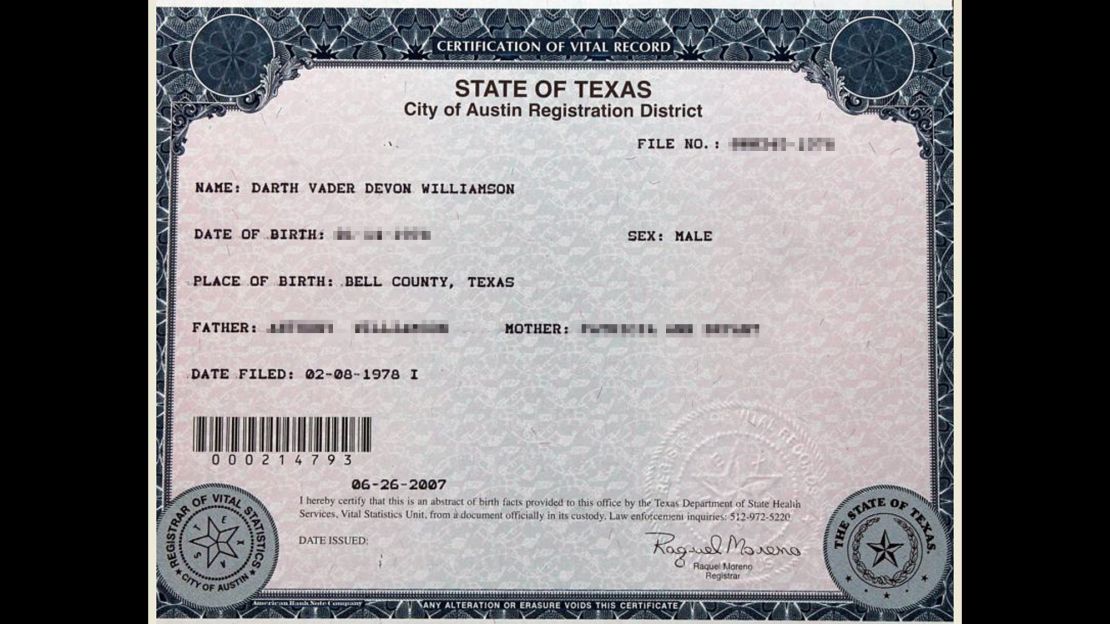 "Some people go overboard," Williamson said. "I've been asked for autographs. I've been asked to take pictures. I've had people say, 'Hey, the opening for the new 'Star Wars' is coming out. Can you go with me?'"
The answer is no. And here's where it gets a little awkward.
Williamson hasn't seen any of the "Star Wars" movies since "Return of the Jedi" in 1983.
In fact, he doesn't even really like "Star Wars" all that much. He prefers the "Alien" movies.
And Darth Vader isn't even his favorite "Star Wars" character. It's Boba Fett.