Story highlights
Security experts say it's not easy to keep banned fans from sneaking into ballparks
The issue surfaced this week after a fan was ejected from Fenway Park for using a racial slur
It's been an upsetting week for players and fans alike at Boston's Fenway Park, where baseball games were marred by two racist incidents.
On Monday, a Baltimore Orioles player said fans threw a bag of peanuts at him and taunted him with racial epithets. The next night, a fan was ejected after directing a racial slur at another fan nearby.
The Boston Red Sox responded swiftly and forcefully, issuing apologies and telling the offending fan he is "no longer welcome" at the ballpark.
But can a sports team really ban a fan from a stadium for life? Security experts say it's not easy.
First, let's list what'll get you banned
Running onto the field is a no-no, of course. A man was banned for life from Baltimore's Oriole Park at Camden Yards in 2012 after dashing across the outfield wearing only a cape and Batman underwear.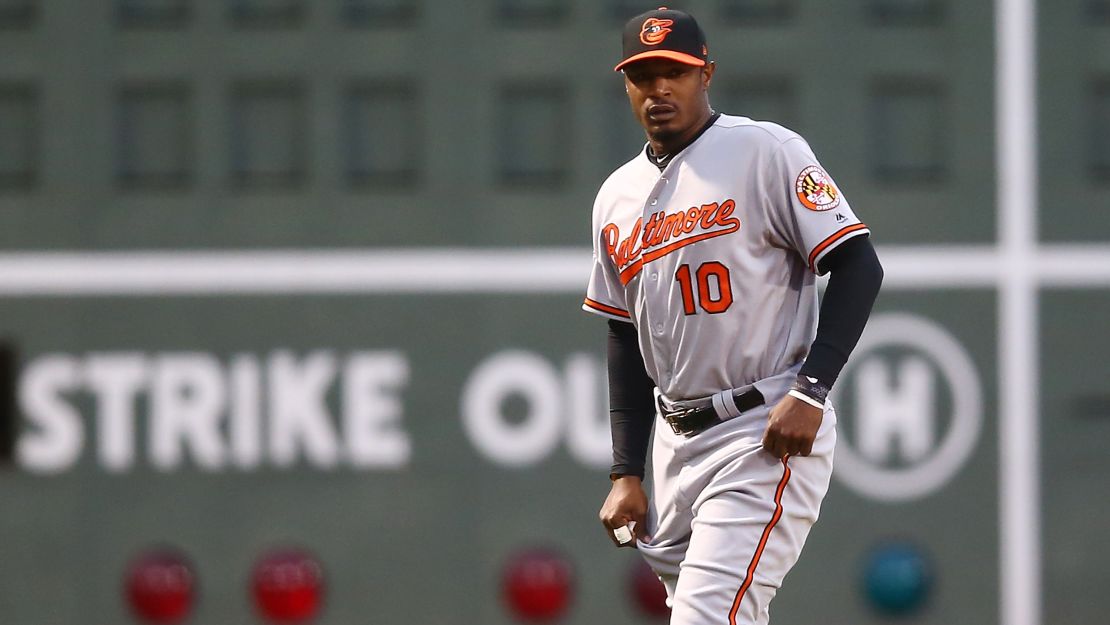 So is fighting, yelling obscenities or throwing objects onto the field. The Toronto Blue Jays banned a fan for life last year after he allegedly threw a full beer can at an Orioles outfielder while the player was trying to catch a fly ball.
And increasingly, Major League Baseball is showing zero tolerance for hate speech. A home plate umpire even stopped a game in Philadelphia last season to eject a fan who was yelling homophobic taunts.
Next, let's talk about how such a ban works
Before ejecting a disorderly fan, teams typically make them sign a document agreeing to a ban, security experts say. If the fan returns, they can be arrested for trespassing – even if they behave themselves. Experts say this can sometimes act as a deterrent.
A team can check ticket buyers' names against a database of banned fans. And security officers are shown photos of prohibited fans and told to be on the lookout.
Security consultant William D. Squires, past president of the Stadium Managers Association, said National Football League teams have been successful at identifying some banned fans and ejecting them.
"The venues take it very seriously," he told CNN. "If someone is stupid enough to get kicked out of a stadium, they're stupid enough to try to get back in."
Major League Baseball may want to take some cues from the NFL on this issue. Since 2015, the NFL has prohibited fans ejected from one stadium from attending games in other cities. And banned NFL fans must complete a course on fan conduct, including a session on anger management, before they can apply for readmission.
Now, let's discuss the loopholes
Banned fans can just sneak back in, can't they? Yep, and that's the problem. There are no stats on the number of banned fans who are caught sneaking back into ballparks, and MLB did not respond to a request to comment for this story (although the league is reviewing its fan-behavior policies).
But security experts say there is little teams can do to stop determined fans from returning to games.
"If someone really wants to get back into a stadium, they are going to find a way," said Diane Ritchey, editor of Security magazine.
Banned fans can buy their tickets on the secondary market and disguise their appearance. And ballpark security, faced with a crush of fans streaming through the gates, is much more focused on foiling a potential terrorist attack than on trying to spot a few hooligans, Ritchey said.
"It's very difficult," she said. "If someone gets in who is banned, do you want to spend all your resources trying to find them?"
Finally, let's bring out the silver bullet
When it comes to stadium security, there is one failsafe solution: Facial-recognition software.
Stadium cameras would scan fans' faces as they entered and screen them against a database of known offenders.
"Casinos actually do a good job of this," Ritchey said. "You can be banned from a casino (and try to get back in) … and they will find you."
But facial-recognition technology is expensive and is still years away from being widely deployed at sports arenas, experts say.
Adam Jones, the Orioles outfielder who was subjected to the racial taunts in Boston, has a simpler solution. He wants to hit unruly fans where it hurts – in their wallets.
"Instead of kicking them out of the stadium, they need to fine them 10 grand, 20 grand, 30 grand. Something that really hurts somebody. Make them pay in full. And if they don't, take it out of their check," he told USA Today.
"That's how you hurt somebody. You suspend them from the stadium, what does that mean? It's a slap on the wrist."