Story highlights
"The whole country has found justice," victim's father says after high court ruling
The gang rape case led to protests across India and media coverage around the world
Four men convicted of a gang rape that shocked India and attracted worldwide attention will be executed.
India's Supreme Court on Friday upheld a lower court's decision to sentence the men to death.
The judgment met with applause in the courtroom, according to CNN affiliate News18.
"We are very happy that (the) Supreme Court has heard our voice, and that they understood Nirbhaya's pain in this matter, and that along with Nirbhaya the whole country has found justice," the victim's father, Badrinath Singh, told reporters outside the court, using a nickname for his daughter that means "fearless one."
"We need to work so that the type of crime that happened to Nirbhaya will not happen again," Asha Singh, the victim's mother, said at a press briefing.
"This fight is not ours alone. This is every man's fight. This is everyone's fight. This is every woman's fight."
Vinay Sharma, Akshay Thakur, Pawan Gupta and Mukesh Singh were originally sentenced in September 2013, but they appealed the decision in the country's top court.
Another perpetrator was underage at the time and received a lesser sentence, while a sixth attacker died in prison.
The case led to protests across India and intense media coverage around the world, shining a light on India's pervasive problem of sexual violence against women.
Executions are rare in India. While hundreds of people were sentenced to death last year, only three executions have been carried out since 2007, according to Amnesty International.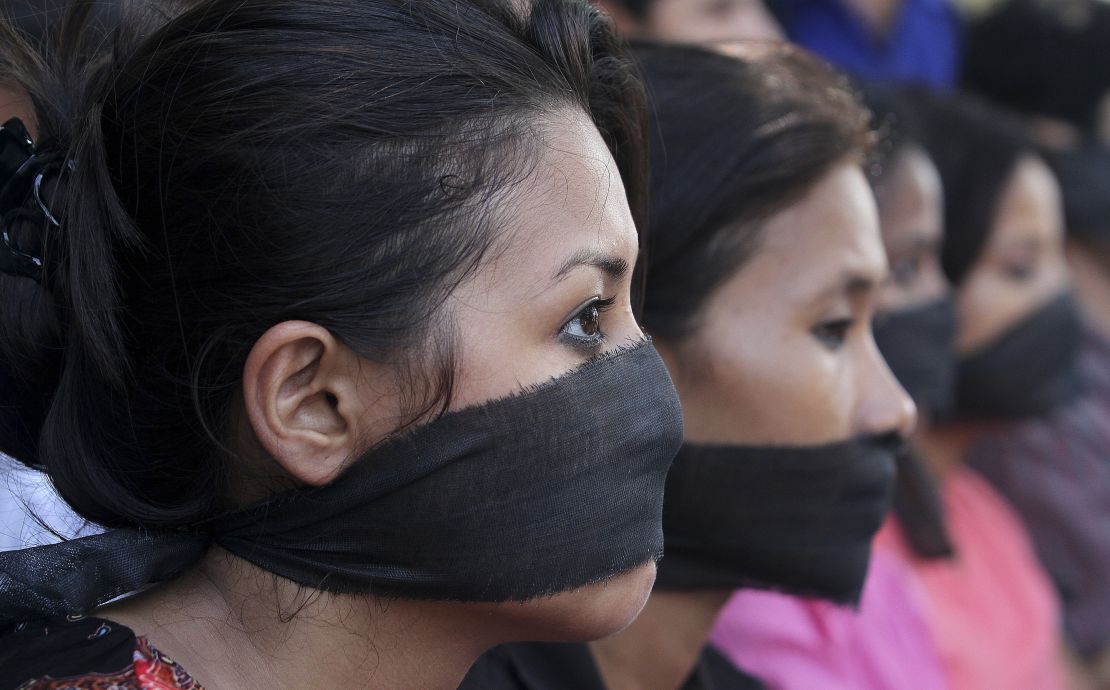 Horrific crime
On the evening of December 16, 2012, Jyoti Singh Pandey, a physiotherapy student in Delhi, was leaving a movie theater after watching "The Life of Pi" with a male friend.
It was late when they left the theater, so the pair got on a private bus to go to their suburban homes. That was when their nightmare started.
According to police, the bus driver and at least five other men were drunk and looking for a "joy ride."
Police said the men took turns raping the woman, using an iron rod to violate her as the bus drove around the city for almost an hour. Her male companion was beaten as he tried to fight them off. When they had finished, the men dumped their two victims by the side of the road.
Following the ordeal, the woman's injuries were so severe some internal organs had to be removed. She died two weeks later at a hospital in Singapore.
"I want them burned alive," the dying victim told her mother and a visiting magistrate who was recording her statement at the hospital.
Dalit: Women, class, and discrimination (November 2018)
Fight for justice
In the days following the rape, police arrested and jailed six men. Thousands of Indians marched in protest at the crime across the nation's capital and in cities around the country.
The outrage pushed India's government to set up the Justice Verma Committee to come up with legal solutions to reduce sexual violence. It also passed laws setting stricter penalties for these types of crime and set up a fund in honor of the victim.
But justice has not been a straight and easy path.
Indian lawmakers approve tougher penalties for juveniles
India today
Though the case sparked widespread calls for reform in India, according to government records, there was an increase of 50% in the number of reported rapes in the past five years, to 34,000 in 2015.
Experts said the increase was likely caused by a broadening of the definition of what constitutes rape, and more openness about reporting attacks. However, many warn the figures are still likely an underestimation.
The Delhi gang rape case was an outlier in that the victim did not know the perpetrators. Of reported rapes, according to official statistics, 95% were committed by someone known to the victim.
Read more: The girl whose rape changed a country
Activists and policy makers have expressed frustration at the lack of progress, saying there is no political will to move forward on the issue.
"There hasn't been the push needed to implement these laws at the state level," Aruna Kashyap, a lawyer with Human Rights Watch, told CNN in January.
"The overall response to women's safety is rooted in protectionism – keep them at home, keep them safe – rather than create spaces that are safe and equal."