Watch "New Day" and "CNN Newsroom" each Friday to see inspiring stories of officers going above and beyond the call of duty.
It's been more than five weeks since Atlanta Police Sgt. Ryan Heald and Officer Tyler Thomas stared into a 40-foot wall of flame and thick black smoke that filled the five-lane interstate highway bridge in front of them.
Somehow, in the middle of a Thursday rush hour on March 30, a critical transportation artery in one of America's most traffic-challenged cities had caught fire.
Beyond the Call of Duty
Do you know an officer who has gone above and beyond what the job requires? E-mail us at BeyondtheCallofDuty@cnn.com.
They had raced toward the fire from a nearby location after hearing frantic police radio chatter. "I could tell right away from the first officers that were witnessing the fire, I could tell from their voices on the radio, that it was getting out of control," Heald said.
Heald and Tyler quickly accessed the situation: Firefighters had been called but had not yet arrived. Traffic was steadily stacking up in both directions on both sides of the bridge. Traffic had to be stopped immediately.
Although police had already shut down traffic closest to them, Heald and Thomas knew that to completely stop traffic, they had to figure a way to get through the wall of fire to the other side.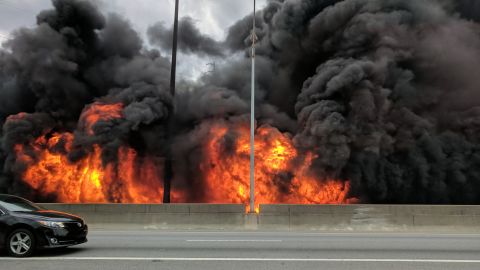 "I told my officer to drive as fast as you can through these flames cause it's going to be hot," recalled Heald. Tyler hit the accelerator and sent the patrol car hurtling through the firewall. "And for a second and a half, I felt that heat … it was unbelievably hot."
When they emerged on the other side, they could see flames billowing all the way up from the ground and over the sides of the highway bridge. Flames were so out of control they were flowing onto the adjacent bridge where traffic was also stacking up heading the opposite direction.
On foot — standing on the bridge near a raging inferno – the officers used hand signals to get the attention of commuters, halt traffic and turn their vehicles away from the bridge. They cleared a path for firefighters to get where they needed to be so they could start battling the blaze.
The bridge collapses
Suddenly they heard the disturbing sound of booming explosions. "It sounded like when a transformer blows on a telephone pole, it was that loud and extreme," Heald remembered.
Another officer suggested the noise might be the sound of concrete breaking up from the intense heat. He said there could be a chance of the bridge collapsing.
Less than three minutes later, the bridge collapsed.
"It was amazing that no lives were lost and not just that, but no one even got hurt," recalled Heald.
Firefighter perimeter credited with saving lives
Atlanta Fire Department Engine 19 and Truck 15 were the first firefighters to arrive at the raging blaze. Firefighters quickly assessed the scene and noticed chunks of concrete falling from the bridge. Preparing for the worst, they established and expanded a "collapse zone perimeter," which saved lives, said Atlanta Fire Department Battalion Chief James McLemore.
"We could have easily buried people in there," he said. "The foresight of those guys on the first initial response did a great job. And that just led to the scene being a totally safe scene."
Nonetheless, damage from the fire has triggered what Atlanta Mayor Kasim Reed has called a "transportation crisis." An estimated quarter of a million people travel that corridor daily. It's also one of the Southeast's most important north-south traffic routes.
The closed section of the interstate is expected to open by May 25 – just in time for the traffic-heavy Memorial Day weekend.
The National Transportation Safety Board has been investigating the fire and bridge collapse, which is blamed on the ignition of high-density polyethylene (HDPE) pipes and fiberglass conduits stored under the overpass.
Authorities arrested a man accused of intentionally setting the fire.
'Skill, courage and strength'
Fast forward to April 13, in the White House Roosevelt Room, where 15 Atlanta-area police, fire and rescue officers gathered to meet with President Donald Trump.
"Georgia state police and Atlanta police took fast action to get motorists away from danger. Then our brave firefighters battled 40-foot flames, which was incredible," the President said. "Everybody was watching. Your skill and courage saved many lives and represented true strength."
Recalled Heald, "When you get the call from the President's Office … that's a game changer."
CNN's Jason Hanna, Chris Boyette and Eric Levenson contributed to this report.