Story highlights
Macron calls for unity at the "dawn of an extraordinary rebirth" for France
He is expected to name a prime minister on Monday and a full Cabinet by Wednesday
Emmanuel Macron was sworn in as French president on Sunday and gave a moving first speech to begin healing his fractured country.
Macron has shaken up French politics with his meteoric rise to the presidency, winning his campaign as an independent, with the backing of a fledgling political party he founded less than a year ago.
At 39, he becomes the youngest president in France's history, and the youngest leader since Napoleon.
The new President vowed to bring confidence back to a nation that has been "broken" by a spate of terror attacks and a sluggish economy.
He said he hoped to restore French values and applauded voters for resisting the wave of populism in choosing him over his rival, far-right candidate Marine Le Pen, in his landslide victory a week ago.
"The world and Europe needs France more than ever. They need a strong France that is sure of its destiny. A France that upholds freedom and solidarity," he said.
"I am convinced that the power of France is not in decline, as we are at the dawn of an extraordinary rebirth."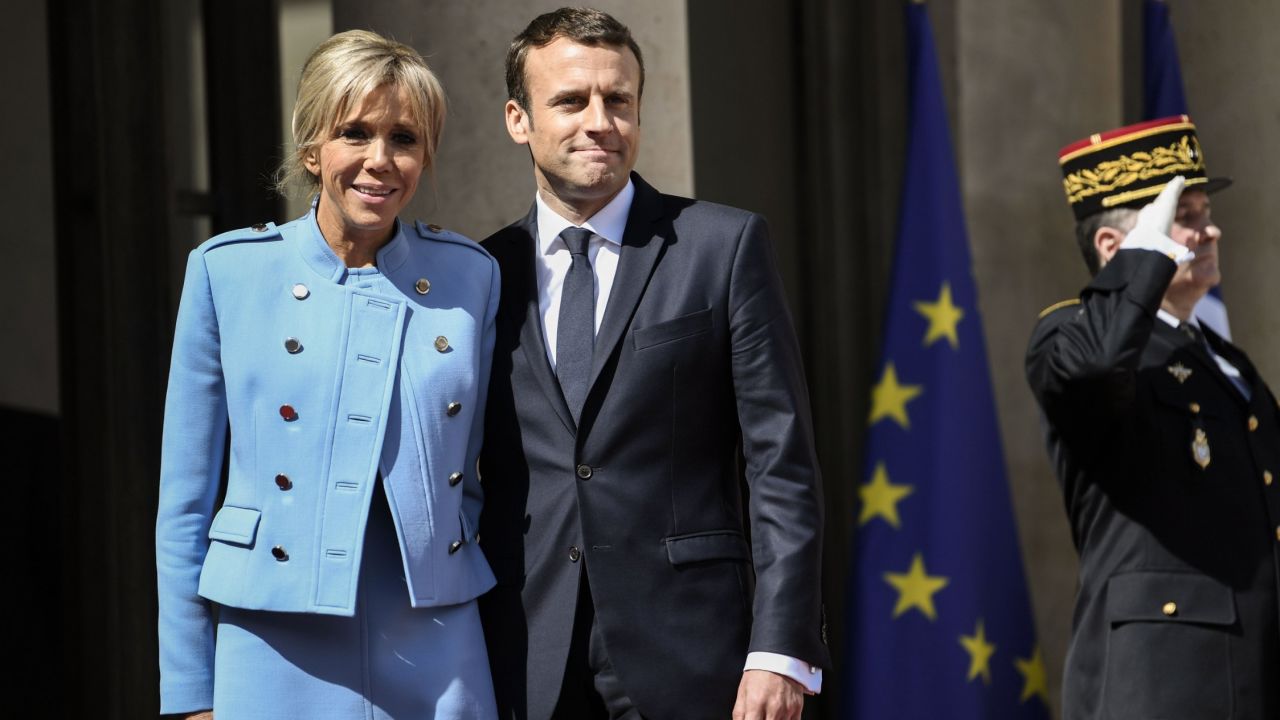 He listed a range of challenges facing the country, from migration fluxes, to the "excesses" of global capitalism and terrorism.
"Nothing will affect only a part of the population. We are united, we are all neighbors."
Eying legislative vote
Macron has promised to breathe new life into French politics, and in his speech Sunday, he laid out a vision of a vibrant economy boosted by innovation and technology, and an openness to the world.
But to some skeptical onlookers, Macron is still something of an unknown quantity. He has little experience in governance, serving as economy minister for two years as his most senior role.
Just a week since his win, Macron has inherited an extraordinary to-do list and some demanding deadlines.
He is expected to name his prime minister on Monday and a full Cabinet by Wednesday. Macron has said he is looking at one male and one female candidate for prime minister, but gave little clue as to who they might be.
He will also now be looking to the June legislative elections. His centrist La Republique En Marche! party, which has never held a single seat in parliament, will need a strong parliamentary presence to push Macron's legislative agenda through.
The party is scrambling to get 577 candidates together to contest every seat in the country ahead of vote, on June 11 and 18.
It named 428 candidates on Thursday, half of them women and more than half from outside the political establishment, fulfilling a party pledge made in January. Of the established politicians, the party has attracted candidates from both the left and right, causing panic among traditional parties facing mass defections.
Macron won the May 7 election with a resounding 66% of the vote, but his mandate may not be as strong as those numbers suggest. Many in France made it clear that they were casting their votes against Le Pen, rather than for Macron.
Bidding farewell to Hollande
Macron's inauguration ceremony was steeped in French ritual and tradition.
He arrived at the Elysee Palace Sunday morning and walked down a long red carpet, where he was greeted by outgoing President Francois Hollande.
The two men shook hands between the French and European Union (EU) flags, a reminder of France's prominent role in the 28-member bloc and Macron's commitment to the EU.
In accordance with tradition, Macron escorted Hollande to his car. Hollande was driven away in a modest Citroen hatchback, leaving behind the leadership of a country battered by several deadly terror attacks and an economy that failed to pick up under his watch.
Hollande decided not to run for a second term. His popularity, and that of his Socialist Party, plunged after the Paris attacks in November 2015, in which 130 people were killed.
Hollande sent a flurry of emotional tweets as he left the palace, defending his leadership in a time of national hardship.
"I ensured that our country stood firm in these circumstances. I am proud to have succeeded," he wrote.
He pointed out that under his presidency France helped keep Greece in the eurozone as its economy was on the brink of defaulting. He also pointed out that it was France, under his leadership, that got the world to sign onto a new climate change agreement.
"We have this satisfaction. I left the country in a better state than I found it in."
Around 300 people were invited to the inauguration, and among his guests are trade union representatives, Nobel prize winners and 100 friends.
Twenty-one cannons were fired to salute Macron as the new president, as his motorcade left the palace in a downpour of rain. Following the inauguration, Macron laid a wreath at the Tomb of the Unknown Soldier in remembrance of World War I.
Macron was joined by his wife, Brigitte Trogneux, on Sunday, a woman who the new President has portrayed as a mentor. He has said he will likely give his wife an official role in his government.
The wives of French presidents have not typically taken on first lady duties as many do in countries such as the United States.
The couple were dressed by celebrated French designers. Trogneux wore a blue-lavender dress with a double-breasted jacket, designed for the occasion by Nicolas Ghesquiere from Louis Vuitton. Macron wore a dark blue suit from Jonas et Cie Price.
Macron, a former investment banker, has come under fire for living what some see as an extravagant life. His team made a point of explaining to the media that Trogneux's dress, as well as her Louis Vuitton bag, were on loan from the world-famous fashion house. It also explained that Macron's suit was worth 450 euro ($490) – a modest price tag for a momentous occasion.
CNN's Saskya Vandoorne reported from Paris and Angela Dewan reported from London.