The town of Redcar is 250 miles from Westminster but the distance between its people and the UK's heart of government could be a million miles.
In driving rain whipped by an onshore wind from the North Sea, the local Labour member of Parliament, Anna Turley, is knocking on voters' doors as she fights to keep her seat in next month's general election. The disaffection with Westminster politics is palpable.
Redcar, in the industrial northeast of England, should be safe Labour territory: its voters are, like many in the region, working class and have relied upon steel and other heavy industry for work.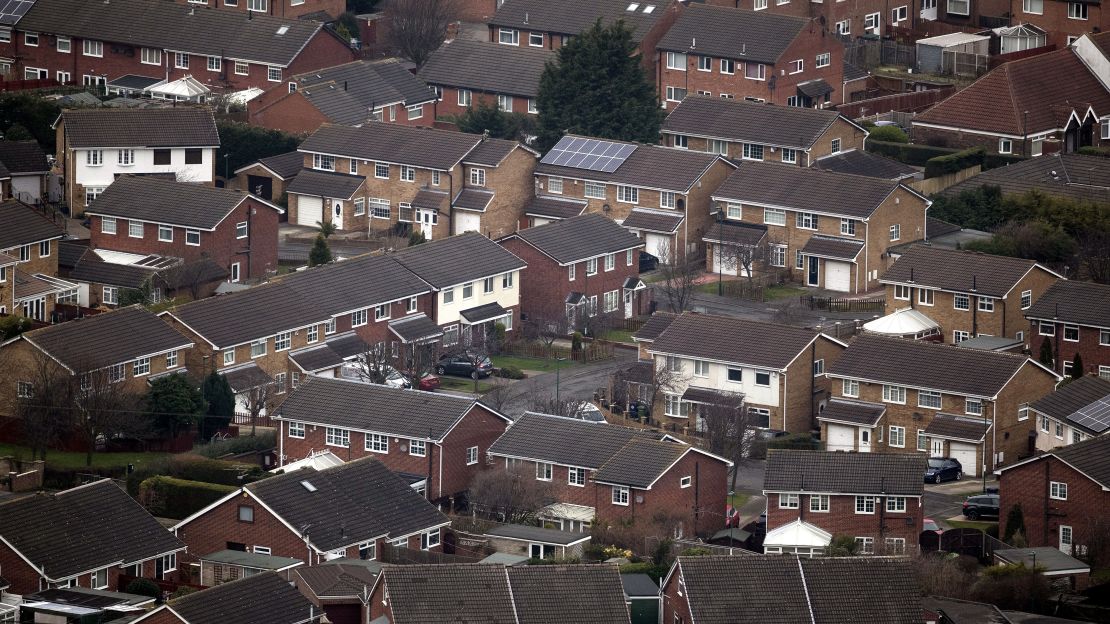 But the community has been knocked off its feet by globalization. Two years ago, its steelworks – the main source of income for many in the town – closed with the loss of 3,000 jobs, a victim of falling steel prices worldwide spurred by cheap imports from China.
Left behind by the world, Redcar took its chance to fight back: 66% here voted for Britain to leave the European Union in the 2016 referendum, far higher than the national average of 52%.
READ MORE: Happy in Hull? Why this British town backed Brexit
And last month the region delivered a huge upset electing a mayor from the Conservative Party. In the general election on June 8, in the same way that Democrats in the steel towns of Pennsylvania voted for Donald Trump, Redcar could elect a Conservative MP – a first in the 40-year history of the constituency.
New fault lines
In this seat – and across the UK – Brexit has carved new fault lines in British politics. Old tribal loyalties of left and right, Labour and Conservative, have broken down. As they prepare to go to the ballot box, voters are going through something of an identity crisis.
And it is not just Brexit that is shaking up political affiliations: Prime Minister Theresa May's Conservative manifesto, which launched on Thursday, appeals directly to Labour's core supporters.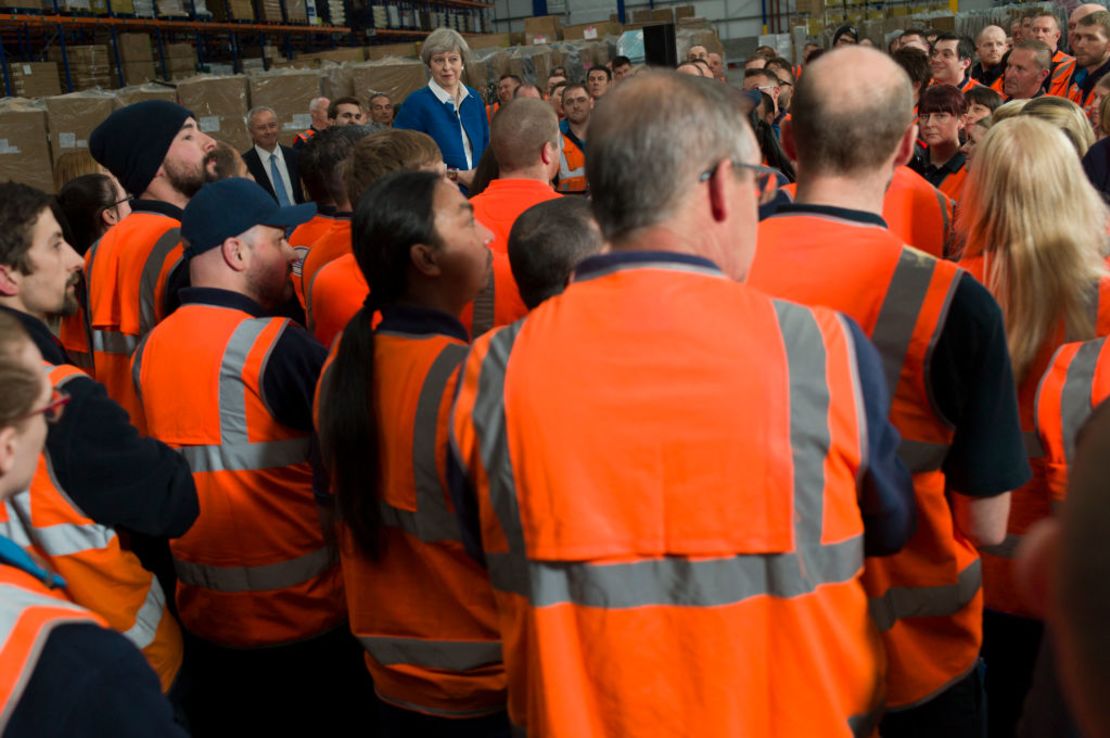 Echoing the US president, the Prime Minister has railed against free trade and the global elite, whom she calls the "citizens of nowhere". Labour leader Jeremy Corbyn's manifesto is far to the left of the centrist agenda of Tony Blair, a man seen as the CEO of the global elite.
READ MORE: Can left-wing populism win the UK election?
In the village of Marske on the outskirts of Redcar, Pat Hamilton, a 70-year-old retired care assistant, says she has voted Labour all her life but now isn't sure who she will support. Her nephew was among 3,000 people who lost their jobs when the steelworks, owned by SSI UK, closed in 2015.
There was anger locally when the Conservative government, led by David Cameron, failed to rescue the plant. "Now they are importing steel from abroad," Hamilton says. "The Government doesn't think we are important enough."
Labour's tough battle
Despite the Conservatives' failure to save the steelworks, MP Anna Turley is facing a tough battle for votes for Labour, the UK's main opposition party. It is almost as if the joy of Brexit, a power handed to these voters by a Conservative government, trumps the anger over the closure of the steelworks.
Turley tells me later: "People round here feel that no-one cares. They have seen decades of industrial decline and jobs have just not been replaced. They spoke out angrily in the referendum last year, feeling that they wanted people to put them first for once.
READ MORE: The 'forgotten tribe' in West Virginia; why America's white working class feels left behind
"Warnings of a dire impact on the local industry of manufacturing meant nothing to people who told me they had nothing to lose anyway. The Tories (Conservatives) closed the steelworks, took 3,000 jobs and blamed the EU. It's no wonder people feel that the current political and economic system is not working for them.
"It is only Labour as the party of the working class that can articulate their views and stand up for them – we owe it to them to make sure we are doing that."
But there is something else at play here: on the doorstep, Redcar resident Hamilton tells Turley she might not vote Labour because of its leader. Last summer, buffeted by poor poll ratings and criticized for his far-left agenda, Corbyn faced an attempt to unseat him by his own MPs. The coup failed, but his poll ratings have failed to recover.
"I just don't think he is any good," says Hamilton. "I just don't think he is strong enough." Turley stays on the doorstep to talk her constituent round to voting Labour, but there are many more who express doubts.
Eileen Leonard, 79, will be giving up her lifelong habit of voting Labour. "I can remember when the lights went out in the 1970s," she says, referring to a time beset by unemployment and labor strikes under a previous Labour government. "It was serious, all the time. They brought the country to its knees. Marxism didn't work. I don't want Corbyn leading the country."
Smoking a cigarette outside The Standard pub in Redcar town center, Christopher Reilly, 50, a head chef, points to Corbyn's failure to sing the national anthem at a World War II remembrance service and his perceived antipathy to NATO as reasons why traditional working-class voters are switching sides – some to the anti-EU UK Independence Party but many straight to the Conservatives.
"The bond that working class people had with Labour has been broken," he said. "It used to be that your parents would say you must vote Labour but that no longer applies."
Brexit's roots run deep
But it would be wrong to say this working-class disaffection started under Corbyn.
Deborah Mattinson, the founder of research and strategy firm Britain Thinks, says the drift away from the party started under former Labour Prime Minister Tony Blair and continued under his successors Gordon Brown and Labour Party leader Ed Miliband: "Now Corbyn is the cherry on the cake," she says.
"Most ordinary people are less tribal than many journalists and Westminster insiders claim them to be. Most people don't see themselves on a left-right spectrum or having particular loyalty to a particular party, even though they have tended to vote for that party. People more likely to define themselves by what they are not," she told CNN.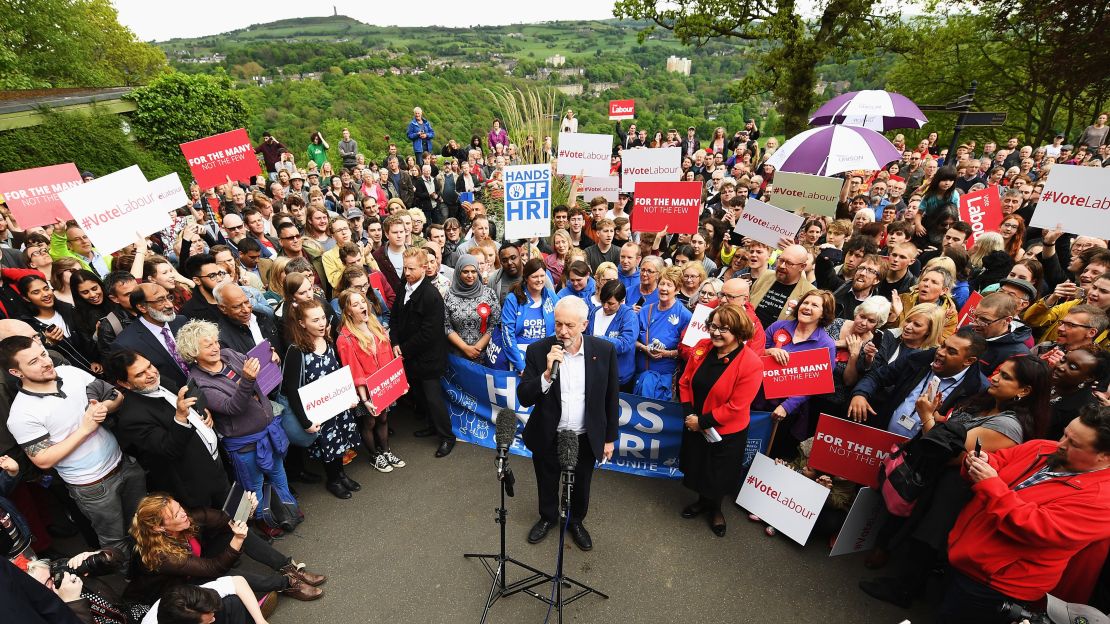 Mattinson says that her focus groups suggest that voters are confused by where Labour stands on Brexit and other issues.
While Brexit could be a factor in seats like Redcar, in other areas it is less important than jobs and the economy. One focus group that Britain Thinks held in Harrow West, where the Labour incumbent has a narrow 2,208-vote majority over the Conservatives, found that even those who voted to remain in the EU are resigned to leaving – as Mattinson explained, they feel that "Brexit is done and dusted – let's move on".
READ MORE: Brexit: What happens after Article 50?
Across the UK, two thirds of voters are either happy with or have accepted Brexit: a poll by YouGov last week indicated 45% identified as "Hard Leavers", those who voted for Brexit and still want out, while 23% were "Re-Leavers" who voted Remain but are resigned to Brexit – a total acceptance level of 68%.
This helps explain why, in a handful of urban seats in affluent areas in and around London, the Liberal Democrats – who are battling to be reinstated as the third party of British politics by clearly defining themselves as the anti-Brexit party – cannot count on remain voters to hand them seats in Parliament.
With tribal loyalties cast aside and emotional bonds broken, the UK election will come down to who is seen as most capable of leading the country through an uncertain time. It is no wonder that the Prime Minister is pitching herself as the leader of "Theresa May's Team", and of the country, rather than the "Conservatives", and points to her securing a convincing victory on June 8.