Story highlights
NEW: President Trump condemns attacks, lauds victims
Suspect faces charges of aggravated murder, attempted murder, second-degree intimidation
As tears streamed down her cheeks, Destinee Mangum, 16, thanked the three strangers who intervened on a Portland light-rail train after a man hurled anti-Muslim slurs at her and her friend who was wearing a hijab.
Two of the men were killed. One is in the hospital after the suspect, identified as Jeremy Joseph Christian, 35, stabbed the three victims, according to police.
"I just want to say thank you to the people who put their life on the line for me," Mangum told CNN affiliate KPTV, her voice cracking. "Because they didn't even know me and they lost their lives because of me and my friend and the way we look."
The incident on Friday struck a nerve across the United States. Outrage over the deadly assault, messages of support for the victims and expressions of antipathy for the attacker have dominated social media and news coverage.
Online funding pages have emerged for the families of the two slain men, the injured man and the girls who survived the attack.
On Monday, President Trump weighed in, lauding the victims and deploring the act of violence.
"The violent attacks in Portland on Friday are unacceptable. The victims were standing up to hate and intolerance. Our prayers are w/ them," the President tweeted from his @POTUS account.
The attack
Mangum and her friend were riding the MAX light rail Friday afternoon when the suspect allegedly targeted them. He yelled at Mangum, who is not Muslim, and her friend, using what police described as "hate speech toward a variety of ethnicities and religions."
"He told us to go back to Saudi Arabia and he told us we shouldn't be here, to get out of his country," Mangum told KPTV. "He was just telling us that we basically weren't anything and that we should just kill ourselves."
Frightened by his outburst, the pair moved away to the back of the train.
Then a stranger intervened, telling the man that he "can't disrespect these young ladies like that."
"Then they just all started arguing," Mangum said.
By the time the light rail pulled into the next station, Mangum and her friends were ready to leave.
"Me and my friend were going to get off the MAX and then we turned around while they were fighting and he just started stabbing people," she said.
"It was just blood everywhere and we just started running for our lives."
Several passengers chased after the suspect and called 911, directing officers to his whereabouts, according to local media.
Mangum, wearing pigtails, held tightly to her mother's hand as she spoke to a KPTV reporter.
"It's haunting me," she said.
What should you do if you witness a racist or Islamophobic tirade?
Good Samaritans
The men who had intervened were viciously attacked, police said.
Ricky John Best, 53, of Happy Valley, died at the scene. The military veteran worked as a technician for the city of Portland and had gravitated towards public service.
Taliesin Myrddin Namkai-Meche, 23, of Portland, died at the hospital. He had graduated from Portland's Reed College with a degree in economics last year and had just begun his career working at an environmental consulting agency.
The third victim, Micah Fletcher, 21, is being treated at a hospital with serious injuries. A GoFundMe account to pay for his medical bills showed a picture of him on a hospital bed with a visible neck wound.
Mangum's mother, Dyjuana Hudson, said she owes everything to the three men and their grieving families.
"I want to say thank you so much," she said. "I couldn't imagine what you're going through right now as far as losing someone."
'Their actions were brave; they were selfless'
Portland mayor Ted Wheeler praised the men for standing up to hatred and bigotry.
"It's very obvious that their actions were brave; they were selfless, and it should serve as an example and inspiration to all of us," he said in an interview Monday with CNN.
"There's no question in my mind that these men were heroes," he added.
Wheeler encouraged people to "stand alongside the memories" of the men and to denounce xenophobia and hate.
"They laid it on all on the line and they paid the ultimate price for standing up to those values which are bedrock to this country," Wheeler said.
The suspect
Christian was charged with two counts of aggravated murder and one count of attempted murder, all felonies. The aggravated murder charge has the death penalty as a possible sentence.
He also was charged with misdemeanors: two counts of second-degree intimidation and a count of being a felon in possession of a restricted weapon, police said.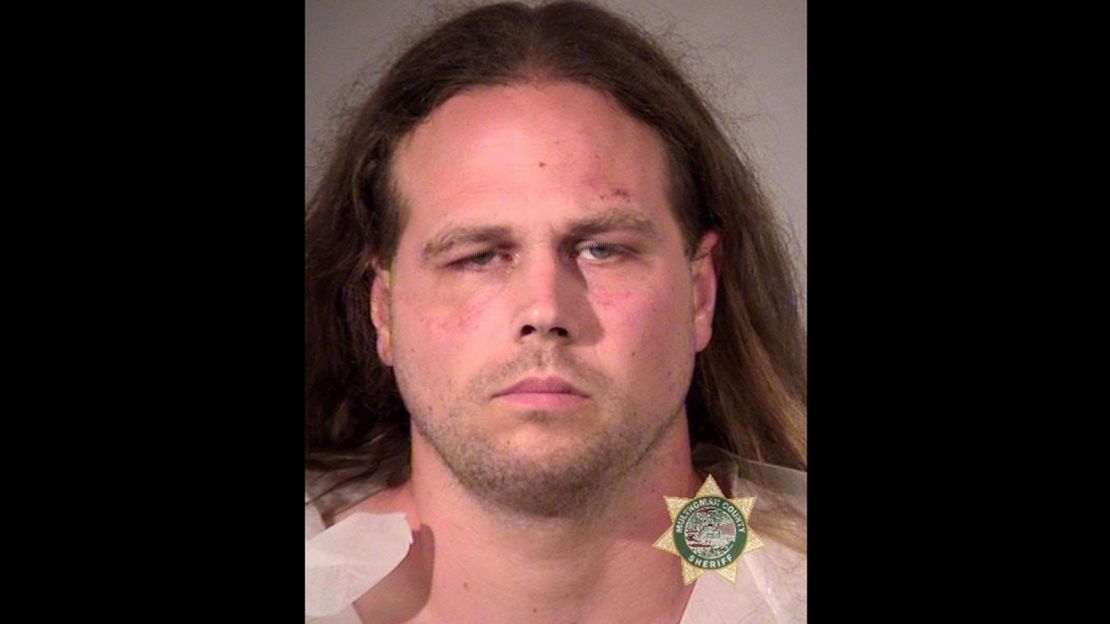 Christian was being held at the county jail without bail, he will be arraigned on Tuesday in Multnomah County Court.
Police said detectives are looking at Christian's background, "including the information publicly available about the suspect's extremist ideology."
Videos have surfaced showing Christian at various events shouting at people, at one point saying the N-word, as police officers separated him from others.
The FBI has joined the Portland police-led investigation to gather evidence.
Authorities are trying to determine whether Christian will be charged with federal hate crimes.
Teen's family asks for privacy
After granting interviews to a few local media outlets, Hudson and her daughter posted a video on Facebook saying they were thankful to the victims and the community support. They also asked for privacy.
"The best thing you guys can help us out with is just giving me and my family time to process everything and for me to cope with what happened and to actually heal from this and get over this somehow," Mangum said.
"When the time comes, we will come forward," her mother said. "But right now it's all just too much to keep rehashing it over and over again."
The other woman on the train hasn't spoken out publicly.
CNN's Rashard Rose, Tony Marco, Jason Hanna, Steve Almasy, Nicole Chavez, Joe Sterling and Catherine Treyz contributed to this report.