Story highlights
The bombing took place on a busy street in Kabul's diplomatic quarter
Hundreds of people, including women and children, were injured in the attack
The death toll in one of Afghanistan's worst terrorist attacks has jumped from 90 to at least 150, President Ashraf Ghani said, one week after the enormous blast shook Kabul.
The huge suicide blast ripped through rush hour traffic in the Kabul diplomatic quarter on May 31, near the Germany Embassy and the Afghan presidential palace.
At least 300 people, including women and children, were injured in the explosion, Ghani said while speaking at the Kabul Process meeting.
Photos from the day showed a huge cloud of black smoke, rising from the smoldering wrecks of dozens of vehicles.
It was one of the deadliest attacks in the country since the start of the war in Afghanistan in 2001, which was triggered by the US invasion is search of 9/11 mastermind Osama Bin Laden.
More than 15 years after the invasion, there appears to be no end to the conflict, with an emboldened Taliban fighting an insurgent campaign against Afghan security forces.
The Taliban denied involvement in the attack, but Afghan intelligence said in a statement they believe the Haqqani Network, a Pakistani group aligned with the Taliban, was behind it.
Haqqani may be to blame for Afghanistan attack
Bomb concealed in water truck
The bomb detonated early in the morning in one of the busiest parts of town, near big supermarkets and shops, where streets were packed with commuters including children going to school.
It appears the bomb was hidden inside a water delivery truck.
"Our prayers are with the victims and their families of this inhuman and cowardly attack," a tweet from the office of President Ghani said after the attack.
"May Allah strengthen all those working for peace. Our thoughts are with the families of deceased & prayers with the injured."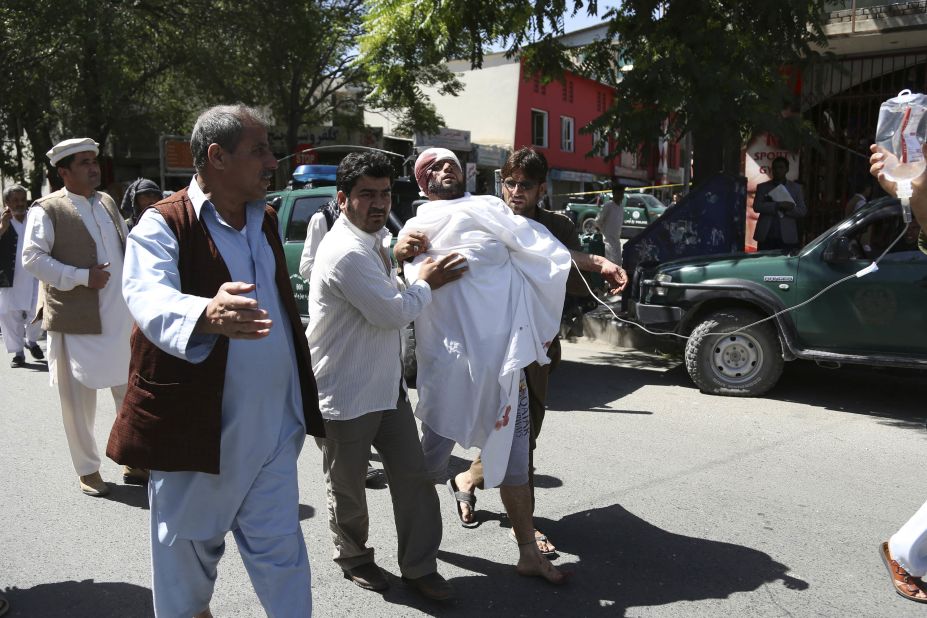 A suicide bomb attack targets Kabul's diplomatic zone
Hundreds of Afghans lined up after the attack to give blood in the wake of the bombing, Layma Tabibi, an Afghan-American who works at a local consulting firm, told CNN at the time.
Tabibi heard the blast and said a lot of casualties appeared to be from the Roshan telecommunications company.
"Afghans. It's always Afghans," she said, when asked who suffered in such attacks. "It's always Afghans that are harmed and get killed, rather than who the attacker wants to target."