Story highlights
US-backed forces have been pushing towards Raqqa since November last year
The city is believed to be booby-trapped with roadside bombs, trenches and tunnels
How long will it take to overthrow ISIS? It could be a prolonged campaign, Tim Lister writes
Raqqa is the last city of any consequence still held by Islamic State in either Syria or Iraq. But after being pummeled by airstrikes for months, ISIS' de-facto capital is now surrounded by US-backed rebels on three sides.
The Syrian Democratic Forces (SDF), a coalition of mainly Kurdish and Arab fighters, launched the final phase of their offensive to expel ISIS from the city on June 6.
SDF spokesman Talal Silo said the "great battle to liberate the city" would be fierce because ISIS fighters "will die to defend their so-called capital."
Why is Raqqa so important?
Raqqa is crucial to ISIS, both symbolically and strategically.
When it was seized in early 2014, the northern Syrian city was anointed as the nerve center of the group's sprawling bureaucracy. It also became the hub for planning overseas terror attacks – especially in France and Belgium – because so many foreign fighters called it home.
Who is taking part in the operation?
The ground forces comprise a mixture of Syrian Kurdish and Arab factions, as well as Assyrian Christians. The Kurds belong to the YPG militia and its women's wing, the YPJ, and are seen by the US military as its most effective partner in northern Syria.
They have joined with Arab militia under the umbrella of the Syrian Democratic Forces. Altogether there are some 60,000 YPG fighters in northern Syria, of whom some 30,000 are likely to be devoted to the Raqqa offensive. The Arab militia are probably 20,000-strong.
In recent months, the US ground presence has been bolstered by an influx of special forces and advisers; there are now an estimated 500 US personnel in northern Syria.
The US-led coalition has also begun supplying the SDF with heavier equipment, such as mortars and anti-tank weapons, to counter suicide car bombs. Other aid includes intelligence, battlefield advice and targeting assistance.
How big is ISIS' presence in the city?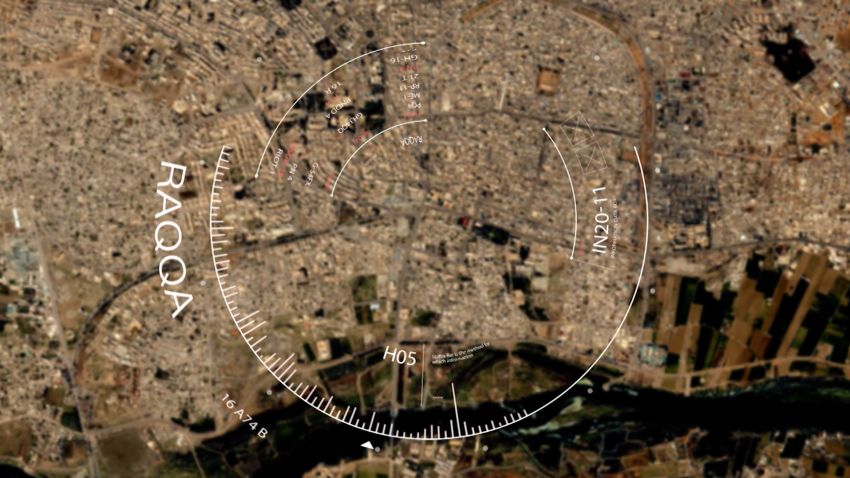 Watch: Images show ISIS 'capital' Raqqa
It's hard to tell.
Estimating ISIS' strength in Raqqa has been made more difficult by reports that some of the group's factions have already left the city – heading out across the desert towards Palmyra or east along the Euphrates river towards Deir Ezzor.
And while the US-led coalition's intense aerial bombardment of the city over the last few months has taken a toll, it's difficult to quantify.
The coalition recently estimated ISIS numbers in Raqqa at 3,000 to 4,000 fighters, but it may be at the lower end of that range by now.
What is life like inside Raqqa?
It's precarious.
With much of the city destroyed, the bridges over the Euphrates wrecked, and shortages of basic goods, life for civilians stuck in Raqqa is hell.
Over the past few weeks, civilians have streamed out of the city. Those that make it to safety tell SDF forces and humanitarian organizations of constant bombardment, a lack of power and water.
Before the civil war broke out, the city had more than 200,000 inhabitants; latest estimates suggest 100,000 are still there.
Groups such as the UK-based Syrian Observatory for Human Rights have reported civilian casualties in airstrikes, including the death of 21 people who were trying to flee the city by boat on Monday.
The only upside to life there now? Residents, who have since left, say ISIS police and fighters are less pervasive. According to some reports, ISIS has stopped enforcing a ban on smoking, for example.
How long will the operation take?
It's impossible to predict, but not even the SDF expects a quick victory in Raqqa. The group insists that it wants to avoid civilian casualties, which will prolong the campaign.
ISIS has had nearly three years to prepare for this moment, and (as in Mosul) is thought to have constructed an extensive network of tunnels and defensive blast walls. But the city is surrounded on three sides, and that's a lot of real estate to defend.
Much depends on whether ISIS fighters opt to leave Raqqa and regroup elsewhere, or stay and fight to the death.
MORE: Long struggle looms in battle for ISIS heartland
What happens to Raqqa when ISIS is overthrown?
The SDF has said that as a largely Arab city, Raqqa will be administered by its Arab components. Historically, the city has had little Kurdish presence. Before the outbreak of the civil war an estimated 10% of its population was Christian.
To many military observers, it's unlikely that the Syrian regime will tolerate the SDF running a provincial capital. Its army has already begun to move toward Raqqa, though it's still some distance away.
Last year, Russia talked about coordinating the city's liberation with the US, but there is no sign of that now.
Where does that leave ISIS?
ISIS is running out of places to go. When the group is evicted from Raqqa it will lose the last vestige of any "governance" of its so-called caliphate. But it's not just losing control of territory, it's also losing the facility to move freely between Syria and Iraq – especially since Iraqi militia seized the key town of Baaj last week.
The coalition hopes that the loss of Raqqa and Mosul will dull ISIS' appeal to potential recruits.
"It's hard to convince new recruits that ISIS is a winning cause when they just lost their twin 'capitals' in both Iraq and Syria," General Steve Townsend, the coalition's commanding general, said.