Story highlights
Trystan Reese says he kept his "original parts"
He and partner Biff Chaplow will welcome a baby in July
"We've been under medical supervision the entire time time," he said
Like most anyone in their third trimester of pregnancy, Trystan Reese is dealing with cravings and heartburn. But unlike most first-time parents, Reese is a transgender man who is expecting a baby with his partner of seven years, Biff Chaplow. The Portland, Oregon, couple will welcome a son in July.
"As the pregnancy's progressed, it's like more and more obvious that it's not just a guy with a beer belly," Chaplow told CNN affiliate KATU.
'I'm OK being a man who has a uterus'
Reese, who was assigned the female gender at birth and says he kept his "original parts," adds that he never wanted to change his body.
"I think my body is awesome. I feel like it's a gift to have been born with the body that I did, and I made the necessary changes so that I could keep living in it, both through hormones and through other body modifications," he shared in a video posted to the couple's Facebook page.
"I'm OK with my body being a trans body. I'm OK being a man who has a uterus and has the capacity and capability of carrying a baby. I don't feel like it makes me any less of a man. I just happen to be a man who is able to carry a baby."
Reese, 34, and Chaplow, 31, who adopted Chaplow's niece and nephew in 2011, knew many transgender men who had been able to have babies in "a healthy and responsible way." They wanted their pregnancy to be no different.
"We met with the best medical team we could find to find out if it was possible to do safely," Reese told CNN.
Reese stopped taking testosterone months before, to prepare his body for the process of becoming pregnant.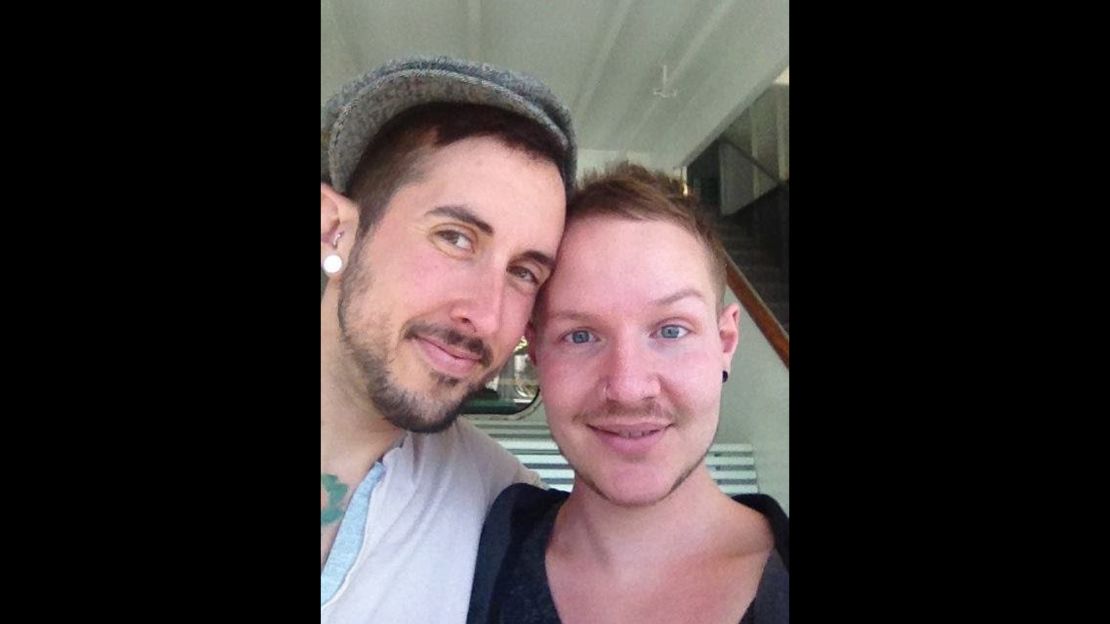 "We've been under medical supervision the entire time time," he said, "to make it as healthy and safe as possible."
After five months, Reese finally found out he was pregnant. "I was overjoyed and elated," he said. "A lightness came over me."
Reese has come up with unique ways to layer while commuting and at the grocery store "to stave off any negativity" that comes from his burgeoning belly and says his health-care practitioners at the hospital have undergone training to be sensitive to his situation.
But unfortunately, the negativity that the couple has experienced isn't so much in person – it's online.
"We find that behind the shroud of anonymity, people feel pretty empowered to tell us what should happen to us, to our children, to our family," Reese said. "The reason why you have a kid is because you want to see more love in the world, and remembering how difficult that's going to be, it's hard."
An otherwise ordinary pregnancy
As for the downsides to pregnancy, Reese says the hardest part has been the "gross stuff … the embarrassing stuff" that comes with carrying a child.
"Getting heartburn after every single meal all the time, that is a bummer," he said, adding that the strangest and strongest craving he has had has been for McDonald's French fries, which his friends had to bring him in the middle of the night.
"It's been normal pregnancy stuff," Reese said. "It's hard on your body, and I haven't been able to be the perfect partner and parent because I don't have the same energy level."
As their due date gets closer, the couple is preparing their children for the new addition.
"We are a dedicated couple. We are dedicated to each other, we are dedicated to our kids, and we plan to be as dedicated to this new baby as we are to our current kids," Reese said.
"They are not excited to share their dads' time with a new little creature, but they're excited to be a big brother and big sister."