The search for survivors ended as well-wishers gathered Wednesday night near a west London high-rise that was gutted by a massive fire.
But the recovery operation continues and an investigation is just getting started into what caused the deadly blaze that left at least 12 dead and dozens more injured.
All 24 floors of Grenfell Tower in North Kensington were quickly engulfed, trapping residents and reportedly forcing some to jump to escape what London's fire chief called an "unprecedented" blaze.
Authorities pledged to review concerns raised about fire safety in the building, including the possibility that a recent refurbishment contributed to the fire's spread.
British Prime Minister Theresa May promised a "proper investigation" as soon as recovery is completed. For now, though, she said the focus is on helping residents and emergency responders to ensure they have "what they need to continue with their harrowing work."
Latest developments
– At least 12 people have died and police expect the toll to rise.
– 78 people were hospitalized, 18 of whom are in critical care.
– London Fire Brigade says it has rescued 65 people from the tower.
– Residents say they were told to stay in their apartments as the fire raged.
– 125 families live in the building, which also houses a nursery.
Witnesses described people leaping from the building and trapped children banging on windows as the fire broke out around 1 a.m. local time. At the height of the blaze, around 200 firefighters, 40 fire trucks and 20 ambulance crews were at the scene.
"This is going to be a long and complex recovery operation and I do anticipate that the number of fatalities will sadly increase beyond those 12," London Metropolitan Police Commander Stuart Cundy said Wednesday night. "I don't anticipate there will be further survivors."
It is unclear how many people are still unaccounted for. The Italian Foreign Ministry said at least two Italians are missing and British Labour politician David Lammy said artist Khadija Saye also was missing.
By the afternoon, emergency centers had been set up at nearby churches and posts. Community members and organizations handed out food, clothes and other supplies to those left with no home to return to.
Some in the community suggested the Muslim holy month of Ramadan helped contain the fallout. The neighborhood is home to a large number of Muslims who were awake when the fire broke for their early morning meal before starting their daily fast.
"A lot of lives were saved because of that, because they were awake," said neighborhood resident Ahmed Shellat, who claimed to know people in the building. "They felt the fire quickly, and they saw the heat so they just ran out. If it was like a normal day they would've been asleep and there would have caused a lot of casualties."
As night fell Wednesday, Londoners gathered near the building to participate in a candlelight vigil and contribute to relief efforts.
After sunset an Iftar table was laid out at Rugby Portobello Trust for volunteers ending their fast.
"Everyone is standing together and I think that is the most important thing that has come out of this tragic event – that at least we are here standing together supporting our community members on this tragic day," said a volunteer who identified herself as Latifa.
Safety concerns previously raised
Grenfell Tower is part of the sprawling Lancaster West Estate, an enclave of social housing managed privately on behalf of the London Borough of Kensington and Chelsea. While the borough is one of the most affluent in London, North Kensington is a particularly deprived district.
The tower was built in the 1970s and recently subject to a $10.9 million redevelopment, according to property firm Rydon. The building was to undergo specific improvements to fire safety and ventilation works. The web page detailing the refurbishment was unavailable for a time on Wednesday.
Local councilor Robert Atkinson told CNN the renovation works had modernized kitchens and new heating systems. Safety certificates had been issued and the council had been "told it had all been brought up to date," he said.
Fire chiefs said it was too early to speculate on the cause of the blaze. Residents of the tower had expressed concerns over the safety of the building, specifically pointing to fire risks, according to a website run by the "Grenfell Action Group."
Rydon, the company that undertook a refurbishment of Grenfell Tower, says its work met "all required building control, fire regulation and health and safety standards."
The company that manages the building, Kensington and Chelsea Tenant Management Organisation, said it was focusing on helping residents while London Fire Brigade investigates the safety of the tower's structure.
The company that installed the cladding on the exterior of the structure is "not aware of any link between the fire and the exterior cladding to the tower," their managing director said in a statement Wednesday. Cladding is a covering or coating on a structure.
The company, Harley Facades Limited, said it did not manufacture the cladding, and added: "The Aluminium Composite Material (ACM) panels are a commonly used product in the refurbishment industry."
"We will fully support and cooperate with the investigations into this fire," Managing Director Ray Bailey said.
London Mayor Sadiq Khan visited the site on Wednesday afternoon with fire officials. He said authorities would address residents' concerns as questions begin to swirl on how the blaze started and ripped up the building so quickly.
He added that the British government has promised inspections of other apartment buildings with similar refurbishments.
"It's really important that their questions are answered. I'll be demanding answers," he told reporters.
Leaping from windows
According to witness accounts, some residents were told to stay inside their apartments as the fire raged.
High-rise buildings are typically designed to contain fire outbreaks within floors, so it is often safer to stay in an apartment unaffected by a blaze. But this fire seemed to tear up the building from the outside, gutting the outer apartments and blackening most of the facade.
One woman said her friend was inside for three hours and was told by police to wait and put towels down to block the doors. When no one came to help, she decided to escape on her own.
Another witness said a family friend was "stuck on the eighth floor with her 5-year-old daughter" until 5 a.m., almost four hours after the fire broke out.
Turufat Yilma, who managed to escape, told CNN there was "no fire alarm at all." She only learned of the fire when a neighbor called her.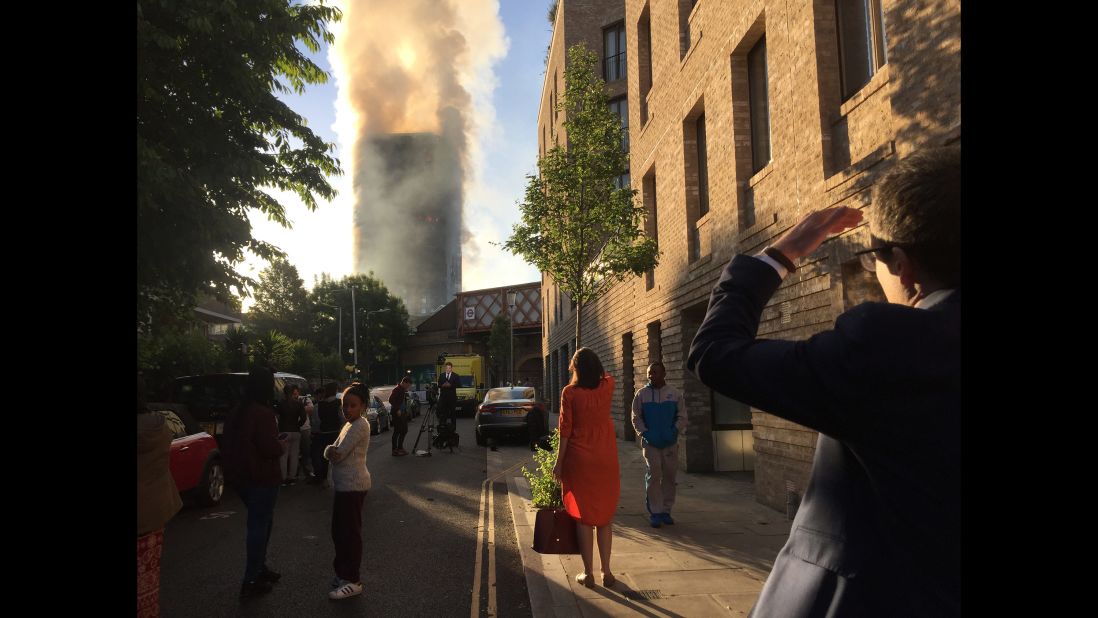 Fire engulfs West London apartment block
Several witnesses also described the horror of seeing people leap from the tower to save themselves.
"They literally just jumped … (they) must have thought, we're not going to sit here and suffocate," said Samira Awil said, adding she had seen bodies of men, women and children covered in sheets outside the building.
Samira Lamrani, who lives next to Grenfell Tower, told the Press Association that she watched a woman throw her baby from a window to a man on the ground.
Survivors said they felt lucky to be alive. Michael Paramasivan said he was watching TV in the building as his girlfriend and daughter slept when he smelled burning plastic. Soon he saw the smoke and chaos.
"I grabbed my little girl and ran down the stairs," he said. "Half of the building was ablaze by the time we got out. And it was just spreading like wildfire."
CNN's Steve George, Fred Pleitgen, Schams Elwazer, Vasco Cotovio, Eliza Mackintosh and Karen Smith contributed to this report