Story highlights
Hamas spokesman says group hasn't been asked to leave Qatar
Qatar says Hamas' presence is part of effort to mediate between the Palestinian factions
When Palestinian militant group Hamas announced its new policy document to the world, it wasn't from Ramallah or Gaza City, but from the Sheraton hotel's gilded Salwa Ballroom in Doha.
It was no surprise that Hamas chose Qatar. It's the home of outgoing Hamas leader, Khaled Meshaal, and much of his senior leadership.
"Qatar is quite important for Hamas," said H.A. Hellyer, a senior non-resident fellow at the Atlantic Council. "Qatar provides strong financial aid to the occupied Palestinian territories and is a safe haven for a number of Hamas leaders."
The recent crisis in the Persian Gulf region is putting that relationship in jeopardy. Earlier this month, nine countries including Saudi Arabia, the UAE, Egypt, and Bahrain cut diplomatic ties with Qatar and imposed financial embargoes of varying severity.
The announcement was the culmination of a feud that had been simmering for years. The nine countries accused Doha of assisting terrorist organizations, providing support for the Muslim Brotherhood and of being far too cozy with Iran.
OPINION: Don't be fooled by Hamas' rebranding
Ironically perhaps, Qatar's relationship with Hamas had not been among the biggest issues dividing the region.
Unlike the US, Britain, and Europe, all of which designate Hamas as a terrorist organization, Arab states – including Qatar – do not. This was something Qatar's Foreign Minister sought to remind people in an interview with Russia's RT, in response to a call from his Saudi counterpart that Qatar stop supporting Hamas.
"The US views Hamas as a terror organization. But to the rest of the Arab nations, it is a legitimate resistance movement. We do not support Hamas, we support the Palestinian people," Sheikh Mohammed bin Abdulrahman Al Thani said.
"Hamas' presence [in Doha] is coordinated with the US and the countries in the region, and it's part of our effort to mediate between the Palestinian factions to reach reconciliation."
OPINION: Hamas has a huge long-term problem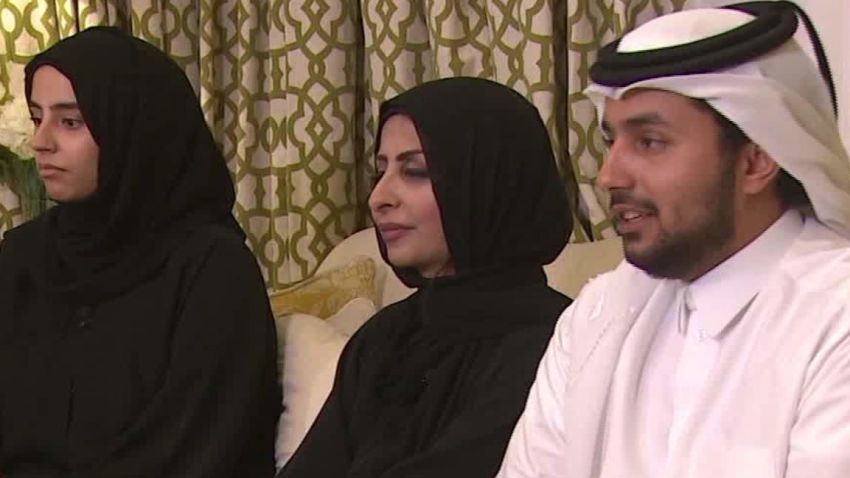 Qatar crisis threatens to tear families apart
Unreasonably squeezed?
For its part, Hamas says it is being squeezed unreasonably.
"The Gulf Countries are pressuring Qatar to cut relations with resistance organizations. This is unacceptable and we refuse this pressure," Hamas spokesman Fawzi Barhoom said in a statement to CNN. "We are a resistance movement and the whole world is a witness to this."
Hamas is seen as having been under a series of pressures for the last few years, reflected in some significant internal changes.
Last month, a new leader was announced – Ismail Haniya is taking over from longtime leader Meshaal – at the same time as the militant group issued its new policy document.
While Israel pointed to the fact the new document continued to espouse violent resistance, and a commitment to the "rejection of the Zionist entity," others observers said the document's description of a Palestinian state with the borders existing on the eve of the Six Day War in 1967 provided evidence of a new moderation.
As Hamas rank and file were digesting those changes, so the leadership was suddenly forced to pay careful attention to diplomatic developments. Hellyer sees two main reasons the nine regional allies are turning their attention towards Hamas.
"First, Hamas has ties to the Muslim Brotherhood organization, which puts it in the firing line of Abu Dhabi and Saudi Arabia," Hellyer says. "But I think this has more to do with a western audience. The Saudi rulers took advantage of Trump's recognition of them as a powerful actor in the region and that might have encouraged them."
What in the World: Trump & the Qatar Quarrel
Al Jazeera: 'Thorn'
Al Jazeera, based in Qatar, has been a thorn in the side of regional autocrats for years. Qatar's regional influence also comes from support for Islamists, whether it is the Muslim Brotherhood and Hamas at one end of the spectrum, or Al Qaeda at the other.
Doha has used this sway to negotiate with various groups including the Taliban, as well as to help negotiate ceasefires between Israel and Hamas.
In late 2010 and into 2011, Qatar saw its influence throughout the Middle East rise sharply. Al Jazeera, already a thorn in the side of Arab autocrats, reported extensively on the Arab Spring.
The Al Jazeera Arabic channel grew additional roots in Egypt after the uprising and election of Mohamed Morsy who hailed from the Muslim Brotherhood. The international community praised the new Egyptian president for bringing a swift end to a war between Gaza militants and Israel that same year.
In the long run, though, as it unraveled across the region, the Arab Spring proved to be disastrous for Hamas, which saw the number of countries it could call a friend whittled away.
"Hamas had very strong relations with Syria, Egypt, Qatar, Turkey and Iran," says Mustafa Barghouti, an independent Palestinian politician. "Things have changed over time so they had to diversify relations."
Move from Damascus
Food, fuel and flights: How Qatar may suffer
Before 2012, the Hamas leadership was based out of Damascus. Tensions grew between the militants and the regime of Syrian President Bashar Al Assad as revolution gripped the country. Eventually, Hamas sided with the rebels and cut ties to some extent with Syria, Hezbollah, and Iran.
"Hamas lost a lot in the uprisings," says Hellyer. "This is one of the reasons why Qatar stepped in."
Qatar, a strong supporter of both the Muslim Brotherhood in Egypt and Hamas, took advantage of the situation.
In the fall of 2012, the head of Qatar, Sheikh Hamad bin Khalifa Al Thani, visited the Gaza Strip becoming the first world leader to do so under Hamas control. The emir inaugurated projects worth hundreds of millions of dollars. In the vacuum left by other countries, Qatar saw its influence over the Strip rising quickly.
But Doha's ambitions hit a roadblock on July 3, 2013 when Mohamed Morsy was ousted by Egypt's military in a coup. The Muslim Brotherhood were stripped of their power and their influence. The new ruler – General Abdel Fatah El Sisi – was hostile toward Qatar and Hamas.
He accused Hamas of supporting the Brotherhood in the post-coup violence. Hundreds of smuggling tunnels, along the border with Gaza, were taken out of action, thus severing a vital lifeline to the coastal strip. Indeed, relations between Hamas and Cairo grew so bad that Egyptian pundits cheered Israel and praised Prime Minister Benjamin Netanyahu during the 2014 war between Gaza Militants and Israel.
Less than three years later, and that Egyptian resentment, shared by its Arab allies, exists now as a power play aimed at bending Qatar to its will.
"It's difficult to imagine Qatar able to hold out against such a restrictive system around them. I expect quite a few people in Qatar are looking for a way to compromise," explains Hellyer. "The problem is, the temperature has risen so much so quickly that there are no face saving measures. If Doha concedes to the demands, it'll look quite bad for Doha internally."
A break with Qatar?
Perhaps the most immediate sign of any acquiescence would be for Qatar to expel the Hamas leadership. Sudan or Turkey might be places of refuge if that were to happen, according to Hallyer.
"Until this moment, Qatar hasn't informed us of any decision to leave Doha," says Hamas's Barhoom. "We are welcomed in many countries. We had elections and will consider new arrangements. The residency of Hamas leadership might change according to a decision taken by the leadership itself."
A break with Qatar wouldn't break Hamas – the organization has survived before without Qatar's money – but it would surely compound the dire situation in Gaza, say observers.
According to the United Nations, the unemployment rate in the strip is more than 40% and 1 million people rely on food handouts from the UN's Palestinian refugee agency.
"It's a very serious, dangerous and explosive situation," says Barghouti. "Qatar has been helping the Gazans by supplying them with electricity and fuel. Breaking ties would drastically affect the civilians. My worry is squeezing Hamas too much could lead to certain splits and allow certain radicalization."
Ultimately, he says, this feud between the Gulf countries could have a negative effect on Palestinian ambitions for an independent state.
"Internal disputes in the Arab world, between Arab countries, are bad for Palestine. One very important effect is that this distracts from the Palestinian need for liberation and independence," says Barghouti. "We Palestinians need these problems resolved as soon as possible."
Correction and clarification: An earlier version of this article had the incorrect unemployment rate for Gaza. Gaza's unemployment rate is above 40%. The article also referred to the new Hamas policy document as a charter. This article has been changed to more accurately reflect this fact.
CNN's Abeer Salman contributed to this report.