British Prime Minister Theresa May on Thursday announced a full public inquiry into the Grenfell Tower disaster as grief turned to anger a day after the blaze that left at least 17 dead.
Speaking after visiting the site of the devastating fire in London's North Kensington area, May said she wanted to make sure "this terrible tragedy is properly investigated."
London's fire chief said there's little chance of finding any others alive in the charred remains of the tower. Dozens remain missing.
The Metropolitan Police have preliminarily identified six victims of the fire, Cmdr. Stuart Cundy said. He added that six bodies were recovered outside but they are not necessarily the victims who were identified.
Eleven bodies that have been spotted inside have not been recovered.
Investigators expect the death toll to rise, he said.
May's government was facing growing questions about why ministers did not act on recommendations following an earlier fire in London, which led to calls for sprinkler systems to be installed in residential blocks and for a full review of Britain's fire regulations.
David Lammy, a member of Parliament from the opposition Labour Party, said charges should be brought against those held responsible for the tragedy.
Latest developments
– The final death toll is unknown; there's no number on the missing.
– Residents who escaped were offered housing overnight.
– The local council says it has enough donations for the survivors.
– Thirty-seven are people in the hospital; 17 of them are critical.
– The Prime Minister visited the site Thursday.
Firefighters were still working to dampen the blaze and search for remains of the dead Thursday.
London Fire Commissioner Dany Cotton said she had "genuinely" no idea about how many people were still missing. She admitted it would be an "absolute miracle" if anyone else were still alive in the tower and that it would take weeks to complete a proper search.
Cotton said that urban search and rescue dogs would be deployed inside the building. While the core of the building was structurally sound, dogs were lighter and more agile than people, she said. Her staff will remain on the scene for days, and the search of the tower would be a "slow and painstaking process."
Cotton also said that parts of the building would have to be shored up to make it safe for rescue workers to reach each floor.
May praised the actions of the emergency services and the local community in coming together at such a difficult time.
She also sought to reassure residents who lost their homes that they would be rehoused in London and as close as possible to that area.
"We need to know what happened, we need to know an explanation," she said. "We owe that to the families, to the people who have lost loved ones and the homes in which they lived."
London Mayor Sadiq Khan said in an earlier call for a public inquiry that an interim report should be produced by the summer.
"We can't afford to wait many years for these answers," he said during a Thursday evening news conference that became testy as local residents surrounded him, at times shouting expletives.
Anger
Lammy, the Labour lawmaker from London, called for arrests, describing the fire as "corporate manslaughter." Lammy told the BBC he had yet to hear from family friend Khadjia Saye, who lived in the tower. He called the fire "an outrage."
"We built buildings in the '70s. Those '70s buildings, many of them should be demolished. They haven't got easy fire escapes. They've got no sprinklers," Lammy told the BBC. "It's totally, totally unacceptable in Britain that this is allowed to happen and people lose their lives in this way, and people should be held to account."
Questions remain over how the fire began and how it spread so quickly through the tower that was home to as many as 500 people.
Originally constructed in 1974, the residential tower block recently underwent a $13.2 million (£10.3 million) refurbishment carried out by private developers Rydon and completed last summer. The focus has turned to questions over the exterior cladding added as part of the refurbishment.
Many survivors said the fire spread quickly with little warning. Multiple residents told CNN they did not hear fire alarms when the blaze broke out.
Residents had complained about safety for several years.
In November, the Grenfell Action Group highlighted ongoing concerns among residents over the safety of the tower, managed by the Kensington and Chelsea Tenant Management Organisation on behalf of the borough.
The group's blog post argued that only "a catastrophic event will expose the ineptitude and incompetence of our landlord … and bring an end to the dangerous living conditions and neglect of health and safety legislation that they inflict upon their tenants and leaseholders."
The management company acknowledged residents' concerns in a statement: "It is too early to speculate what caused the fire and contributed to its spread. We will cooperate fully with all the relevant authorities in order to ascertain the cause of this tragedy. … We are aware that concerns have been raised historically by residents. We always take all concerns seriously and these will form part of our forthcoming investigations."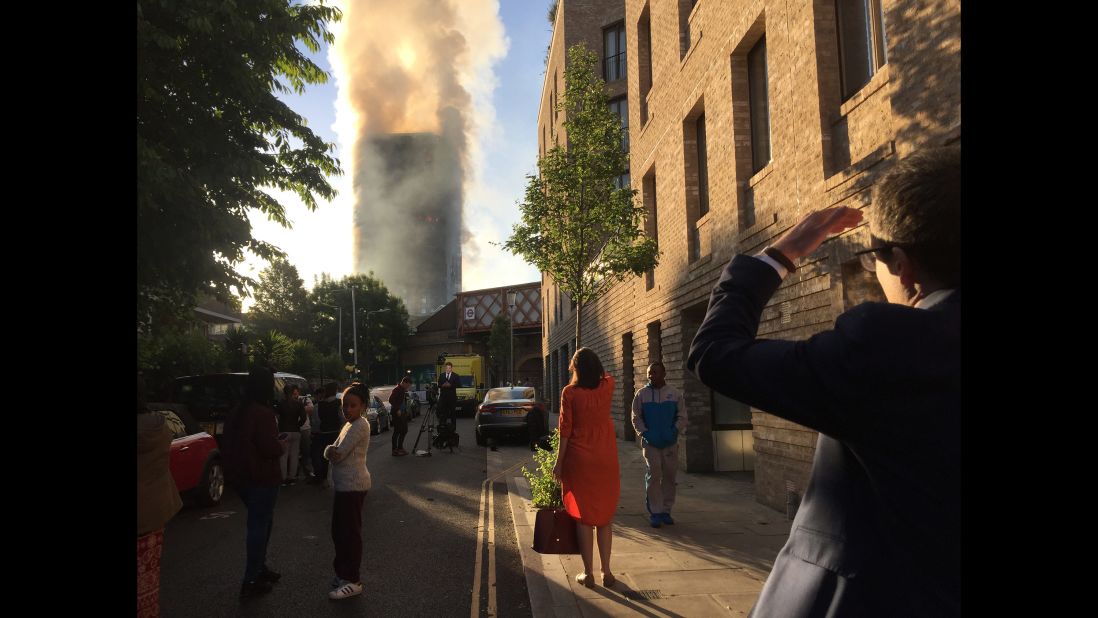 Fire engulfs West London apartment block
Safety concerns
Chief among the unanswered questions is how the fire spread so quickly.
Ian Burgess, a professor of structural engineering at the University of Sheffield, told CNN that while fires do spread vertically up buildings, it's "generally quite a slow process."
"This was clearly a very rapid transmission of flame up the front of the building," he said.
Mike Gilmartin, director of Omega Fire Engineering, said that to meet requirements, a building must have residential sprinklers and fire alarms in every apartment as well as other features such as a firefighting shaft.
Gilmartin said fire design has evolved over the years but it's not feasible to make all older buildings comply with the latest legislation. He added it's standard guidance that residents should stay in their apartments if a fire breaks out, as many of those in Grenfell Tower did.
A 2009 fire at a residential block in south London, Lakanal House, led to calls for sprinkler systems to be installed in similar buildings. The government repeatedly committed itself to reviewing fire standards in buildings but to date has not done so.
Community comes together
As the smoke continued to billow from the tower, locals worked hard Thursday to help those left homeless.
The local council received so many donations of food and supplies that by Thursday morning it said it did not need any more.
Piles of baby carriages, luggage, food supplies, toys and furniture could be seen stacked on the streets as mourners and well-wishers wrote messages of solidarity and hope on posters near the ruined tower.
Dozens of hotel rooms, apartments and other rooms were donated to house the survivors.
On Wednesday evening, on a street in the tower's shadow, volunteers who had been working all day handed out cans of soda and bottles of water, and others spread food and plates out on a long red rug laid on the sidewalk.
"Share the food with everyone," a marshal said as residents and volunteers sat cross-legged opposite each other and Muslim members of the neighborhood broke their Ramadan fast.
"The best thing about today has been seeing how generous people are," charity worker Zain Miah told CNN. "It doesn't matter what color skin we have, doesn't matter where we're from. … Everyone is here to make sure the people who are affected, and who need help the most, have got that help."
CNN's Steve George, Frederik Pleitgen, Schams Elwazer, Vasco Cotovio, Eliza Mackintosh, Joshua Berlinger, Sarah Tilotta, Angela Dewan, Emanuella Grinberg and Karen Smith contributed to this report