Story highlights
Abby Stein is an openly transgender woman raised in a Hasidic Jewish community
Stein says she wants to help other trans men and women brought up in fundamentalist religious communities
Just five years ago, 25-year-old Abby Stein was an ultra-Orthodox rabbi named Yisrael. Today, she's an openly transgender woman. And she's ready to share her extraordinary story with the world.
Stein was born in Brooklyn and brought up in a Hasidic Jewish community, a conservative Jewish sect that shuns the modern world. The sixth child and first son in a family of 13 kids, Abby, like all the males in her community, wore the dark clothes and distinctive fur hat of her religious sect, and spoke only Yiddish.
She dutifully followed the traditional path of a young Hasidic male in her strictly gender segregated community, attending a Yeshiva in upstate New York, and becoming a rabbi. At 17, as is customary in the Hasidic community, a marriage was arranged and she became engaged. At 18, she got married. A year later, Abby's wife had a baby.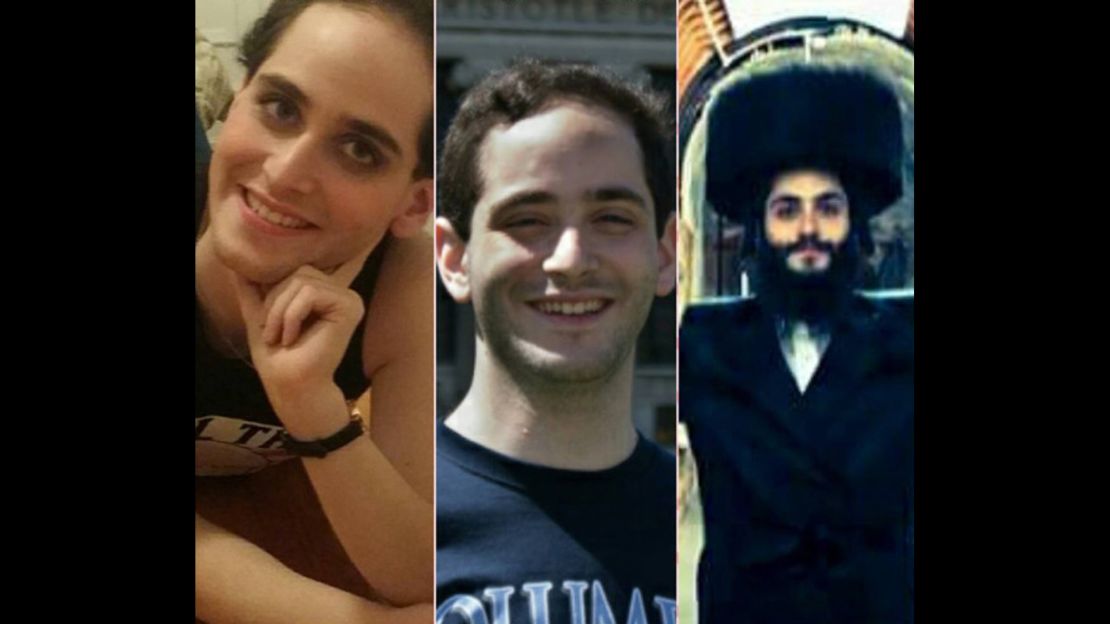 Though overjoyed to be a parent, Abby says the birth of her child, a son, was a catalyst to confront a secret she'd harbored her entire life. For as long as she could remember, she suspected she was female.
"It felt like my gender was punching me in the face. Everyone had told me that I was a boy, but it didn't feel right," she said, in an interview with CNN.
"As a child, I remember saying, 'I'm a girl, right?' but no, everyone said something else. It was a hard experience growing up and not having any outlet. Not having any way to express myself," she recalls.
Abby had no idea that transgender people even existed.
"When I was around 12 I decided that I know what I feel gender wise, but that's impossible, because I am the only that feels like that. LGBT people of any form just don't exist in that community," she says.
Growing up in Hasidic Brooklyn, she says, was like living in a "bubble."
"Movies, TV, music, magazines, literature, it doesn't exist there. There's no access to the internet. They don't speak English. Men and women don't interact with each other at all. As far as I know, it's the most gender segregated society in the United States," Stein said.
"I personally grew up in New York City, but I also didn't. I grew up geographically here, but culturally it was a pretend 18th-century Eastern Europe," she adds.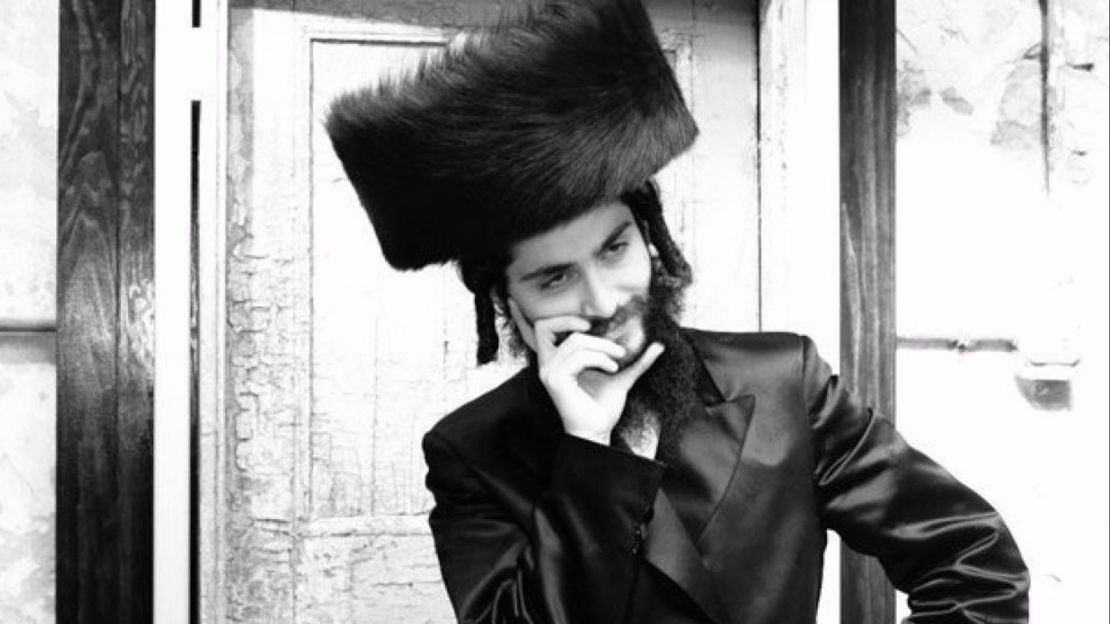 A breakthrough came when Stein, at the age of 20, was able to use a friend's tablet to connect to a wi-fi network. It was the first time she had ever been on the internet, and what she found there changed her life. Writing in Hebrew, a language she could understand, she tentatively typed "a boy turning into a girl" into Google.
That led to a Wikipedia page about transgender people, and then an anonymous online Israeli forum for the transgender community, where she began to interact with other users who were also struggling with their gender identity. It was a light bulb moment. The avatar name she chose to use for those first anonymous forays in the online chat room? Chava, the Hebrew translation of Eve.
"The first woman!" Stein says with a laugh.
With her worldview forever altered by understanding that she wasn't alone, the more Stein learned, the more she felt compelled to leave the cloistered community she had been raised in, and whose religious practices she had long begun to question. But she knew it would come at a tremendous cost.
"It was a slow process. It doesn't happen overnight," she says.
"To some extent, leaving the community was even harder than transitioning. I had no idea what I was getting into. I didn't know anyone, couldn't speak the language, and didn't have an education. I didn't know how to dress. I didn't know how to talk. I remember the first time walking into a Starbucks, I was like, 'OK, what's happening here?' The culture shock is just in every level, every way. … It's like being an immigrant in your own country."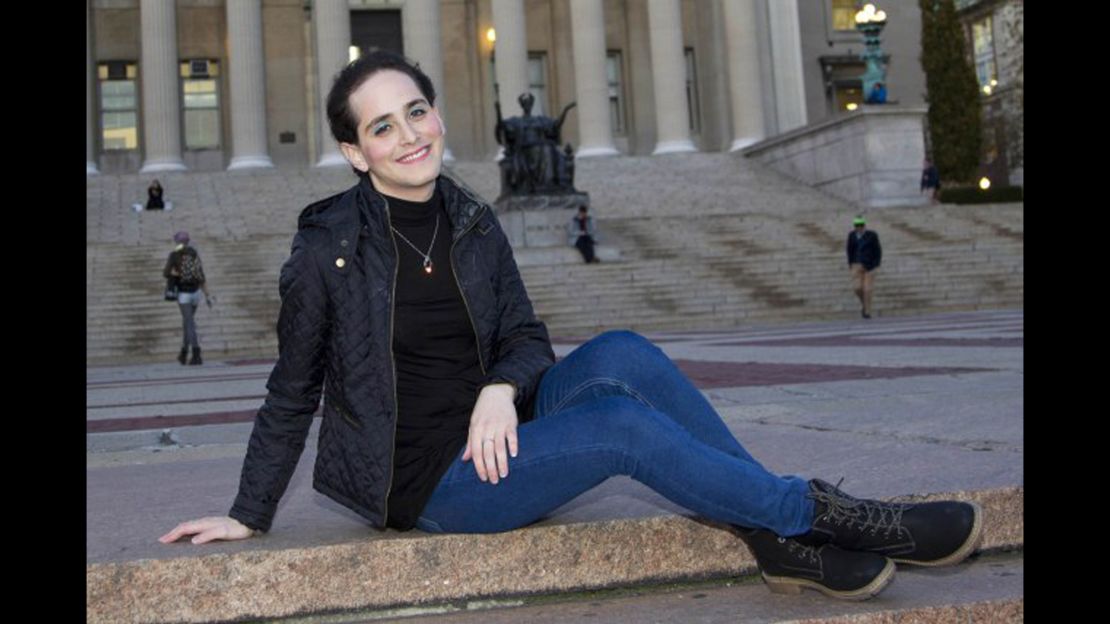 In the summer of 2013, Stein and her wife separated. With the help of YouTube videos and the New York-based Footsteps organization, which provides support for people leaving ultra-Orthodox communities, Stein learned English, gained her high school diploma and applied to college.
On a whim, after being encouraged by a friend, she decided to apply to Columbia University. She was stunned when she was accepted.
"I got a phone call and I think I froze for five minutes. I was totally not expecting it," she said.
At school she began hormone treatments. And, on November 11, 2015, Yisrael officially became Abby, coming out in a post on her blog. Her name, she says, was something she chose for very deliberate reasons.
"Abby comes from Abigail, who in the Bible is one of King David's wives. She's a very strong character in the Bible, and in the Talmud they say that she says that she was one of the seven most beautiful women to have ever lived in the world. It also means the source of joy or source of happiness. So there was a lot that resonated with me," Stein says.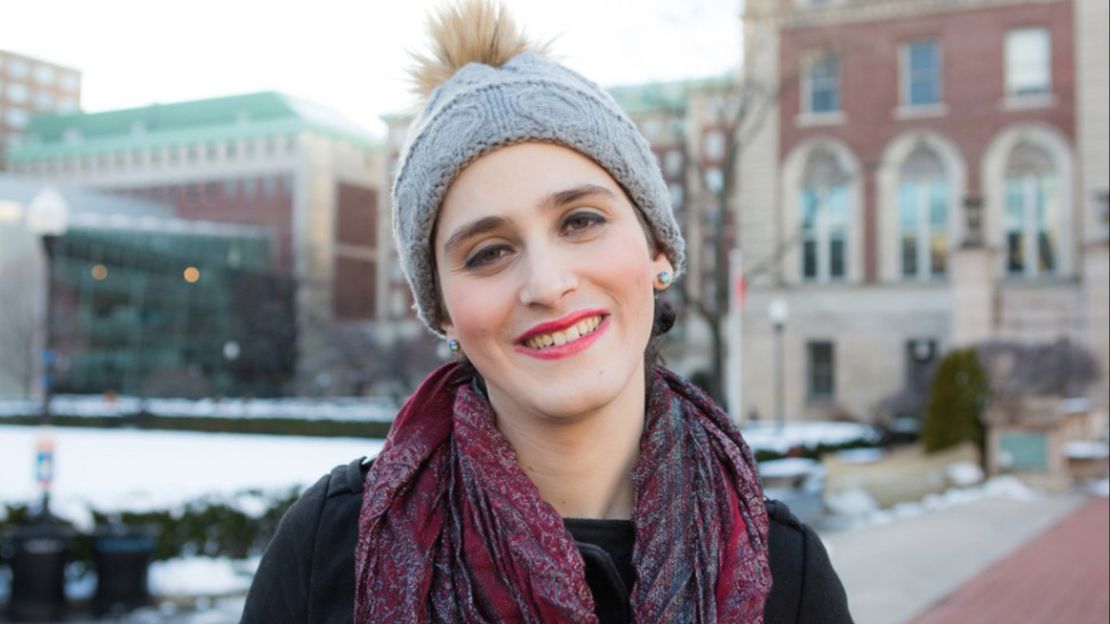 Today, Stein, who has delicate features, a dry sense of humor and a sing-song Yiddish accent, says she's finally the woman she always knew she was. However, coming out has come at a cost. Her parents have not spoken to her since she told them she was transitioning. She still sees her son, and some of her siblings.
But Stein has found solace in the transgender community, and is determined to help other people like her. She's in a loving relationship, is writing a memoir and is in the final stages of putting together a support group for trans individuals who have grown up in fundamentalist religious environments. Already, she says, many people have been in touch.
"I interacted last week with someone who grew up Amish, people who grew up Mormon, people who grow up fundamentalist Muslim in the Middle East, Jehova's witnesses," Stein said.
"We're talking here not just about people or communities that have anti-LGBT sentiment, but communities where this is seen as evil or something that is rarely discussed," she said.
Her fundamental message to them, Stein emphasizes, is sincere and simple.
"It's hard, but it's possible," she said.