Story highlights
Memory competitions generally involve five events with two goals: memorize and recall
The loci method is the main way athletes are trained to win
It's Thursday night in the "Sweetest Place on Earth," Hershey, Pennsylvania, the town famed for its chocolate.
Traces of mozzarella, boisterous conversations and anxiety fill the air of a small, packed pizzeria in the heart of town.
This distracted environment is not the ideal place for a group of students to study before a big test of their wits. But that's exactly the point.
The teens appear doggedly absorbed in their work, despite the chaotic atmosphere.
"Distraction teaches you to focus no matter what," said Colette Silvestri, a gifted and enrichment teacher at Hershey High School.
The next day, the students file into a small, unmarked classroom at their high school, smiling and chatting. The teenagers take their seats while sheets of paper are passed out. Feet start tapping, knuckles are cracked, and Silvestri sets a timer, at which point absolute silence fills the room.
This is not a final or a standardized test. This is voluntary.
This is memory team practice. And these students are "mental athletes," who exercise their brains rather than their bodies.
They've been training for the first high school team edition of the USA Memory Championships – the Olympics of mental games.
Learning to memorize
Memorizing contests generally consist of five events: a shuffled deck of cards, an unpublished poem, names and faces, random words, and speed numbers. Each game has the same goal: memorize and recall.
And they all use the same conditioning: the loci method, or "memory palace." Remember this, as we'll get to it later.
Two minutes and 40 seconds are left on the timer.
The mental athletes are memorizing the order of a shuffled deck of cards by both suit and rank. One athlete has all 52 cards laid out in three-card clusters. Another is simply thumbing through the stack.
The timer sounds, and they're handed a new deck of cards they must arrange to match the shuffled deck they had just committed to memory.
"You now have five minutes," Silvestri tells the kids.
Tuan Bui, a sophomore at Hershey High and an early favorite to do well in the competition, gets nearly every card right. He's ready to compete.
Committed to memory
The 25th annual World Memory Championships took place last year in Singapore. Though not prevalent in the United States, these events are huge in regions like Asia and the Middle East, where memory is taught in school from a young age, according to Silvestri, who is pushing for that same practice in the US.
She has been running a niche but strong memory team for a decade, one of the first teams in the nation.
Hershey High has churned out top mental athletes like Sophia Hu, who holds the US record for written random words: 120, to be exact.
The school has also won eight national championships.
And while many joke that there must be something in Hershey's water, the real reason for the city of chocolate's mental success is Silvestri. Her passion for teaching memory comes from a place of concern for future generations.
"We are digitized, we all have iPads, and every moment is scheduled. We have to learn what mastery is again," she said.
Memorizing by space – and loci
The loci method is the main way these athletes are trained, turning the small room where the students are practicing into a "memory palace."
Dating to the ancient Greeks and Romans, it's a mnemonic technique in which you place items along a familiar path or place in your mind. You can then retrieve this information by visualizing the location – essentially talking a walk down memory lane.
Visualize a space you know well, like your living room. As you walk through it in your mind, place images there, associated with what you're trying to remember.
When you have to recall this information, simply revisit that space, and all the new associations – and therefore memories – should be there.
Nelson Delis, four-time USA memory champion, uses this method and thinks it should be taught in schools.
"When you're thrown into school, you have to learn and often learning means memorizing things," he said. "But it's almost like giving someone a car, and they have to figure out how to drive it without being taught how to drive."
But loci is not the only way to train your memory.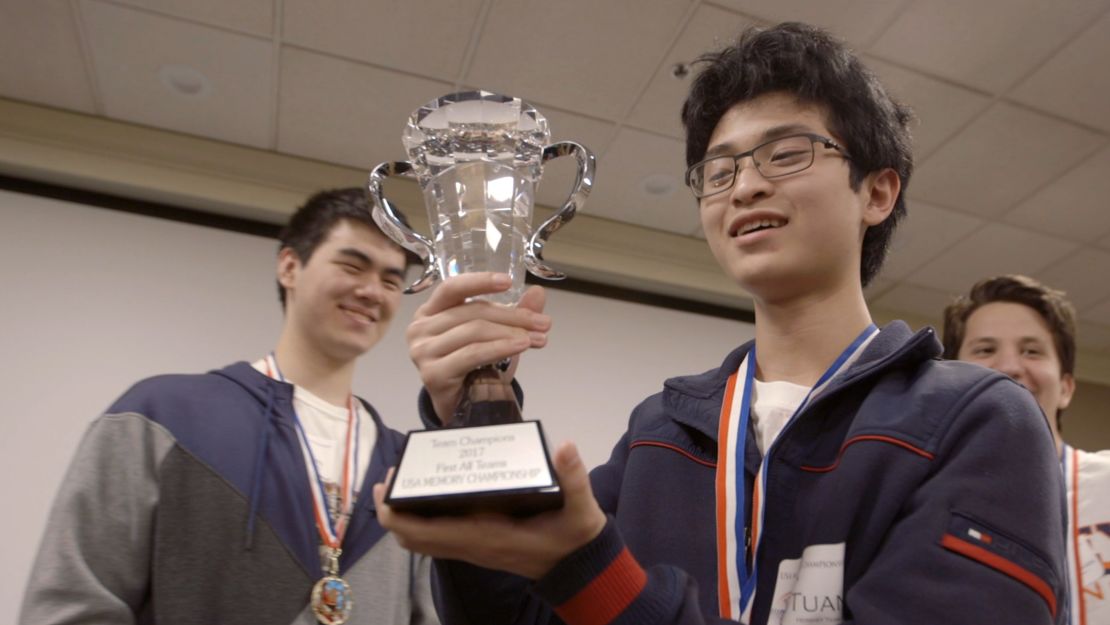 "Instead of the memory palace, I actually like to make a story out of my cards," said Bui, the competition favorite. "So depending on what suit the card is, then that will determine what kind of character or action or item it is."
For spades, Bui said, he uses actions.
"Right now, I have the six of spades, so I'll use 'tasing.' For hearts, I use characters … so two of hearts, I have 'Romeo and Juliet.' So someone is tasing Romeo and Juliet. Next card is spades again, so for queen of spades I have 'taking a bath,' so they are getting tased while taking a bath, which is not good," Bui said, laughing.
"It starts to get a little crazy, which is good, because it's more distinct and easier to remember."
Competition day
It's 8 a.m. Saturday, May 20, competition day for the USA Memory Championships – High School Team Edition.
The room is set up much like an SAT testing facility: a quiet, sterile environment, with nothing more than rows of tables and chairs.
Teams from all over the country have arrived. Hershey High has the biggest collective team, so they were split into four smaller teams: A through D.
"It's five events, one after the other, with a five-minute break in between," Silvestri said.
The first game is "names and faces," in which the athletes are tasked with memorizing the names of random people's faces. After 20 minutes to memorize, they are given the same booklet with only faces, and the students have to fill in the names.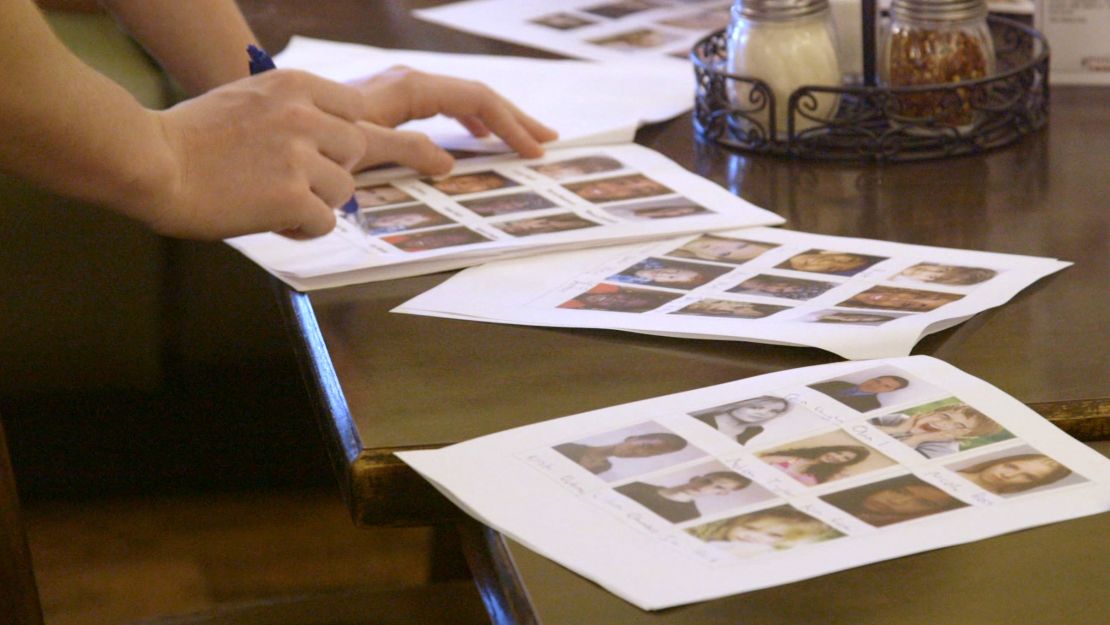 Just before the timer is set, some competitors put on large over-ear headphones, and some use earplugs, but all are staring down at a stack of photos of people they'll never meet.
It's not the most exciting competition to witness. There's not much to observe, since the game is happening in their heads. But the expressions on their faces are priceless.
"They get exhausted, absolutely exhausted," Silvestri said. "You'll see their hair start getting tossed. This is a sport. I have to confess it's a sport."
How it works
Not much research exists to back up the claim that training memory will cultivate cognitive faculties. But Robert Ajemian, a research scientist at the McGovern Institute for Brain Research at the Massachusetts Institute of Technology, believes that everyone can increase their memory muscle using the loci technique.
Ajemian wants to figure out how – and why – it works, so he is at the competition to observe and collaborate with Silvestri.
"We're trying to get some studies on some of these high school students," he said. "Some classes are being taught the technique, other classes aren't, and we're seeing if there is a difference in their general overall performance."
Silvestri says it already is.
"Their focus is better on tests. … Their grades increased. So from the most challenged to the most talented, everybody's memory increased." The key is to start young, she says.
And at the competition, her efforts paid off.
After eight hours of events, a lot of chocolate and shaking knees, the competition ends with Hershey High School Team A taking first place.
Ranked individually, Bui came in second place.
"In my brain, I'm like, 'Yes! I did it! Like, I actually did it.' And the overwhelming part of my brain is like, 'I wanna sleep,' " Bui said.
Experts just don't know what's going on the minds of these athletes, explained Ajemian.
"In associating new info with old, somehow, the new information pops out," he said. "It's like magic, but obviously it's not, because anybody can do it."