Story highlights
Australia's Great Barrier Reef is worth $42.4 billion, according to consultants
Almost half of that comes from domestic tourism, which climate changes puts at risk
Australia's Great Barrier Reef has long been considered one of the world's natural wonders, but now we know how much some economists think it's really worth.
Based on the industries the reef both directly and indirectly supports, consultants at Deloitte have estimated its total value at $42.4 billion (A$56 billion).
The reef is one of Australia's most valuable assets, but two massive bleaching events in less than 12 months have left it severely damaged, compounding years of steady attrition at the hands of climate change.
Deloitte hopes that putting a monetary value on it will influence decision making – as if being a "globally outstanding" UNESCO World Heritage site wasn't enough.
Here's how they decided on that number and what the reef means to Australia.
Measured in money
Economists came to the figure by factoring in GDP contribution of reef-related activities, such as scientific research, as well as its "economic, social, and asset value," according to Deloitte.
Of the $42.4 billion, over half of it comes from Australians who visit the reef as tourists, while about $18 billion resides in the value placed on it by people who have not yet visited the reef but value it for its iconic status.
Finally a smaller amount, just over $2 billion, is from people who regularly use the reef in their daily lives.
But the multibillion dollar total is not the only jaw-dropping stat about the reef.
It's home to thousands of species…
Over 1,700 species of fish and underwater creatures live throughout the approximately 3,000 sub-reefs that compose this natural wonder – which is even visible from space.
The cumulative reef consists of 14 ecosystems in all, which rely heavily on the seasonal migration of species throughout different months of the year.
Around the world, 25% of marine life calls coral reefs home.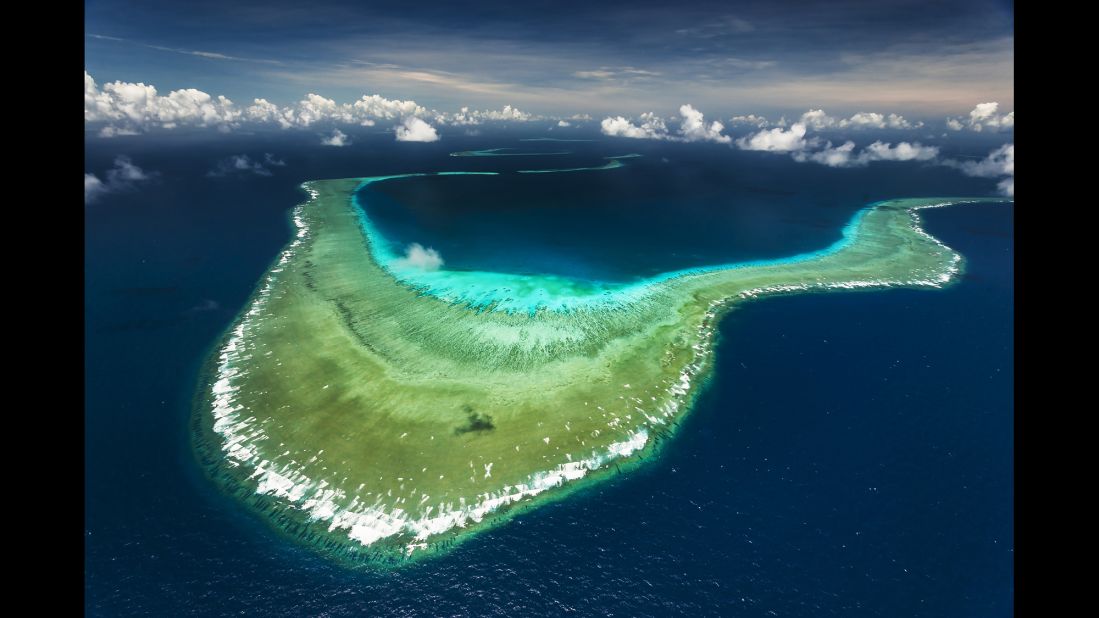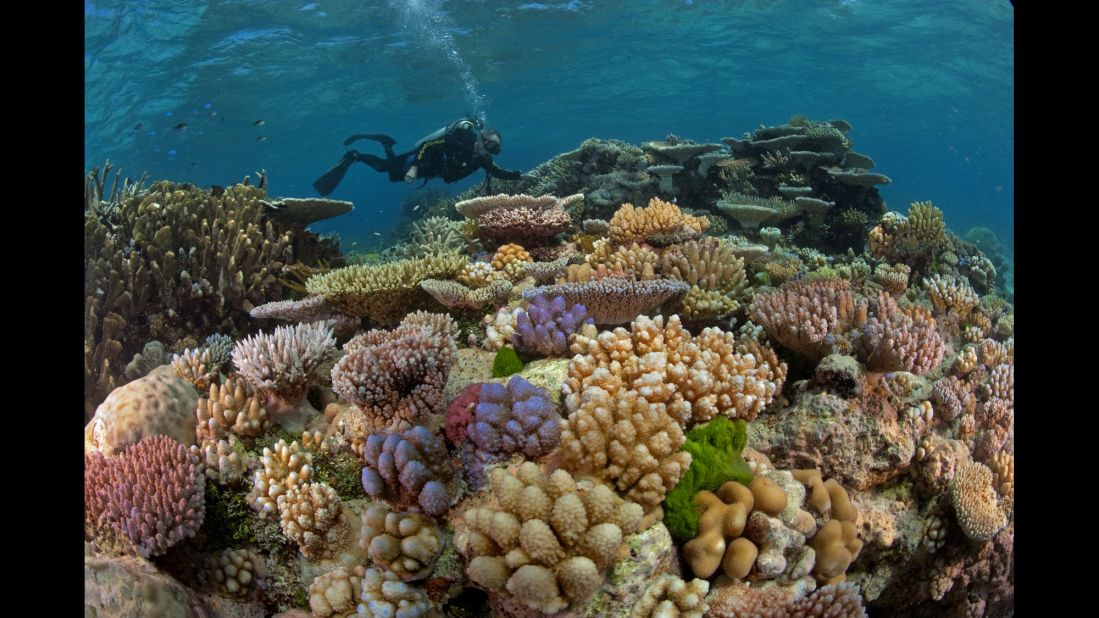 Great Barrier Reef
It's 2,300 kilometers long…
Located in the Coral Sea along the northeastern coast of Australia, the Great Barrier reef stretches from Cape York Peninsula in the north to Bundaberg in the south.
At 344,400 square kilometers, it's the size of Japan, and larger than the United Kingdom, Switzerland and the Netherlands combined.
But over half the reef is at imminent risk of dying…
As temperatures rise on Earth and in oceans, corals in the Great Barrier Reef, as well as around the world, have begun to "bleach."
It's a stress response when the coral finds itself outside the narrow temperature range in which reefs thrive.
Bleaching, a term coined by the subsequent draining of color, is when coral expels the algae from its surface, leaving itself both vulnerable and malnourished.
Consecutive bleaching episodes in 2016 and 2017 affected a 1,500 kilometer stretch of Great Barrier Reef coral, an area which covers two-thirds of the total 2,300 km reef. About half of the coral throughout the whole body is now bleached.
Coral does not die immediately upon bleaching, so long as water temperatures decrease soon after. Even still, full recovery can take up to 15 or 20 years.
Australia's Great Barrier Reef suffers 'extreme' coral bleaching
So how much is $42 billion?
In Australian dollars, the reef's value comes to A$56 billion, just short of the A$65 billion market capital of the National Bank of Australia. It contributes A$6.4 billion directly to the nation's economy annually.
The reef supports 39,000 jobs directly and 64,000 in total, which surpasses other principal sources of labor in Australia.
In comparison, A$56 billion is about the GDP of Macau or Cape Town or Lahore.
It roughly matches the market values of major auto companies around the world, like GM, Honda and BMW. Or perhaps more relevant to Australia, the value comes to more than 12 Sydney Opera houses.
'Too big to fail'?
The Great Barrier Reef supports a collective industry that offers more jobs to Australians than major corporations, such as the country's international airline Qantas or even Deloitte Australia itself.
"Considering this," the report reassures, "the Reef is critical to supporting economic activity and jobs in Australia. The livelihoods and businesses it supports across Australia far exceeds the numbers supported by many industries we would consider too big to fail."
But report after report has highlighted the danger the reef is in, with scientists telling CNN earlier in the year the amount of damage was "unprecedented."
"You're looking at some potentially unfolding human tragedy over the decades if reefs cannot provide the same source of livelihood," Sean Connolly, program leader of a government-funded coral reef center at James Cook University, Queensland, told CNN in March.