Story highlights
Liu has been serving an 11-year jail sentence "inciting subversion of state power"
He was awarded Nobel peace prize while in prison in 2010
Jailed Chinese dissident and Nobel peace laureate Liu Xiaobo has been diagnosed with late-stage liver cancer and granted medical parole, his lawyer told CNN.
"When a prison clinic is unable to deal with an inmate's medical condition, the authorities can approve outside treatment in accordance with law," said Liu's lawyer, Mo Shaoping, Monday.
"I understand from his family that his request was approved."
Liu, 61, is being treated at a hospital in Shenyang in northeastern China after receiving the diagnosis in late May. He had been serving an 11-year prison sentence for "inciting subversion of state power" in nearby Jinzhou.
The Chinese government confirmed Liu's diagnosis and parole in a statement released late Monday.
"The No. 1 Affiliated Hospital of China Medical University (in Shenyang) has formed a medical team comprised of eight nationally renowned oncologists and drawn up a treatment plan," it said. "Liu is currently being treated in accordance with the plan."
Calls for release
The Norwegian Nobel Committee said while it was "delighted" Liu was out of prison, "Chinese authorities carry a heavy responsibility if Liu, because of his imprisonment, has been denied necessary medical treatment."
"The Committee hopes that he will now be released without conditions and offered the best possible treatment for his illness, whether it be in China or abroad," it said in a statement.
Several Hong Kong pro-democracy groups said they would stage demonstrations outside the Chinese government's offices in the city to demand Liu's immediate release and urged Hong Kongers to stand in solidarity with Liu during annual protests on July 1, when the city marks 20 years of Chinese rule and President Xi Jinping visits.
In a statement, Wu'er Kaixi and Wang Dan – two of the leaders of the 1989 Tiananmen protests – said they were "shocked and devastated" by the news.
"We believe that Liu Xiaobo's physical and mental suffering in China's prison system is the fundamental cause of the deterioration of his health," they said.
"We strongly urge the Chinese government to immediately give Liu Xiaobo comprehensive medical care, to allow an outside medical team to visit and help him, and we also firmly demand immediate restore of Liu Xiaobo's normal contact with the outside world."
Elegy for 'June 4' by Chinese activist
Nobel peace prize
A prolific writer and longtime activist, Liu had been in and out of jail since the bloody crackdown on pro-democracy protesters in Beijing's Tiananmen Square in 1989.
His most recent conviction on Christmas Day 2009 stemmed from his co-authorship of Charter 08, a manifesto calling for political reform and human rights in China.
In 2010, while in prison, Liu was awarded the Nobel Peace Prize for "his long and nonviolent struggle for fundamental human rights in China."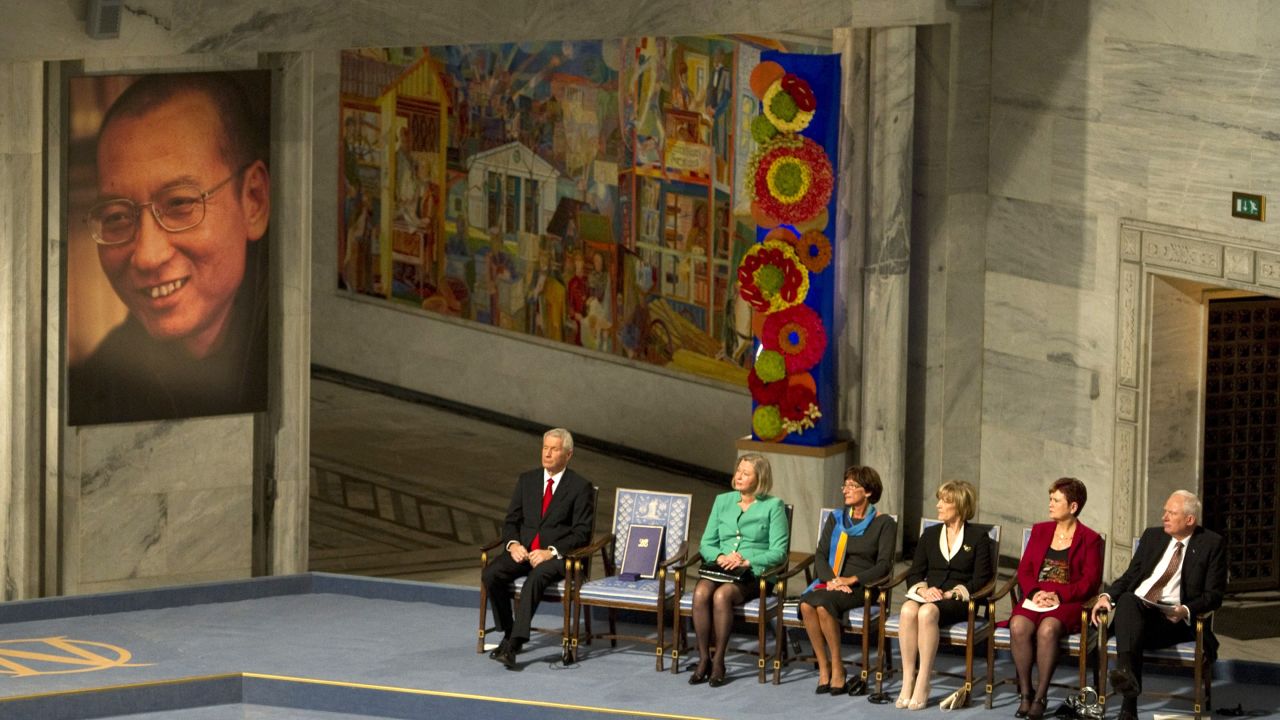 An infuriated Beijing tried to censor the news and boycott the award, insisting Liu was a common criminal and that the prize was nothing more than a Western plot against China.
The Communist government also put Liu's wife under house arrest, rounded up his supporters and froze diplomatic relations with Norway – where the Nobel peace laureate was selected and the prize was given.
Despite China's refusal to let Liu or a representative travel to accept the award, the Nobel ceremony organizers placed his citation and medal on an empty chair in a poignant event held in Oslo in December 2010.
CNN's James Griffiths contributed reporting.