Story highlights
Protests come in response to a string of violent mob attacks
Events held in more than 12 major Indian cities
Braving monsoon rains, thousands of people across India took to the streets Wednesday night to protest against what they claim is a rise in mob violence aimed at minority groups.
Dubbed #NotInMyName, the coordinated demonstrations saw events held in more than 12 major Indian cities, including Delhi, Mumbai and Kolkata.
The protests follow the high-profile killing of a Muslim teen in an allegedly Islamophobic attack in the state of Haryana, northern India, Friday.
The teenager's death is the latest in a string of violent mob attacks to have gripped India, with many alleging it is the country's minorities — Muslims, lower-castes and Christians — who are disproportionally targeted.
"The environment right now is not normal, after seeing all these incidents, I don't feel like anyone is safe," said Sibghatullah, who uses only one name, at the Delhi protest Wednesday. "If a crowd sees a man with a hat and a beard, they assume he's a terrorist."
Hinduism is India's dominant religion, according to census data, with 828 million followers or 80.5% of the population. Muslims make up 13%; Christians 2.3%.
Mounting anger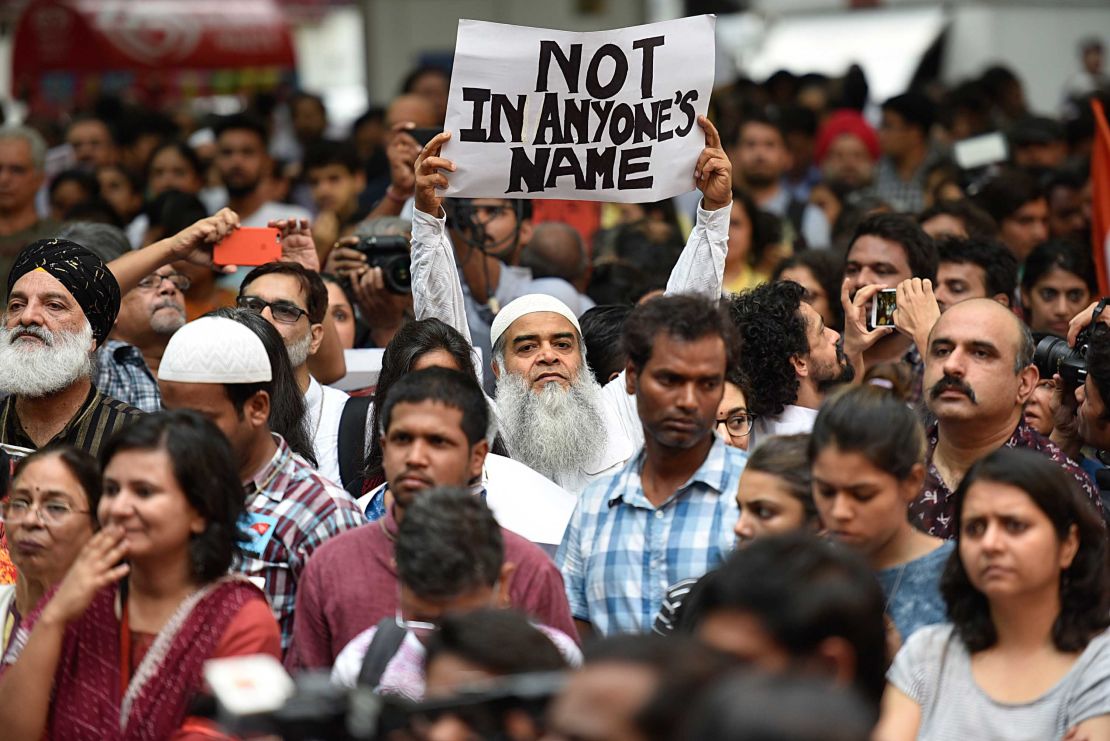 Protesters in Delhi said they were angered by the continued silence from the government. While Haryana's Chief Minister has spoken about Friday's incident, Indian Prime Minister Narendra Modi has yet to comment.
"I'm here (to protest) against the silence of the state of not speaking about these cases of lynching and minority communities being targeted," said protestor Sabika Abbas.
The central protest saw hundreds gather in front of a stage to watch people recite poetry and to hear from family members of the victims.
"I'm in my sixties and I have never felt so strongly about any government in all my life, so there must be something radically wrong." said Lola Mathai, who was at the protest with her husband in Delhi. "It is Muslims, a few Christians and lower castes who are being targeted."
In March, Muslim residents of a village in Gujarat reportedly faced an attack by an angry mob from a neighboring village. In April, a Muslim farmer in Rajasthan was beaten to death by a mob after he purchased a cow for milk, according to reports. In May, two young Muslim men in Assam were killed allegedly on the suspicion that they were stealing cows.
"Hate crimes against Muslims, Dalits, and marginalized sections have increased," said Navaid Hamid, president of the All India Muslim Majlis e Mushawarat in Delhi, a decades-old umbrella group for Muslim institutions.
"My perception is the central government and the state governments are complicit with violence against minorities and other marginalized sections of society," said Hamid.
Wednesday night's protest comes just two days after Eid when Muslims across India wore black armbands to protest against the killings. Some at Wednesday's protest also wore black armbands.
It is difficult to pinpoint exactly how many crimes are being committed against Muslims. India's most recent crime statistics, which cover 2015, track only caste-based crimes.
But an investigation by the Hindustan Times that tracked "communal incidents" – conflicts between Hindus and Muslims – in India's most populous state Uttar Pradesh found a rise in incidents since Modi came to power in 2014.
Broad Coalition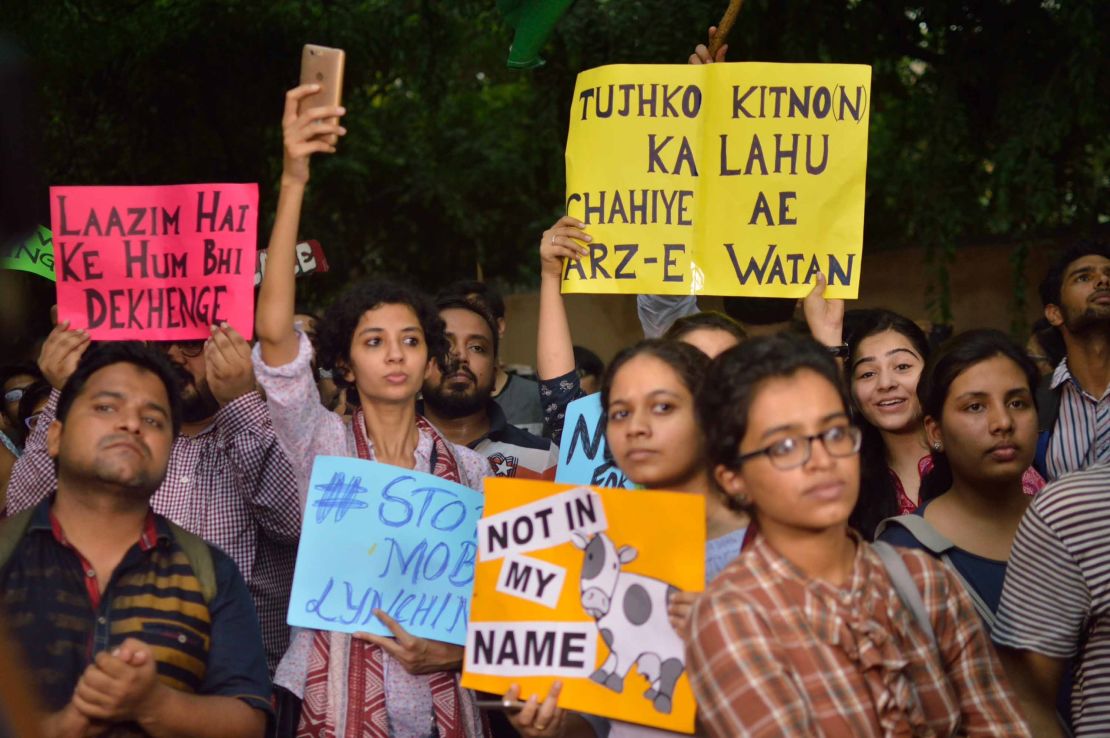 The #NotInMyName protests have also drawn criticism among Hindu-hardliners who have objected to the characterization that the violence is being committed along religious lines.
At Wednesday's Delhi protest, such objections appeared lost on a mixed, largely multi-faith crowd.
"I'm here to fight for a nation…a secular nation where everybody is equal, whether it is a person of a particular caste, community or gender," said Anjana Srivastava, alongside her 13-year old daughter. "I think all three are now being challenged."
Ursila Ali agreed, "I'm here because I'm an Indian first and I feel like it's time for us to collectively get out of our hole. Maybe in fear of riots we have stayed low and stayed in our homes, (but) now people have been murdered … It's just time."