Story highlights
Xi Jinping completes his first visit to Hong Kong since taking power in 2013
Annual pro-democracy march through city kicks off
China's President Xi Jinping has warned that any efforts in Hong Kong "to challenge the power" of Beijing are "absolutely impermissible," as the former British colony marked 20 years of Chinese rule Saturday.
"Any attempt to endanger China's sovereignty and security … or use Hong Kong to carry out infiltration and sabotage activities against the mainland is an act that crosses a red line," Xi said, in a nationalistic speech which emphasized Beijing's control over the city, now a special administrative region of China.
It was Xi's first visit to the city since he took power in Beijing in 2013, and came amid fears by some Hong Kongers of increasing Chinese encroachment on the city's autonomy – guaranteed under a framework known as "one country, two systems."
Xi left Hong Kong in the early afternoon Saturday before the kick-off of an annual July 1 pro-democracy march, which saw streets packed with protesters despite stifling heat and heavy rain.
Organizers said 60,000 people turned out, far less than the 110,000 they said took part last year. Police – who use a different method to count participants – said 14,500 joined the march, compared to 19,300 last year.
Ron Wong, 17, who was marching with his parents, said Xi's visit had been a "show of power of who's in charge."
"China has barricaded itself off (from criticism)," he said.
The plight of Liu Xiaobo, the Nobel Peace Prize-winning Chinese dissident recently granted parole for cancer treatment, was also a rallying cry. Many protesters carried banners calling for his release, or pictures of empty chairs – echoing the award of his 2010 Nobel prize that took place while he was in prison.
Sheltering from the rain near the end point of the march – Hong Kong's Legislative Council building – Au Yeung-dong said it was a "successful protest."
"I think we managed to get Xi's attention," said the 39-year-old, who was wearing a chair with Liu Xiaobo's name on it.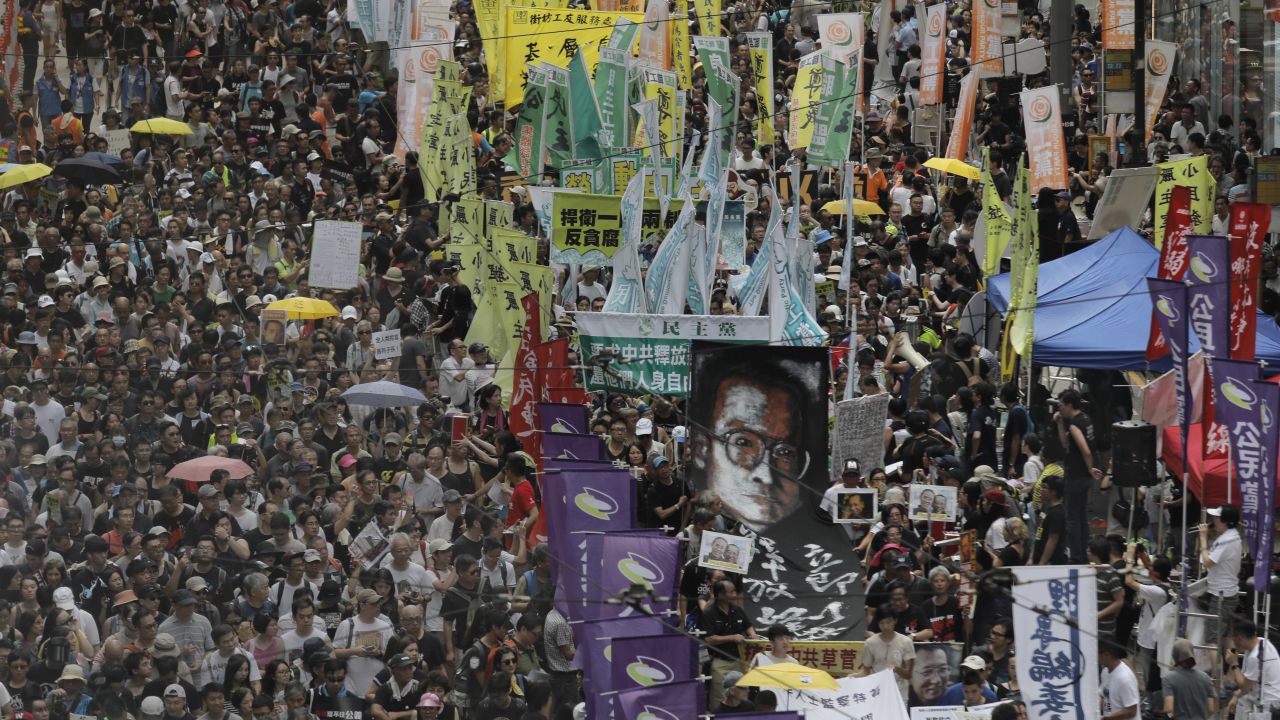 Lam sworn in
Earlier, Xi swore in Carrie Lam as Hong Kong's first female Chief Executive. Lam called for unity to heal the city's divided society – just hours after police scuffled with pro-democracy protesters attempting to reach the harbor-side venue where the ceremony took place.
Lam said she recognized the political and economic challenges facing Hong Kong but added that the city's problems cannot be solved overnight.