Another day, another member of the Kardashian Kamp high-heel-deep in controversy.
This week, it was sisters Kendall and Kylie Jenner who stirred up social media by releasing a line of "vintage t-shirts," featuring the faces of hip-hop and rock icons like Notorious B.I.G., Tupac Shakur, The Doors and Ozzy Osbourne.
The made-to-order shirts featured images of the two Jenners and logos for their fashion brand, Kendall + Kylie, placed over the pictures of the musical superstars. (A description for the $125 shirts said each would be "one of a kind.")
The backlash to the tone-deaf shirts was swift and fierce.
As a writer from Revelist put it, the images on the shirts were "as literal as you can get when stealing another culture."
Among those who had something to say was Voletta Wallace, mother of Biggie Smalls, who called the shirts "disrespectful," "disgusting" and "exploitation at its worst."
The sisters went on to pull the designs and acknowledged in a statement posted – where else? – on social media that the shirts were "not well thought out."
"We will use this as an opportunity to learn from these mistakes," their statement read.
If Kendall Jenner's history in the last few months is any indication, though, she hasn't learned much of anything from her recent blunders, the most memorable of which being her problematic Pepsi commercial.
Celebrity brand strategist Phil Pallen thinks that might be the point. Pallen told CNN via email that while this latest gaffe may cause temporary damage to the Jenner brand, "no one's going to stop reporting on Kendall or Kylie because of this issue, or the next one, or the one after that."
"There's no such thing as bad press, and sadly, this is a perfect example of it," Pallen added. "They continue to misstep, fuel the media, apologize, be rewarded with attention, and then do it all over again."
"Think about how much businesses would pay for this kind of media and PR placement," he continued. "The Jenner sisters keep pushing boundaries simply because they're rewarded for it."
What IS at stake
The Kardashian-Jenner crew, most would argue, knows how to leverage a rabid hunger for mindless gossip about their lives into business opportunities. Between them, the siblings have apps, mobile games, multiple makeup and fashion lines, Federal Trade Commission-monitored endorsement deals on social media, and even a sock line.
But Kendall Jenner created a different – albeit closely related – path for herself in the modeling world.
While her famous family likely assisted Jenner's start in fashion, her powerful social media influence propels her standing in the industry.
The 21-year-old earned $10 million from modeling in 2016, according to Forbes' annual list of top-paid models. It was enough to put her in third place overall.
Chris Gay, President of The Society Management, which represents Jenner, acknowledged in an interview with Forbes the rise of models who double as "conduits of media" – someone who could be "the face of the campaign" but also has "a powerful means to distribute it."
Explained in those terms, it's no wonder that Jenner's success happened when and how it did.
Natural of a fit as it may be, however, Pallen sees Kendall Jenner's modeling career in many ways to be "in conflict" with the "Keeping Up with the Kardashians" legacy. He advises caution and accountability going forward if she wishes to "break free of the Kardashian-Jenner product push."
"Even if someone else is calling the shots, it's time that Kendall puts on her big-girl pants and take responsibility for her own name and brand, independent of the Kardashian-Jenner family," he suggested.
"My message to Kendall Jenner: realize that your last name and family's prerogative don't have to define you," Pallen added.
(Role) model behavior?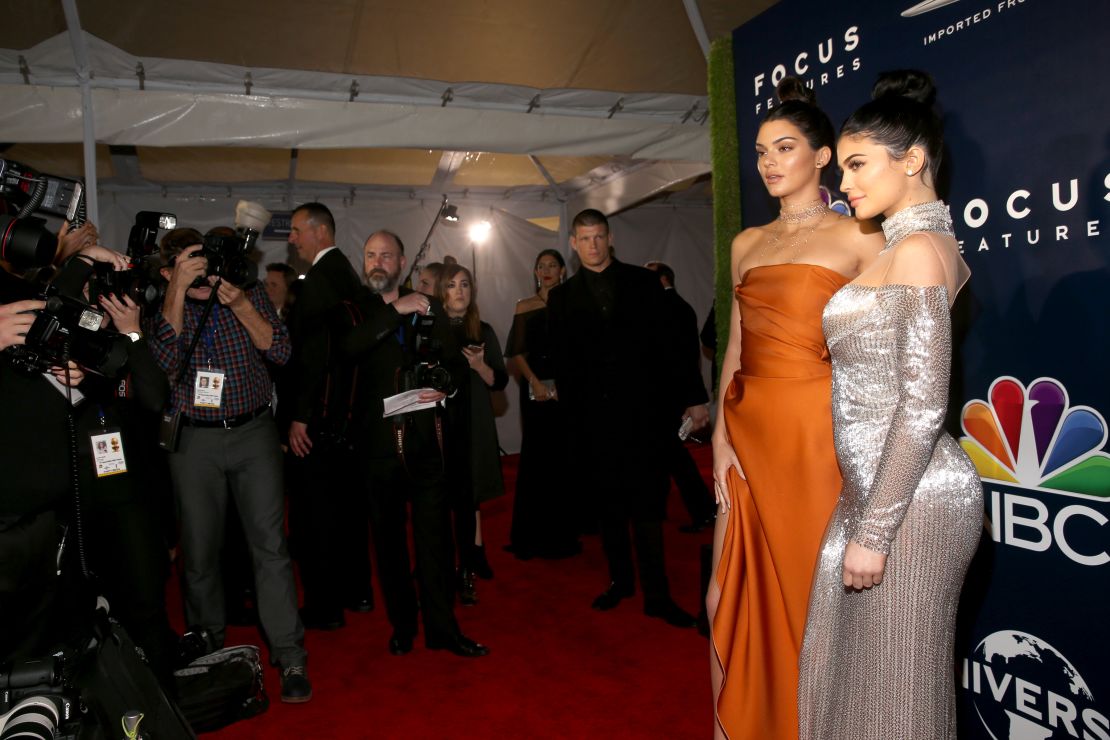 Between the two of them, Kendall and Kylie Jenner have 44.6 million Twitter followers and 177.7 million Instagram followers. While these figures don't account for overlap, they still represent a massive – largely young – captive audience, some of whom likely look to the pair as more than just pillars of fashion and authorities in all things trendy.
"I don't really think of myself in any special way," Kendall Jenner said in post on her app in 2016. "It's definitely weird to think of people looking up to me – but totally flattering at the same time."
Hesitant as they may be to accept their positions as role models, they are.
"These actions show immaturity and a lack of self awareness," Pallen said. "As role models for a younger generation, Kendall and Kylie need to realize that they've inherited a duty to understand America's tense political environment and be more conscious of their brand's messaging."
In other words, the Jenners may be the reigning queens of the selfie generation, but their image as culturally-appropriating fashion designers isn't a good look.
Sharon Osbourne, whose husband's picture was among those featured on the shirts, had her own advice: "Girls, you haven't earned the right to put your face with musical icons. Stick to what you know…lip gloss."