Story highlights
A new crop of craft breweries is freshening up Vietnam's traditional beer scene.
Vietnam is the top beer consumer in Southeast Asia, consuming 3.8 billion liters annually.
Pioneers such as Pasteur Street Brewing are reaching for local ingredients to make creative beers, such as Jasmine IPA and Passion Fruit Wheat.
A night out drinking in Vietnam used to mean one thing: sipping Bia Hoi, a local draft beer with 3% alcohol content, from a tiny stool on the sidewalk.
But feather-light lagers aren't the only game in town anymore.
The country's craft beer scene is booming, having welcomed more than a dozen micro-breweries in the past two years.
"The beer culture in Vietnam starts with Bia Hoi," Hao Tran, managing editor of lifestyle website Vietcetera, tells CNN. The craft beer scene that has evolved has done so from people drinking beer in the Old Quarter in Hanoi or Bui Vien Street in Saigon, he says.
"But there's so much more to beer culture in Vietnam now than just that particular image."
Tapping new tastes
Vietnam is one of the biggest beer consumers in Asia drinking 3.8 billion liters a year in 2016, according to Ministry of Industry and Trade.
While stalwart brands such as Tiger, Saigon Beer, and Bia Hoi still account for the lion's share of that consumption, in Ho Chi Minh City alone artisan brewers such as Platinum, Pasteur Street Brewing Co, Winking Seal, Heart of Darkness, and Fuzzy Logic are providing a real alternative, says Tran.
The brands have, for example, introduced potent Indian pale ales (IPAs) and sour gose – a tart and salty style of German beer – to the market.
"As Vietnam has continued to experience income growth and taste for global concepts and standards, that's where craft beer has really come in," says Tran.
"The tastes and preferences of Vietnamese consumers are changing and evolving."
What's brewing
One of Vietnam's craft pioneers, Pasteur Street Brewing Co opened its doors in 2015 and now distributes not only all over Vietnam, but also to Malaysia, Hong Kong, and the United States – with Japan and Europe to come later this year.
For the past two years, Pasteur Street has been leading the revolt against boring lagers and predictable pale ales – an effort that was rewarded with three gold medals at the 2016 Asian Beer Medal competition.
Helmed by Americans John Reid and Alex Violette – the latter is also behind Upslope Brewing Company, in Colorado – the brewery imports its hops from the US and malts from Europe, but adds a local touch to every recipe.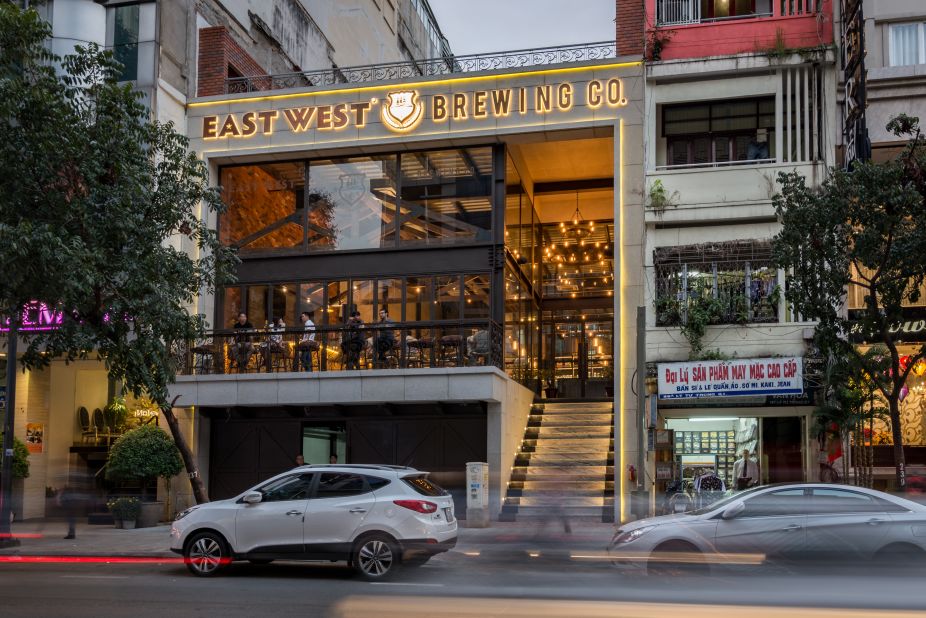 Vietnam's new brews
"It's not just a marketing ploy … using local ingredients is what the industry is all about," says Reid. "It's about innovation and changing things up."
The brewers reach for everything from locally made Marou chocolate to Dalat coffee, passion fruit and even divisive durian – a spiky Asian fruit with a distinct smell.
They've created 70 varieties, including Jasmine IPA, Passion Fruit Wheat, Lemongrass and Phu Quoc Pepper Saison and Cyclo Imperial Chocolate Stout, which won gold at last year's World Beer Cup.
"The Vietnamese are becoming so open-minded," Reid tells CNN.
"With the internet and access to information about what's going on on a world stage, they want to be part of that. You see craft beer happening in America, maybe some Vietnamese go visit family in California … and they say: 'How come we don't have this in our country?'"
A welcome change
While many of the first microbreweries were set up by foreigners, Vietnamese entrepreneurs have also joined the mix.
Newly opened East West Brewing Company, for example, is run by Loc Truong, a Vietnamese-American who worked at Anheuser-Busch InBev – the company behind brands such as Stella Artois and Corona – before striking out with his founding partners.
"My being Vietnamese helps the craft beer industry, for sure, because that's one step to connect with the market," says Truong, who was born in Vietnam but studied in the US. "Why do people buy craft beer? It's higher quality, but who's behind it also adds value."
Truong's lightly hopped beers, such as the East West Pale Ale, he says, provide a stepping stone to stronger flavors for new craft converts.
From there, it gets more challenging, with a bolder Far East IPA, Coffee Vanilla Porter, or 12% ABV Independence Stout.
That's alongside Asia-inspired varieties, such as Le Wit, a wit-style beer made with Asian pear, and a dainty Saigon Rose that's infused with raspberries.
"A lot of people don't know that there are so many different types of flavors in beer," says Truong.
"We'll see customers coming back five or six times a week, saying they can't drink the traditional lagers or (Bia Hoi beer) anymore. Once they tried craft, they never went back."
Building a bridge
In the land of 30-cent drafts of Bia Hoi, charging consumers $5 for craft draft remains a challenge.
An on-site brewery was a crucial part of the persuasion strategy for East West Brewing Company, which opened in January.
"It's all about really educating our (Vietnamese) consumers," Loc Truong, founder of East West Brewing Company, tells CNN.
"You cannot show them what craft beer is if you don't have a craft brewery to really guide them through."
It helps that breweries and bars serving craft beers tend to be clustered in Ho Chi Minh City around central areas of Districts 1 and 2, where there's lots of foot traffic.
As a result, new beer-oriented tours have added to the buzz, such as the bar and brewery motorbike excursion operated by Vespa Adventures.
Truong and his team are based in the heart of District 1.
Inside the massive glass building, guests can mingle at the industrial-chic bar and restaurant downstairs, soak up the sun on the rooftop, or take a tour of the steel fermenting tanks and barrel-aging room.
Before opening, Truong expected expats and travelers to drive sales, but he was pleasantly surprised that 85% of his patrons were Vietnamese in the first six months of business.
Truong says that is partly due to a growing middle class in Vietnam.
With a 6% annual increase in GDP per capita, the Boston Consulting Group predicts Vietnam's middle class will account for 23% of the population of 95 million by 2020, up from 16% in 2015.
"Vietnam moves very, very fast," says Truong. "One thing catches on and the next thing you know, the whole market is shifting."