Hobbling around with bandages on her feet at a rest stop just 70 kilometers (about 43 miles) from Istanbul, Pakize Yucekan is one of the thousands of people participating in a "Justice March" organized by the main opposition party in Turkey.
The march route stretches some 450 kilometers (nearly 280 miles) from the Turkish capital of Ankara to Istanbul. And that is what has driven Yucekan to her current choice of shoes – a pair of men's slippers. They're not fancy but they get the job done while she walks roughly 15 kilometers a day in record high temperatures.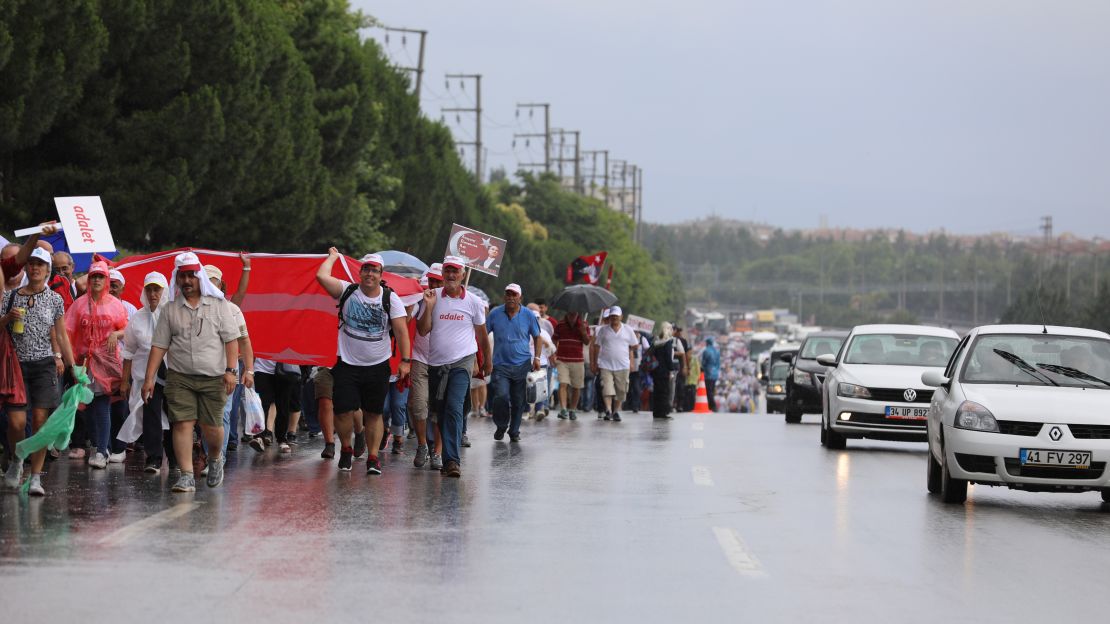 "I tried sneakers for the first two weeks (of the march). That got too hot and so I tried sandals. Those hurt my feet. These are not very nice looking but I don't care, I'm comfortable," Yucekan said.
Yucekan and her husband Yalcin have been walking since day one with Kemal Kilicdaroglu, the leader of the march and head of the main opposition Republican People's Party, or CHP.
"He's the Gandhi of Turkey and this is his march for justice, only justice," says Yalcin Yucekan.
Despite this endorsement, Kilicdaroglu's decision to walk from Ankara to Istanbul caught many by surprise.
His calm manner and less-than-colorful personality have been a constant irritation for those who oppose Turkey's President Recep Tayyip Erdogan.
But after putting on a pair of sneakers and leading the march, the bureaucrat of some 30 years has shed his old-school image.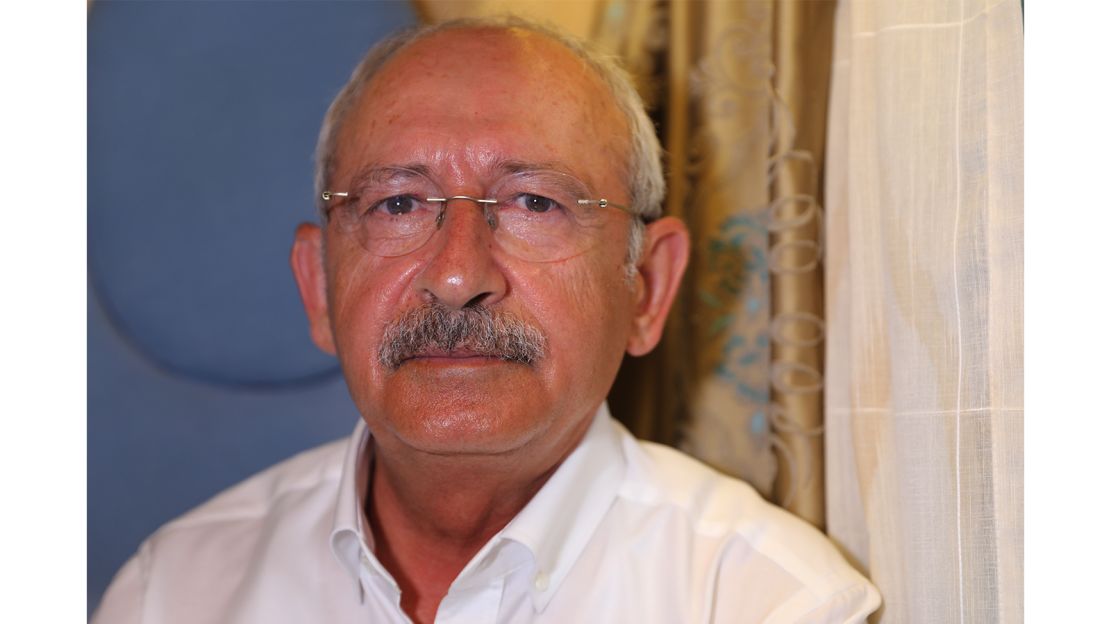 "I am walking with conviction, with belief… I am going to walk every millimeter of those 450 kilometers," he said, speaking with CNN as the march stopped for a short break.
There is a lot of support as marchers go by. People welcome them, clapping along the route and honking horns in support as the participants walk by. Elderly women dangle dangerously from windows to wave Turkish flags in a show of solidarity.
Some from the Turkish Roma community join along the route with drums and clarinets, injecting music to the march. Old-time favorites are hummed, while others join in with a bit of dance.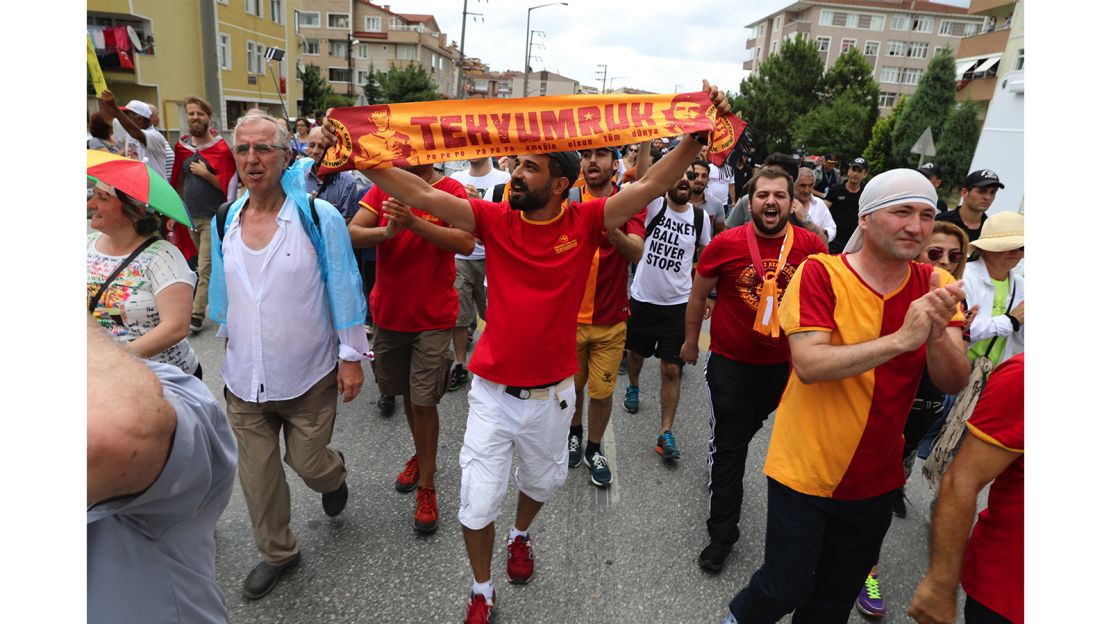 The marchers also routinely run into supporters of Erdogan who chant his name and hold up four fingers – a symbol adopted by the President's supporters. A truck full of manure was dumped outside a motel where marchers stayed for a night. One man lunged aggressively at the marchers and screamed for them to be hanged. For their part, the marchers either ignore the insults or respond with applause.
Critics of the march accuse participants of supporting terrorists and inciting chaos in Turkey. Erdogan has said that those marching for justice should instead focus on the victims of last year's attempted coup in July during which nearly 250 people lost their lives.
Those who participate in the march could be viewed as "willfully being a part of the crime of treason," Erdogan said last week in a speech.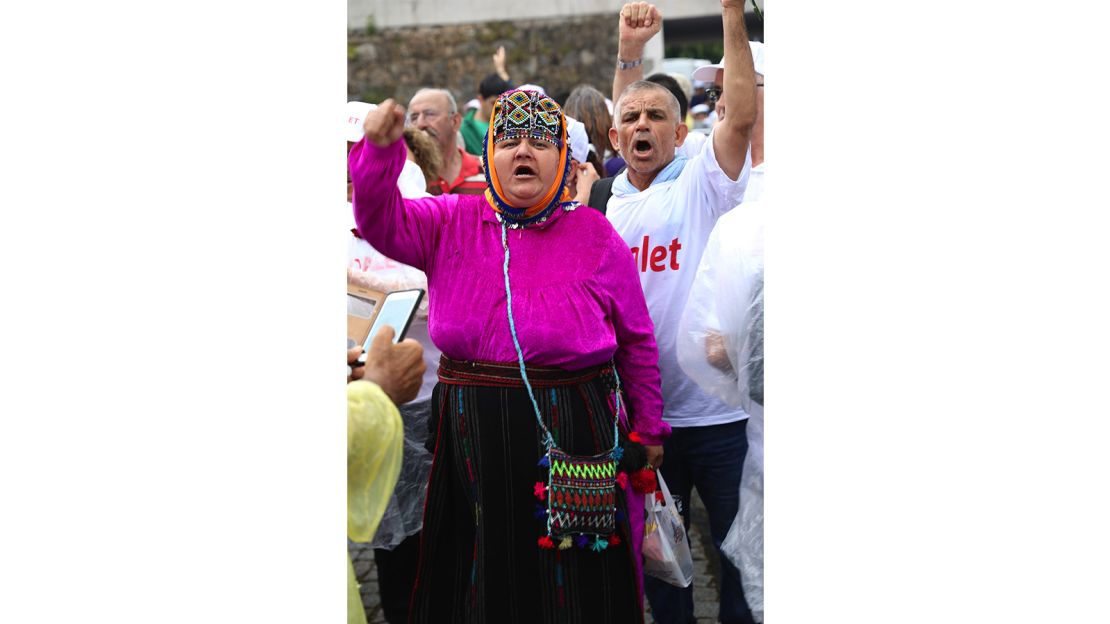 Kilicdaroglu announced his protest march from the Turkish capital to Istanbul after a CHP parliamentarian was arrested. The lawmaker was sentenced to 25 years in jail for giving an opposition journalist video allegedly showing Turkey sending weapons into Syria.
But the march has become about more than that one arrest. Kurds and leftists have been walking with nationalists and some conservative Muslims who all have grievances against the Erdogan government.
Kilicdaroglu says he is marching for jailed journalists, academics who have been fired, all those who he says have been unjustly purged in the aftermath of the attempted coup, and anyone else who is looking for justice.
The long days pounding the pavement through the Turkish countryside have taken their toll. One person died from a heart attack and another was hospitalized.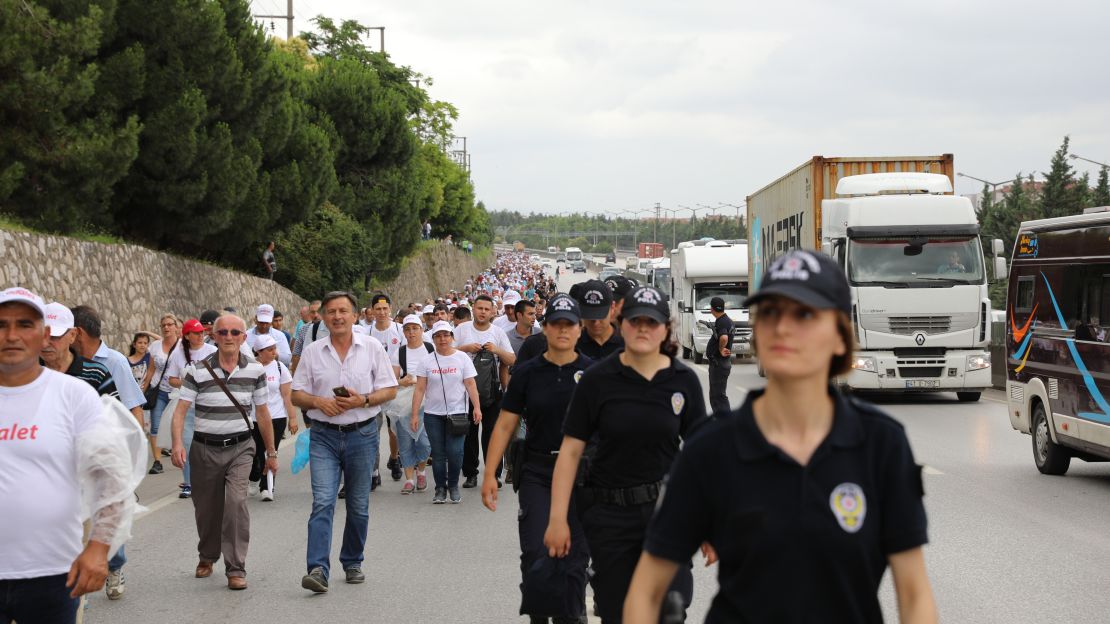 Sixty-nine-year-old Kilicdaroglu says he would not describe himself as athletic.
"It would be a lie to say I don't have any trouble walking this much but if you told me four months ago that I would walk 450 kilometers to Istanbul, I would have thought you had gone mad. But we are the end of the line," he said.
"Turkey has stopped being a democratic country. It has become beholden to one man… This we cannot accept," he said.
The march is expected to end with rally in Istanbul on Sunday. Whether authorities will allow the rally to take place is still unclear.