Julia Reusing stood teary eyed under a strip of halogen lights in Hamburg's red light district as the late summer sun's lingering light turned to dusk.
Standing in front of the 27-year-old Frankfurt native on Thursday evening, were a group of anti-capitalist protesters – frustrated after their "Welcome to Hell" demonstration was interrupted.
Police, who had contained the crowd with tear gas, pepper spray, and water cannons, said they were responding to violent protesters, known as the Black Bloc, who had shown up with their faces and heads completely covered.
Reusing said the police would have intervened regardless, using any small incident as a catalyst to shut the protest down.
"If this is all we can do just for showing our opinion and giving a statement – and if the state forces are just shutting us up… I mean what kind of state do we live in," she said.
Hamburg police told CNN that a full assessment of the overall police response at the anti-G20 demonstrations would come at a later time.
"Welcome to Hell" was the first of over 30 planned demonstrations in the days before, during and after the G20 Summit. Hamburg Police said overall 476 officers were injured, at least 186 protesters were arrested and 225 detained over the three days. In total, 20,000 police officers were deployed throughout the summit.
When German Chancellor and G20 host Angela Merkel announced her hometown of Hamburg as the summit's location, some feared that the city and its 1.8 million residents would suffer.
The security required to welcome world leaders such as US President Donald Trump, Russian President Vladimir Putin and Turkish President Tayyip Recep Erdogan would be disruptive to residents and businesses. But Merkel pressed ahead.
At the same time, demonstrators from across Germany and further afield prepared to exercise their right to assemble.
Authorities implemented a "Red-Zone" an area sectioned off to all but the G20 leaders and their convoys and administrators.
Twenty-five-year-old student Merle M., who declined to give her last name and was protesting over migration rights, told CNN the "Red Zone" demonstrated that leaders were "trying to delete the right to protest."
On Friday morning, a coalition of protest groups organized as "Block G20 – Colour the Red Zone" attempted to break through into the restricted area.
Group organizer and political scientist Alexis Passadakis, 40, told CNN that the aim of the protest was "disturb the summit."
Passadakis said the G20 is "illegitimate with no basis in international law. We don't want a partnership of governance where there's a complete lack of transparency."
"It's got no effective climate change policy, are blocking migrants saafe routes… and oh, the austerity!" he said.
G20: World leaders at odds with Trump on trade, climate
Throughout the day, groups of around 50 people attempted to cross into the "Red Zone" – many staging sit-ins that included singing, chalk-drawing and bubble blowing with other groups drumming and chanting. Local residents handed out coffee to the demonstrators.
Some of the groups who staged sit-in protests were pelted with water cannons before being removed forcibly by police.
On Friday afternoon, scores of people met at the Millerntorplatz where anti-capitalist and anti-fascist groups from Italy and France gathered among German protesters for what briefly felt like a rave.
Eventually, it descended into a chaotic game of cat-and-mouse – violent protesters hurled stones, bricks and bottles at riot police who responded with sound blasts and tear gas.
Caught in the middle of the skirmish was 77-year-old Hamburg resident Karsten Alpers and his bed-bound wife Halgard, who he had brought outside for their daily stroll.
Amidst a crowd of protesters running from riot police, Alberts told CNN that although he wasn't informed where the protests would go, he wasn't worried about the demonstrations and wanted to go about his day as normal.
"For Hamburg, the G20 is a wonderful idea but for the real people living here, it's a hard thing – there's traffic and it's impossible to get around. These people won't damage anything – they are peaceful. We are not scared," he said.
Verena Zech, 47, who was walking her dogs during the "Colour the Red Zone" demonstration, said the G20 restrictions in the city had prevented her from getting to work.
Although her routine was disrupted, Zech said she didn't mind the demonstrations themselves, but called on the German government to give more information about the cost of hosting the summit.
The insurance worker added that her neighbors had experienced "angst" over violent clashes that were broadcast on television from Thursday night's protests and from Friday morning, where masked protesters had set cars on fire in an upscale neighborhood in western Hamburg.
As dusk fell Friday, activists returned to the Reeperbahn, where protesters from the LGBTI+ community, anarchists and other members of the left enjoyed three separate music events.
Some moved barefoot through the square – cutting through a wafting pungent smell of cannabis and cigarette smoke as Lou Reed's "Perfect Day" blared from a loudspeaker.
Further down the street, anarchists and members of splinter left groups bounced heads to a socialist-styled hip-hop performance.
Later, a van that had been driven from southern Germany spun electronic music from its roof; a sizeable chunk of the crowd swaying their bodies as blinking lights from water cannon trucks flashed directly in front of them.
But a mile away in the Sternschanze district, riots broke out for a second night in a row.
From dusk until dawn Saturday, a group of anarchists and radical left-wing protesters set alight scaffolding, building supplies and trash cans across a four-block radius.
Police responded with tear gas and water cannons as demonstrators continued to fuel multiple fires across the area with whatever scraps they could find.
As the riots grew, retail shops were looted and a supermarket was burned out.
At one point, anarchists poured stolen champagne onto a crackling fire as other demonstrators stood topless, waving their water soaked t-shirts dry over the heat.
While fires raged, leaving parts of the Sternschanze looking like a war zone, a few streets away party goers drank beer and cycled through empty streets freed of traffic.
As the G20 summit drew to a close on Saturday, an eclectic mix of up to 50,000 activists, according to police, moved through the city's sun-filled streets, shaking off Friday night's hangover with each step.
Two separate groups marched parallel to one another during the day, with a markedly different dynamic in comparison to the previous day's rallies.
The marches saw LGBTI+ groups, Marxist collectives, migration lawyers, Chinese human rights activists, Kurdish independence movements, feminist organizations and environmental activists walking peacefully alongside one another with riot police leading the way.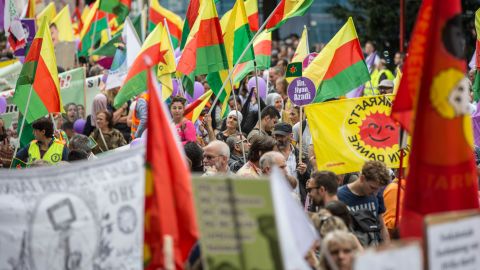 Couples with sunflower crowns held hands and barefooted activists picnicked on the pavement.
Some families traveled into the city center on tandem bikes to listen to anti-G20 speeches at a stage by the harborside Fischmarkt – where the first skirmishes had kicked off just days before.
Carolin Wolter, a 25-year-old office worker, arrived to the harbor with young daughter Levke as Nina Simone's anthem "Sinnerman" played between talks on climate change.
Wolter said she's worried about the decisions that G20 leaders such as Trump are making about the environment, claiming their profit before people policies will inevitably lead to a bleak future.
"(The environment is) the first main important issue to speak about, especially for my daughter, whose future lies in the decision of these leaders," Wolter said. "And that worries me."
As the US President and other leaders left the summit on Saturday, police officers took off their helmets and let out a long exhale, telling CNN the atmosphere had finally relaxed.
For the protesters, concerned that they'd seen little at the G20 to assuage their concerns, their campaigns continue.