Story highlights
Trump spoke with Putin through Russia's translator
The meeting lasted for "nearly an hour," a WH official said
It came at the end of a dinner at the G-20 meeting in Germany earlier this month
President Donald Trump and his Russian counterpart, Vladimir Putin, spoke for a second time on July 7 in a previously undisclosed discussion, the White House confirmed on Tuesday.
A senior White House official told CNN the discussion was "nearly an hour."
The White House, in a statement acknowledging the meeting, contended it was "brief" and said Trump spoke with Putin through Russia's translator. The US translator at the dinner – each country was only allowed only one – spoke Japanese, the White House said.
National Security Council spokesman Michael Anton said no other staff were present for the discussion.
The White House statement said the conversation took place in full view of other world leaders and their spouses at a dinner hosted by German Chancellor Angela Merkel during the G20 summit. Trump was seated near Japanese Prime Minister Shinzo Abe and Abe's wife, while first lady Melania Trump was seated next to Putin.
The White House said Trump went over to his wife and spoke with Putin near the dinner's end.
The discussion came after their scheduled, two-hour-long bilateral meeting earlier that day.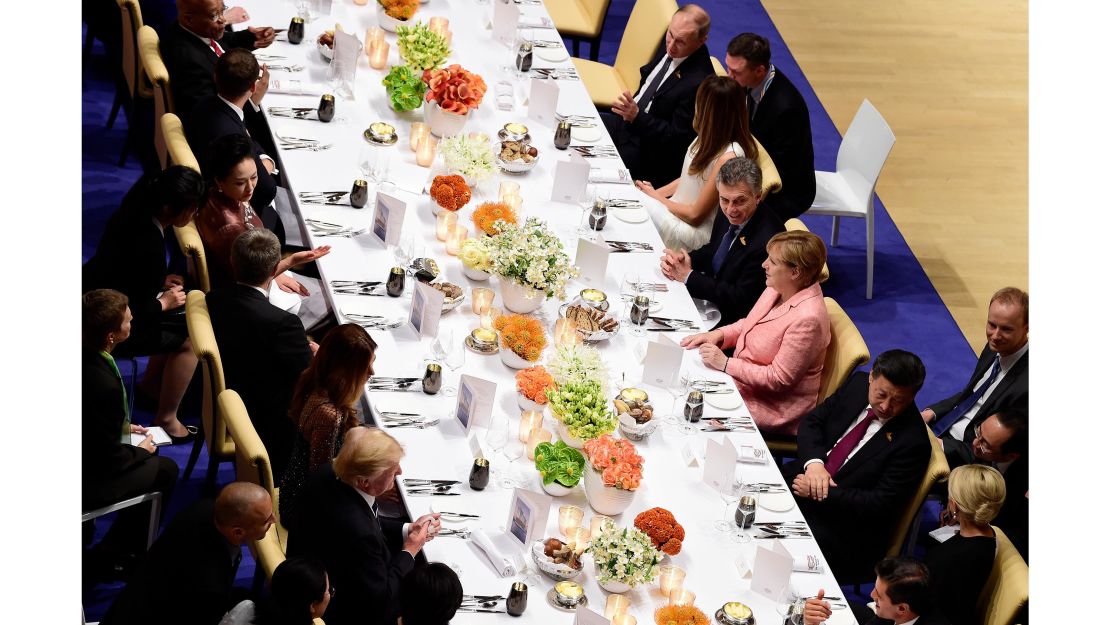 The White House, in its statement, sought to downplay the significance of the discussion.
"It is not merely perfectly normal, it is part of a president's duties, to interact with world leaders," the statement said.
The statement also disputed characterizing the discussion as a "second meeting," but instead called it a "brief conversation."
Trump responded to reports of the meeting later Tuesday evening on Twitter.
"Fake News story of secret dinner with Putin is "sick." All G 20 leaders, and spouses, were invited by the Chancellor of Germany. Press knew!" Trump tweeted, following it up with another, saying: "The Fake News is becoming more and more dishonest! Even a dinner arranged for top 20 leaders in Germany is made to look sinister!"
News of the discussion, however, was not that Trump had attended the dinner, but that he had an undisclosed and one-on-one discussion with Putin at it.
'Only the Russians will have a transcript'
US presidents at summits often hold private and impromptu discussions with other world leaders. However, the lack of immediate disclosure from the administration as well as Trump's own posture with regard to Russia raised significant questions following reports of the discussion having taken place.
John Kirby, a CNN diplomatic and military analyst who was a spokesman for the State Department during the Obama administration, said smaller, informal meetings were common and were often where "heavy lifting" could get done. But he also pointed out potentially problematic aspects of the meeting.
"While smaller pull-aside meetings are common, it is strange that a pull-aside with someone like Putin – especially Putin – would not include at least another national security official and a translator," Kirby said.
He pointed out that the lack of a US translator or other support meant the US would be without a scrupulous translation or a record of what was discussed.
"In this case, we have none of these things," Kirby said. "And only the Russians will have a transcript. Not good."
Democratic Delaware Sen. Chris Coons, speaking on CNN's "The Situation Room" with Wolf Blitzer, said he had heard of the meeting from a source on Tuesday morning. Coons said his source suggested Trump got up and went over to sit down and speak with Putin "for a very long period of time."
"There was a couples-only social dinner at the G20. Toward the end, the President spoke to Putin at the dinner."
"No staff or Cabinet were at the dinner at all, for any of the countries," with the exception of translators, Anton said.
Coons said Trump didn't bring a US translator and relied on Putin's, which the senator called a "basic failure in terms of national security protocol."
Asked if there was any depth to the conversation, Coons said there was no way to know.
CNN's Jeff Zeleny contributed to this report.