Story highlights
Monk accused of child abuse; fraud extradited to Thailand
Thailand had a longstanding extradition request in for the man dubbed the 'jet-set monk'
A flamboyant Thai monk who is accused of multiple charges of child abuse as well as ignoring his monastic vows has returned home after being extradited from the US.
Wiraphon Sukphon, who was seen in a YouTube video in 2013 holding wads of cash on a private plane, returned to Bangkok Wednesday following a US court's ruling on an extradition request from Thailand's Department of Special Investigations (DSI).
In images and video obtained from the DSI, Wiraphon was seen under police guard wearing Buddhist robes. Wiraphon claims to be the reincarnation of legendary monk Luang Pu Nenkham, but he's also known in the Thai press as the "jet set" monk due to his extravagance.
Upon his return, Wiraphon was forced to leave the monkhood, according to DSI spokeswoman Woranan Srilum, and later images, after he was defrocked, show him wearing plain white clothes.
He will fully be dismissed from the monkhood once he performs a ceremony in front of another senior monk.
The disgraced 37-year-old, who claimed to be the reincarnation of a respected monk who lived several decades ago, was accused of ignoring his Buddhist vows of celibacy and simple, moral living.
He owned at least 83 automobiles and a list of properties that include plots of land, houses and condominiums, according to the DSI. Donations over the past decade, from poor supporters as well as rich backers, had helped him amass his total wealth, according to investigators.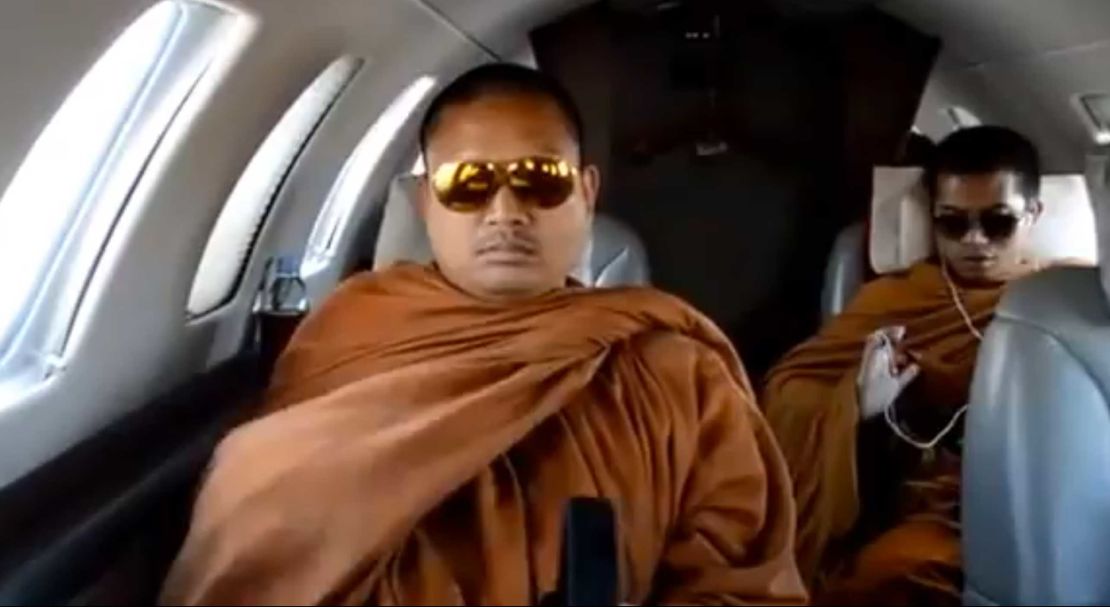 Wiraphon's lawyer, Phanu Sookwanli told CNN that, contrary to being extradited, his client had decided to return to Thailand to prove his innocence.
"His case is accepted by (the) Criminal Court and he is currently detained at Klong Prem Prison," he said. "We will discuss about bailing out later."
The lawyer said his client "believes he can prove his innocence. All he did was only good things and helping people out of hardship."
Thailand's DSI told CNN in 2014 that it had sent requests to 114 financial institutions, land and transport departments to seize all of Wiraphon's assets.
The arrest warrant for Wiraphon was issued in 2014. Local media reports that he was arrested in the US last summer.
He is accused of sexually abusing and molesting a child under 15 years old, as well as separating a minor from their parents for the purpose of indecent acts. The sexual abuse charges accompany charges including disseminating false information, fraud, money laundering and causing damage to the public.
The maximum sentence for the child abuse charges is 15 years.