The trial of 17 staff members from Turkey's Cumhuriyet newspaper – one of the country's last remaining opposition publications – began on Monday in what many are calling a crucial test of press freedom.
Charged with terror-related offenses in the wake of last year's failed coup, the defendants – journalists, executives and lawyers – made their first appearance in court since they were put in pre-trial detention nearly nine months ago. Each faces lengthy prison sentences of up to 43 years if convicted.
Prosecutors are expected to argue that the newspaper aided members of US-based cleric Fethullah Gulen's movement – whom Turkey says was behind the coup attempt – in addition to the outlawed Kurdistan Workers' Party, or PKK. Gulen has denied involvement in the failed 2016 coup.
Related: A year on, Erdogan says 'behead traitors'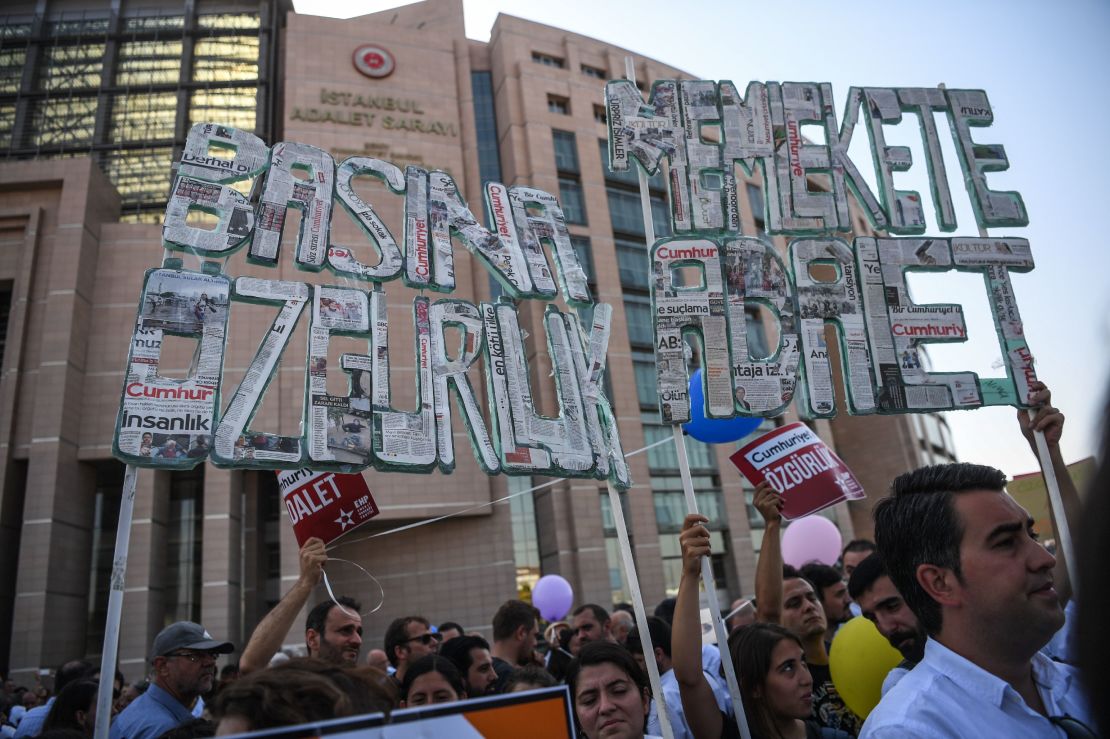 But rights activists have condemned the trial as "politically motivated," accusing the ruling Justice and Development Party (AKP) government of using the coup to muzzle opposition.
"This case is highly symbolic. Cumhuriyet newspaper is one of the few remaining independent media outlets – that's why they are on trial," said Johahn Bihr of Reporters Without Borders, outside the hearing. "Today press freedom is on trial. The situation in Turkey has never been as difficult as it is now."
"We are sick and tired of these mass trials … In Turkey journalists are being jailed chronically for their journalism. Articles they have written are taken as evidence in the indictments," he added.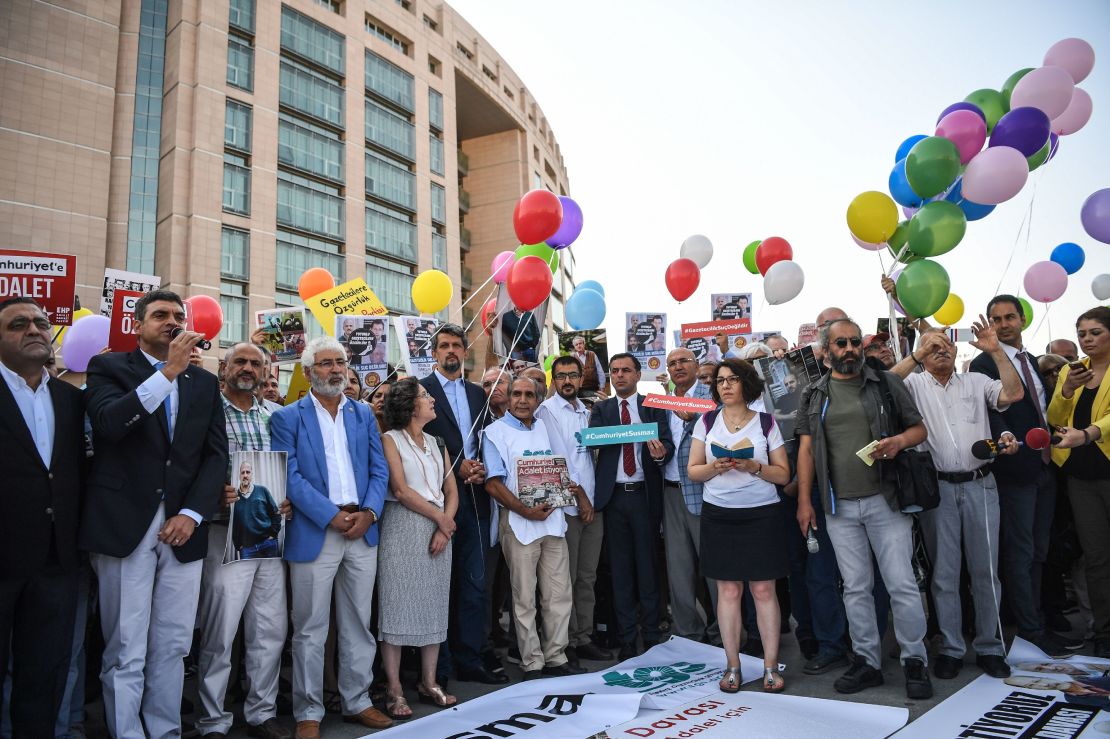 The government has heavily restricted the media, shuttering around 150 media outlets and jailing an estimated 160 journalists, according to Reuters, which cites the Turkish Journalists' Association.
In an ironic turn of events, the trial kicks off on one of the country's three press freedom days. Journalists have historically recognized July 24 as the day censorship was lifted in the Ottoman Empire.
Turkey is ranked 155 out of 180 on the World Press Freedom Index, compiled by Reporters Without Borders.
Post-coup purge on free speech
One of those in the dock on Monday was Ahmet Sık, a well-known and fiercely independent investigative journalist who was previously arrested and imprisoned for more than a year in 2011 for supporting a terrorist organization through his journalism.
At the time, courts banned his book "The Imam's Army," which took a critical look at the Gulen movement – then an ally of Erdogan's – before it was even published.
Sik's wife, Yonca, called her husband's latest detention another attack on free speech.
"Ahmet is not superman or a hero. He is in prison because as a journalist he asks the right questions, speaks the truth and reflects reality," she told CNN.
"He is in prison because others have been silent," she added. "That is why his voice is the one people hear. But what he does in his work is just natural. This just goes to show us there is no rule of law in this country."
Other prominent names on trial include the daily paper's editor-in-chief, Murat Sabuncu, and Kadri Gursel, a highly-respected columnist who became a household name in Turkey when he was kidnapped by the PKK while reporting in Kurdish areas in 1995.
Former editor Can Dundar is being tried in absentia after fleeing to Germany.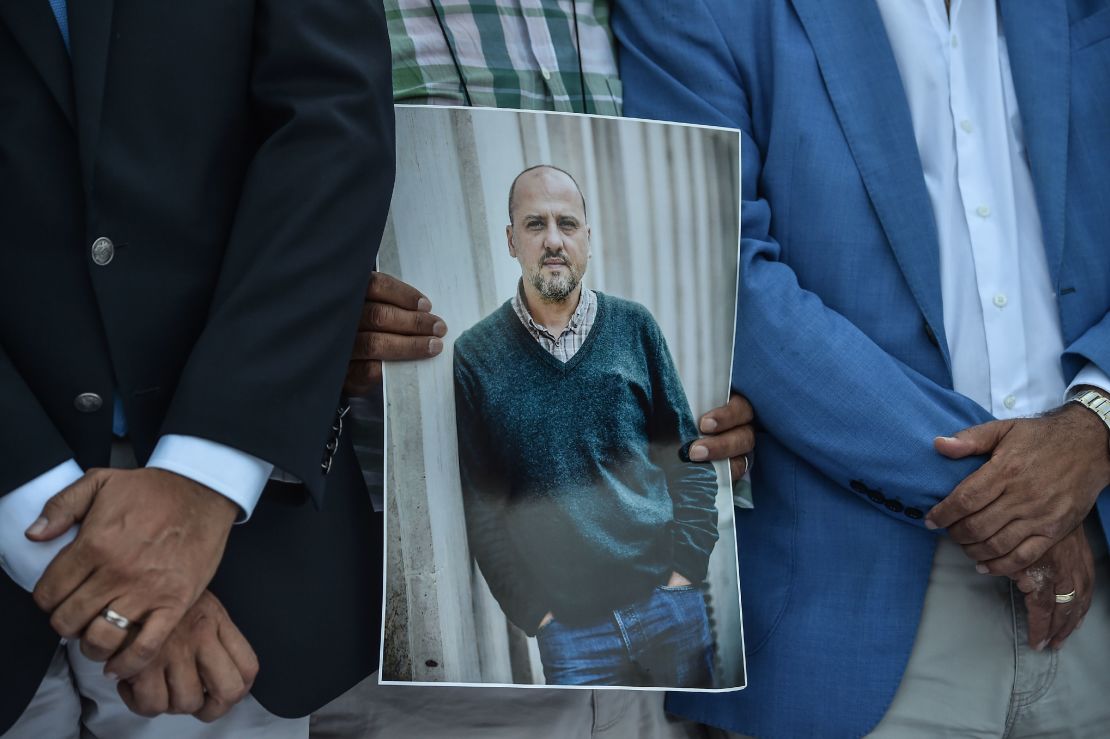 'These are political trials'
Outside the courthouse, CNN saw police checking identification, allowing only those with government-issued press IDs to proceed inside. Dozens of supporters gathered outside Istanbul's Caglayan Justice Palace holding signs and placards reading "Freedom for the Press," "Justice for the country" and "Free journalists."
Some held photographs of the detained journalists while others released balloons, calling for their imprisonment to end.
Inside, the room was packed with journalists, friends and family – many of whom broke into spontaneous applause as the defendants were brought in.
Friends of the accused were seen waving and trying to speak to their colleagues during breaks in the proceedings, with court police forming a barrier.
Throughout their pre-trial detention, the defendants were only allowed weekly visits from close family members and hour-long meetings with their lawyers. They remained under guard and monitored by security cameras that were in operation.
Former prosecutor and opposition MP Ilhan Cihaner, present in court on Monday, also questioned the government's agenda in putting the Cumhuriyet staffers on trial.
"When you look at the agenda of prosecutors, you see that they are not independent," he told CNN.
"The prosecutors' actions overlap with the wishes of the administration. The administration or their proxies point their fingers at opposition journalists and the prosecutors go to work. These are political trials."
Turkey has come under fire for its clampdown on civil liberties across the country in the last 12 months, straining relations with neighboring countries in the European Union.
As part of the purge – which Erdogan says is targeted at those who rose against him – state media agency Anadolu reports that more than 169,000 people have faced "judicial action."