Story highlights
NEW: Crews are considering two possible solutions to restore power to two islands
Transmission line was cut during bridge construction, causing power outrage
Kalla Bruhl and her boyfriend's family had their Outer Banks vacation in North Carolina short-circuited.
They were among thousands of tourists on Ocracoke and Hatteras islands who have been ordered to pack up and evacuate after a major power outage early Thursday. A transmission line was cut during construction work on a bridge, knocking out electricity to the two tourist meccas.
"We were all upset," said Bruhl, 22, of Shepherdstown, West Virginia, who left Ocracoke by ferry. "We got out of there early; it was so hot in the house."
It's unclear how long it will take for the outage to be repaired. The situation has inconvenienced travelers and a region dependent on tourist dollars at the peak of vacation season.
Evacuation orders
Dare County issued a mandatory evacuation order that went into effect at 6 a.m. Saturday "due to life safety issues from the loss of reliable electrical power on Hatteras Island and growing uncertainty as to when repairs to the main transmission line will be completed to enable restoration of full power to the island."
The order includes the villages of Rodanthe, Waves, Salvo, Avon, Buxton, Frisco and Hatteras but not the areas north of Oregon Inlet.
Before the evacuation notice, the area was put under a mandatory power conservation order Friday night. It required everyone on the island to remove air conditioning systems and hot tub heaters from the power grid by turning off system circuit breakers.
Dare County public information officer Dorothy Hester said Friday that about 50,000 to 60,000 people were in the beach areas – both residents and visitors.
Hyde County on Thursday issued a mandatory evacuation of all nonresidents from Ocracoke.
Several thousand visitors had been on Ocracoke, which can only be accessed by ferry.
Since late Thursday, they've been ferried out. More than 2,300 people and 893 cars had been evacuated from Ocracoke as of Friday afternoon, Hyde County spokesman Donnie Shumate told CNN.
"Everyone is starting to get off the island, and we are hoping to have the complete evacuation completed soon," Shumate said. "Owners of rental properties there have been going door-to-door to make sure everyone is out. And if people refuse to leave, they could be guilty (of) a Class 2 misdemeanor."
The outages rolled through Hatteras and Ocracoke after PCL Construction, the company building the new Herbert C. Bonner Bridge, told the Cape Hatteras Electric Cooperative that it "drove a steel casing into the underground transmission cable that runs between the south end of the Bonner Bridge and the overhead riser pole."
Crews are working around the clock until the repairs are made, focusing on two solutions, the cooperative said Sunday. The first solution is to excavate down to the damaged cables and then splice them back together. The second is to build a new overhead transmission line. Both options will be actively pursued until it's clear which is the fastest and the safest.
A photo posted to the electric cooperative's Facebook page Saturday afternoon showed the transmission cable cut in half.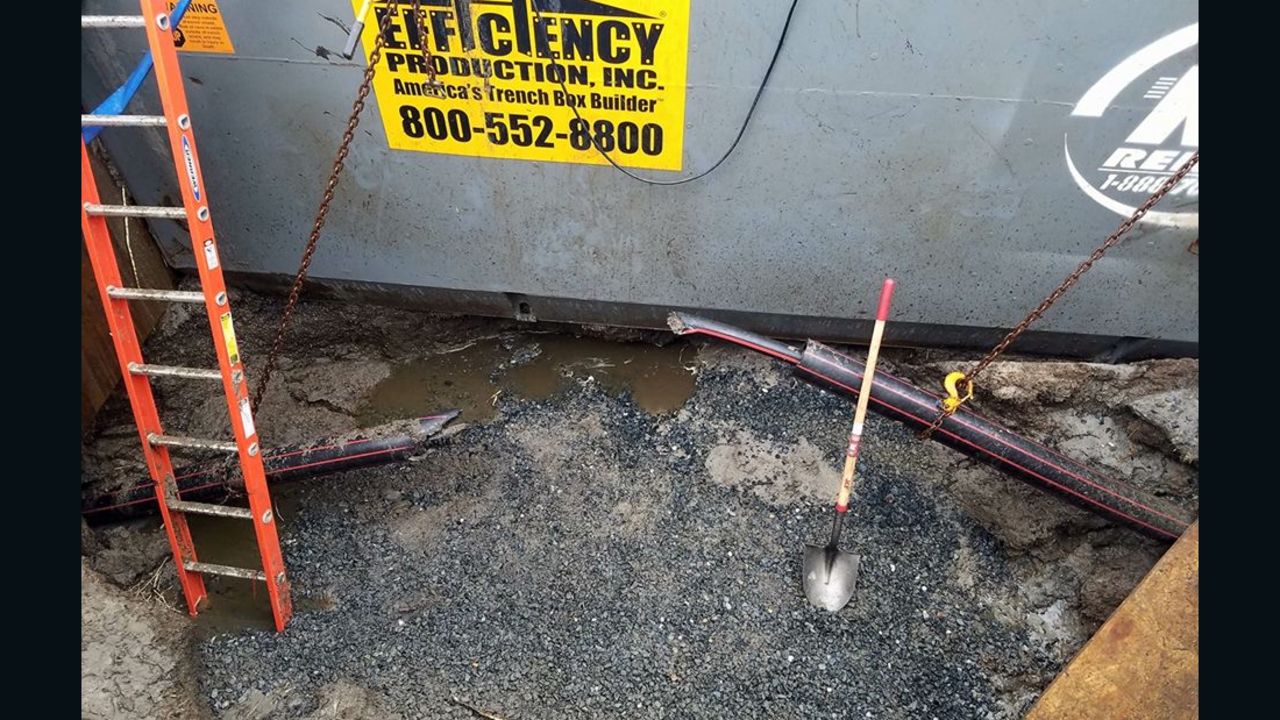 The utility provides power to the seven Hatteras Island villages, and its transmission cable goes underneath Hatteras Inlet and into Ocracoke.
The utility said it was providing temporary power to Hatteras Island using a diesel generating plant in Buxton and Frisco and nine generators.
"These generators will only be able to run if load is at minimal levels and everyone is conserving," it said.
Tideland EMC installed generators in Ocracoke and urged people to adhere to strict conservation measures.
North Carolina Gov. Roy Cooper signed a state of emergency on Thursday.
"This declaration will allow us to move much needed resources through the state as quickly as possible to help restore the power to Ocracoke and Hatteras Islands," Cooper said.
The declaration allows officials to get the resources in place to deal with the emergency. It waives restrictions on weight and the hours of service for fuel, utility and other truckers working to help restore power.
Tourists coping
Sandi Beck, 52, of Trinity, North Carolina, said Friday that she and her husband were in Avon on Hatteras Island when power went out. They got ice, put perishables in coolers and bought a camping grill.
"We feel as though we're basically camping in a house," she said Friday.
The sea breeze didn't permeate their rental house, so it was tough sleeping. She and her family were planning to leave later that evening.
"It will be nice to sleep in air conditioning tonight," she said.
Erica Carlson's family has gone to the Outer Banks to vacation for 21 years, but an extended power outage was a first.
Carlson 48, of Oakland, Maryland, was part of a group of 15 in an oceanfront rental in the community of Waves. They planned to have a family poker tournament. And the outage didn't stop them. They bought candles, ice and a battery lantern and put them to good use.
"We play lots of card games on vacation, but the Texas Hold 'em tourney is a tradition. When we lost power, my nephew was really disappointed, because he had been looking forward to it," she said Friday.
"So we all just decided we would light some candles and play anyway."
CNN's Paul LeBlanc contributed to this report.