Story highlights
Kelly is a retired Marine Corps general
Republicans on Capitol Hill hope Kelly will bring order to the White House
John Kelly was sworn in as President Donald Trump's new chief of staff Monday, tasked with bringing order to an often chaotic White House and jump-starting the President's stalled legislative agenda.
"We look forward to, if it is possible, even a better job as chief of staff," Trump said of his former secretary of homeland security.
Trump told reporters in the Oval Office that his administration has "done very well," noting the stock market, unemployment and business confidence.
"We have a tremendous base, we have a tremendous group of support, the country is optimistic and I think the general will just add to it. The country is doing very well. Strongest stock market ever," Trump said.
He added: "We will proceed and we will keep going but we have a fantastic leader, chief of staff, he is going to do a really great job."
Republicans on Capitol Hill hope Kelly, a retired United States Marine Corps general known for his fastidious nature, will bring order to a White House where disorder – in the eyes of those on the Hill – has led to few legislative victories and slumping poll numbers. Kelly's resume leads many to believe he has the chops to turn the White House around; he served as the commander of United States Southern Command for four years under President Barack Obama and served as a commanding general in Iraq from 2008 to 2009.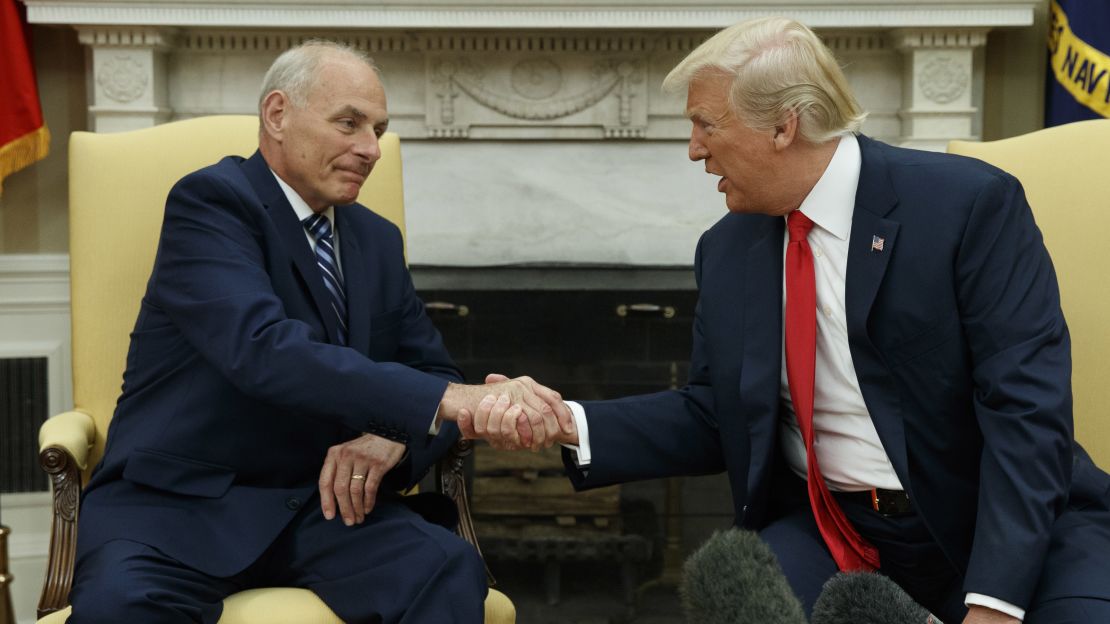 Trump campaigned for president as the ultimate political outsider and promised his history as a real estate magnate in New York would make it easy for him to strike a host of deals with lawmakers in Washington. The reality has been anything but. Trump's legislative agenda, capped by a failure to pass a health care plan, has languished on Capitol Hill and Trump will likely leave for his August vacation without passing a sweeping legislative win.
It was those failures that helped lead to the decision to have Kelly take over for Reince Priebus, who was ousted from the job after only six months on Friday.
Priebus, the former Republican National Committee chair, was brought in as Trump's first chief of staff because he had the deep relations with Republicans in Washington the outsider President lacked. The former chief of staff told CNN that he tendered his resignation on Thursday but the President surprised Washington when he announced the move on Twitter Friday shortly after a trip to New York.
"I am pleased to inform you that I have just named General/Secretary John F Kelly as White House Chief of Staff," Trump tweeted. "He is a Great American… and a Great Leader. John has also done a spectacular job at Homeland Security. He has been a true star of my Administration."
The move caps months of speculation that Priebus' hold on his job was weak given internal White House chaos, continued leaks and the fact the former RNC chair was not always in sync with longtime Trump aides and advisers.
"The President wanted to go a different direction," Priebus told CNN's Wolf Blitzer on "The Situation Room" Friday evening. "A president has a right to hit a reset button. I think it's a good time to hit the reset button. I think he was right to hit the reset button."
Kelly comes in with high expectations that his general's sense of hierarchy can bring order to a President who has long thrived on chaos and countless opinions.
But bringing order to the Trump White House will be a tall order, given both Trump's reliance on voices outside the White House and the fact Trump has more assistants to the President – a senior role in the White House – than any modern commander in chief.
Trump has at least 26 assistants, including family members like Ivanka Trump and Jared Kushner. Obama had 22 assistants during his first year in office, while former President George W. Bush had as many as 17 assistants.
Corey Lewandowski, Trump's former campaign manager and a ever-present outside adviser, said Sunday that his advice to Kelly would be don't try to change Trump.
"The thing that General Kelly should do is not try to change Donald Trump," he said. "I say you have to let Trump be Trump. That is what has made him successful over the last 30 years. That is what the American people voted for. And anybody who thinks they're going to change Donald Trump doesn't know Donald Trump."
Questions remain about the kind of power Kelly will have in the White House, particularly whether the sprawling world of Trump's advisers will report through the general or directly to Trump.
Sources told CNN that many of Trump's top advisers are fully bought into the chief of staff change, but little clarity has been provided about the reporting structure.
"Jared and Ivanka are very supportive of him (Kelly) coming in and have a tremendous amount of admiration for him and will follow his lead on how he wants things done," a source told CNN on Sunday. "They will follow his lead. They want this to work."
Anthony Scaramucci, Trump's new communications director who publicly sparred with Priebus in a obscenity-laden tirade to a reporter, has said that he will report directly to Trump.
Looking to push the idea Kelly will have authority within the West Wing, a senior administration official said Trump has given "Gen. Kelly full authority."
Trump pushed back against the idea that his White House was in chaos on Monday, tweeting a string of purported successes - including a booming stock market and low unemployment - before adding, "No WH chaos!"