Story highlights
Bisciotti was asked by a fan if signing Kaepernick would hurt the Ravens' brand
The Ravens owner responded: "We're very sensitive to it"
The Baltimore Ravens are still considering signing controversial quarterback Colin Kaepernick even though team owner Steve Bisciotti has admitted the acquisition would "upset some people."
Bisciotti made his comments at a fan forum at M&T Bank Stadium in Baltimore after a supporter had asked whether signing Kaepernick would hurt the team's "brand."
In an answer that lasted more than four minutes, Bisciotti said he and team president Dick Cass, General Manager Ozzie Newsome and head coach John Harbaugh had discussed signing the free agent. The 57-year-old said he had also talked with former player Ray Lewis and consulted some current players over the possibility of adding Kaepernick to the playing staff.
"I hope we do what is best for the team and balance that with what is best for our fans," said Bisciotti, sitting on a stool beside Cass and NFL Commissioner Roger Goodell, Sunday.
"Your opinions matter to us. We're very sensitive to it, and we're monitoring it, and we're still, as Ozzie says, scrimmaging it, and we're trying to figure out what's the right tact. So pray for us."
READ: Should sports stars get political?
'I know we're going to upset some people'
Kaepernick, then with the San Francisco 49ers, became a lightning rod last season when he refused to stand during the national anthem, saying he didn't want to "show pride in a flag for a country that oppresses black people and people of color."
His sitting, which later turned to kneeling, drew fierce criticism but sparked a national movement. Other athletes, from elementary schools to professional leagues, followed his lead.
On Sunday, Bisciotti said Kaepernick had given assurances, through his intermediaries, that there would be no protests and that he would stand for the anthem if signed by an NFL team this season.
"I know that we're going to upset some people, and I know that we're going to make people happy that we stood up for somebody that has the right to do what he did," Bisciotti said.
"Non-violent protesting is something that we have all embraced. I don't like the way he did it.
"Personally, I kind of liked it a lot when he went from sitting to kneeling. I don't know, I'm Catholic – we spend a lot of time kneeling."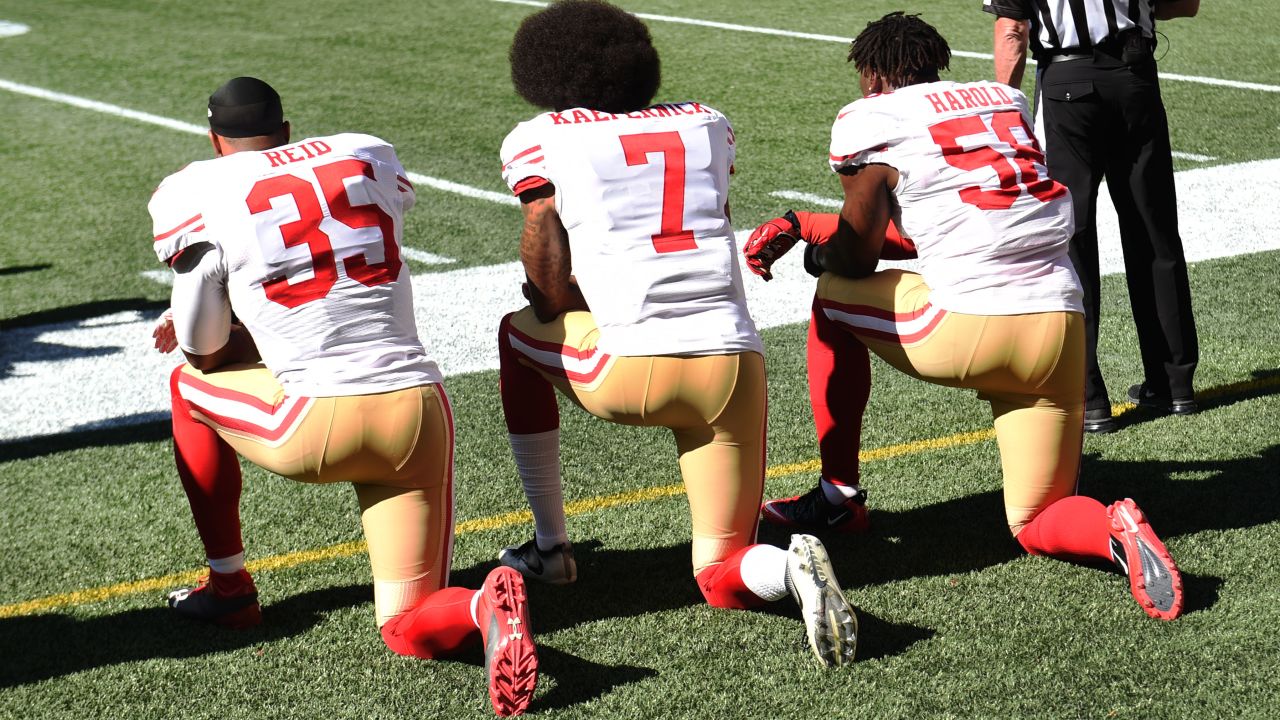 Harbaugh, the Ravens head coach, said Thursday he has been talking to Kaepernick this summer.
"I wouldn't rule it out at all," Harbaugh said.
"He's a really good football player and I believe he's a really good person.
"It all depends on a lot of things. It depends on Colin. First of all, of what he wants to do. What's his passion, what's his priority, what does he want to do, what kind of shape he's in and if he's ready to go, and our needs. So we'll just kind of see where it goes. We're definitely going to get another arm in here."
Would Kaepernick be a good signing for the Ravens? Have your say on our Facebook page
On Friday, Ravens starting quarterback Joe Flacco said he was open to the idea of teaming up with Kaepernick, although he joked he didn't want to lose his starting job to him.
"I would like to see Colin get back in (the NFL) and at some point maybe get another shot (to be a starter)," he said.
"I wouldn't like that to be here. I do not want him to get another shot (to be a starter) here, but yes, he can come here and have some fun. I think it would be a good spot for him."
Visit cnn.com/sport for more news and videos
A six-year NFL veteran, Kaepernick led the 49ers to the Super Bowl in 2013. He started 11 games for the Niners last season, throwing for 2,241 yards and 16 touchdowns. He also rushed for 468 yards and two scores.