Story highlights
Sources described an investigation that has widened to focus on possible financial crimes
The increased financial focus hasn't gone unnoticed by President Donald Trump
Washington (CNN)Federal investigators exploring whether Donald Trump's campaign colluded with Russian spies have seized on Trump and his associates' financial ties to Russia as one of the most fertile avenues for moving their probe forward, according to people familiar with the investigation.
The web of financial ties could offer a more concrete path toward potential prosecution than the broader and murkier questions of collusion in the 2016 campaign, these sources said.
One year after the FBI opened an investigation, the probe is
now managed by special counsel Robert Mueller
. Sources described an investigation that has widened to focus on possible financial crimes, some unconnected to the 2016 elections, alongside the ongoing scrutiny of possible illegal coordination with Russian spy agencies and alleged attempts by President Donald Trump and others to obstruct the FBI investigation. Even investigative leads that have nothing to do with Russia but involve Trump associates are being referred to the special counsel to encourage subjects of the investigation to cooperate, according to two law enforcement sources.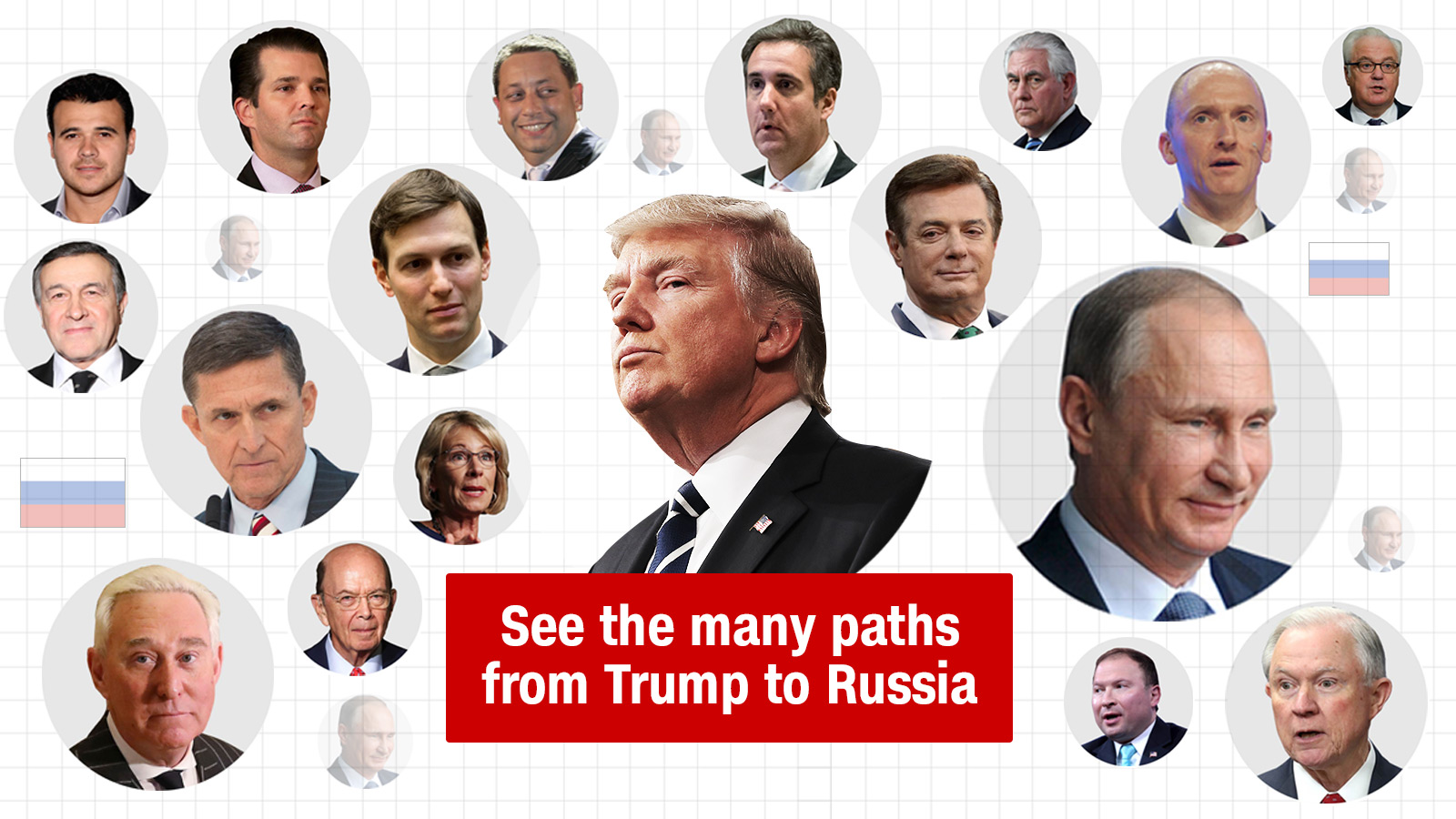 In response to this CNN story, the President's attorney, Jay Sekulow, said, "President's outside counsel has not received any requests for documentation or information about this. Any inquiry from the special counsel that goes beyond the mandate specified in the appointment we would object to."
In 2015, the FBI began investigating cyber breaches targeting US political organizations, including the Democratic National Committee.
In the months that followed, investigators turned up intercepted communications appearing to show efforts by Russian operatives to coordinate with Trump associates on damaging Hillary Clinton's election prospects, officials said. CNN has learned those communications included references to campaign chairman Paul Manafort.
A year later, the FBI is reviewing financial records related to the Trump Organization, as well as Trump, his family members, including Donald Trump Jr., and campaign associates. They've combed through the list of shell companies and buyers of Trump-branded real estate properties and scrutinized the roster of tenants at Trump Tower reaching back more than a half-dozen years. They've looked at the backgrounds of Russian business associates connected to Trump surrounding the 2013 Miss Universe pageant. CNN could not determine whether the review has included his tax returns.
Trump has denied any collusion and maintains that his business empire has "no involvement with Russia" and that he has "no loans, no nothing" from Russia. His lawyers have detailed a few exceptions, including the Miss Universe pageant he held in Moscow and the Florida mansion he sold to a Russian oligarch in 2008. Trump earned more than $100 million from those deals, according to his lawyers.
"This is like any investigation," says one person briefed on the probe. "You start at the core and then move to the periphery. You have to explore the finances. Where this is going is no different from any investigation."
Since his appointment in May, Mueller has quietly gathered a team of more than three dozen attorneys, investigators and other staff in a nondescript office in Washington. Officials familiar with the probe describe it as akin to a small US attorney's office, with FBI agents and prosecutors assigned to separate groups looking into various aspects of the investigation.
Mueller reports to Deputy Attorney General Rod Rosenstein, but there's a measure of separation from Justice Department headquarters to keep the probe independent.
CNN has learned some of the investigators involved in the probe are buying liability insurance out of concern they could become targets of lawsuits from those who are being investigated, according to one of the people familiar with the probe. The Justice Department covers legal fees for employees sued in the course of their duties, but some of the lawyers want extra protection.
The Justice Department and special counsel's office both declined to comment on the liability concerns.
The possible financial ties between Trump and Russia were part of the concerns for US intelligence and law enforcement officials from the beginning, according to one current law enforcement official and one former US intelligence official.
The international real estate business is a part of the global economy where foreigners can still use cash with fewer questions asked about the sources of money. Terrorism financing concerns long ago put more stringent rules on banking and other businesses. But the rules are looser in the business of buying and selling high-end real estate, US officials say.
Investigators are looking both at whether financial laws were broken and whether there are any dealings that could put the President or his associates in a compromising position.
"There's always been a concern about his exposure to blackmail in his financial dealings," says the person briefed on the investigation.
Trump has repeatedly insisted that he has no enduring financial ties to Russian interests.
But some of the people who are now under scrutiny by Mueller see a bait and switch. Instead of collusion, many believe the Mueller probe will instead end up being about past financial troubles.
"They launch an investigation into collusion in the election," says one person whose client is among those being scrutinized by the Mueller investigators. "Then they go after people because of old business matters that have nothing to do with collusion."
Even at the FBI, there's a measure of frustration over the investigation.
Worse yet, some FBI officials fear the question of whether there was any criminal coordination or collusion between the Trump campaign and Russia may never be answered.
Those missing links mean that the FBI and Mueller's prosecution team may not have enough evidence to bring charges related to possible illegal coordination with a foreign intelligence service. Instead, prosecutors could pursue financial crime charges unrelated to the election.
Investigators also face a big hurdle: those participating in the intercepted communications were foreigners, outside the reach of the FBI, who may be exaggerating or lying about events.
Some FBI officials also blame media coverage dating back to last summer for prompting some communications to cease, and making it more difficult for investigators to monitor the interactions of Russians and campaign associates.
Until the stolen emails were weaponized in their release via WikiLeaks and the Russian intelligence's own site DCLeaks, intelligence and law enforcement officials believed the cyber-intrusion was an intelligence-gathering effort, like many of those that occurred before past elections.
Over the next four months, the Obama administration officials and law enforcement and intelligence agencies debated how to respond.
"You had an administration that didn't want to look heavy-handed" in favor of Hillary Clinton, one senior former US official involved in investigation said.
At the White House, Obama officials scrambled last summer for a strategy on how to respond to what they already knew were Russian actions, well before the administration was willing to point the finger publicly.
Michael Daniel, the White House cyber-security coordinator, ordered staff in August to draw up a list of possible retaliatory measures, according to a former administration official briefed on the matter. These included planting malware in Russian infrastructure that could be activated if the Russian actions escalated, according to the former official.
But shortly after Daniel gave the order, White House officials raised other concerns. Top officials including Susan Rice, national security adviser, and Lisa Monaco, homeland security adviser, led efforts by the White House to make sure the government could prevent any move by Russian intelligence to tamper with the voting infrastructure and sow chaos on Election Day.
Daniel, in an interview, declined to discuss specifics about measures considered in response, because much of the information remains classified. But he said one top concern for White House officials was "it not appear we were trying to be partisan in what we were doing."
The partisan concerns were exacerbated by interactions between the White House and congressional leaders. Monaco traveled to Capitol Hill to try to get top leaders of both parties to send a letter to state governors to urge shoring up of their defenses of election infrastructure. But they were rebuffed by Republican leaders, who viewed the request as partisan, according to current and former officials briefed on the discussions.
Daniel told CNN he and his cyber-response group worked quietly, reducing the number of people allowed in meetings to avoid leaks. "We didn't need to do the Russians work for them," Daniel said. "We needed to develop diplomatic options first, and we [put] the other options on the back-burner."
The approach to the Manafort and Flynn probes may offer a template for how investigators' focus on possible financial crimes could help gain leverage and cooperation in the investigation.
CNN has learned that investigators became more suspicious when they turned up intercepted communications that US intelligence agencies collected among suspected Russian operatives discussing their efforts to work with Manafort, who served as campaign chairman for three months, to coordinate information that could damage Hillary Clinton's election prospects, the US officials say. The suspected operatives relayed what they claimed were conversations with Manafort, encouraging help from the Russians.
Manafort has not been accused of any wrongdoing.
In response to questions about CNN's reporting, his spokesman, Jason Maloni, says it "is becoming increasingly apparent that there was no collusion between the campaign and the Russian government."
Maloni offered further comment to CNN after the initial publication of this story, saying: "Paul Manafort did not collude with the Russian government to undermine the 2016 election or to hack the DNC. Other than that comment, we aren't going to respond to anonymous officials illegally peddling second hand conspiracy theories. But the Justice Department, and the courts if necessary, should hold someone to account for the flood of unlawful government leaks targeting Mr. Manafort."
On January 24, Andrew McCabe, then the deputy FBI director, called Flynn at his White House office. He told the retired lieutenant general that he was sending a couple of FBI agents to discuss a matter with him, according to people familiar with what unfolded. Flynn spoke to McCabe without his lawyer present.
At the FBI, the decision to approach Flynn was debated at the highest levels, including by Comey, according to sources familiar with those discussions. FBI officials considered the visit by agents a "duty to warn" matter, a not-uncommon effort by the FBI to warn a US official that foreign spies may be trying to target them.
The agents asked Flynn about the Kislyak calls, in part out of concern that Flynn could be vulnerable to blackmail over the content of the conversations. Flynn gave a wobbly explanation of events. He initially denied the sanctions discussions, then later claimed he couldn't remember.
Flynn's lawyers have criticized media reports about his connection to the Russia investigation as peddling "unfounded allegations" and "outrageous claims."
Page had been the subject of a secret intelligence surveillance warrant since 2014, earlier than had been previously reported, US officials briefed on the probe told CNN.
Page denies working with any Russians as part of the Kremlin's election meddling, though he admits interacting with some Russians during the campaign.
Stone denies collusion and says his conversations with Guccifer 2.0, which he since posted online, were innocuous.
CNN's Marshall Cohen contributed to this story.