Story highlights
Phone call with Peña Nieto came seven days after Trump entered office
Call shows a President working through the complicated nature of bilateral US relationships
President Donald Trump boasted about his election victory, pressured his Mexican counterpart to remain quiet about a border wall and called New Hampshire a "drug-infested den" in a phone call with Mexican President Enrique Peña Nieto, according to a transcript of the conversation revealed on Thursday by The Washington Post.
The transcript of Trump's conversation with Mexico's leader was one of two phone calls revealed on Thursday, which provide a rare glimpse into the private conversations of a new US President testing his negotiating powers on foreign counterparts.
The January 27 phone call with Peña Nieto came seven days after Trump entered office. In it, he focused mainly on issues of trade and immigration, with contentious moments coming in his insistence that Mexico will eventually pay for a wall along with US southern border. Peña Nieto has insisted publicly his country will not pay for the wall's construction, but Trump demanded he cease making that claim.
"You cannot say that to the press," Trump said on the phone call. "The press is going to go with that and I cannot live with that. You cannot say that to the press because I cannot negotiate under those circumstances."
A day later, Trump carried out a phone conversation with Australian Prime Minister Malcolm Turnbull, which grew sour when Trump questioning an agreement to take in refugees. The transcript shows Trump growing progressively more agitated, eventually telling his Australian counterpart the call was the worst of the day.
"I have been making these calls all day and this is the most unpleasant call all day," Trump told Turnbull. "(Russian President Vladimir) Putin was a pleasant call. This is ridiculous."
Trump later ended the phone call abruptly.
The two conversations show a President still working through the complicated nature of bilateral US relationships, often suggesting to his counterparts that he had campaign promises to fulfill in his early days in the White House.
Trump ran for office promising to build a Mexican-funded wall along the southern border. But since taking office, Trump has said that the US will pay for initial construction, with reimbursement from Mexico coming later.
In his conversation with Peña Nieto, Trump said he was willing to say publicly that he and Mexican authorities would continue to negotiate over the wall's payment, which he said "means it will come out in the wash and that is OK."
But he maintained his insistence that Peña Nieto remain quiet about the issue.
"You cannot say anymore that the United States is going to pay for the wall," he said. "I am just going to say that we are working it out. Believe it or not, this is the least important thing that we are talking about, but politically this might be the most important talk about."
Asked to comment on the transcripts, Michael Anton, a spokesman for the National Security Council, said only that he "can't confirm or deny the authenticity of allegedly leaked classified documents."
New Hampshire a 'drug-infested den'
Over the course of their conversation, Trump referred to his Mexican counterpart by his first name, and routinely praised his eloquence. He repeatedly raised his electoral victory, insisting he had a mandate to crack down on illegal immigration and take on drug trafficking, according to the published transcript.
"I won with a large percentage of Hispanic voters. I understand the community and they understand me, and I have a great respect for the Mexican people."
He ascribed his win in New Hampshire's presidential primary to a tough-on-crime stance, calling the state a "drug-infested den."
Sen. Maggie Hassan, a Democrat from New Hampshire, called Trump's comments "disgusting" on Twitter.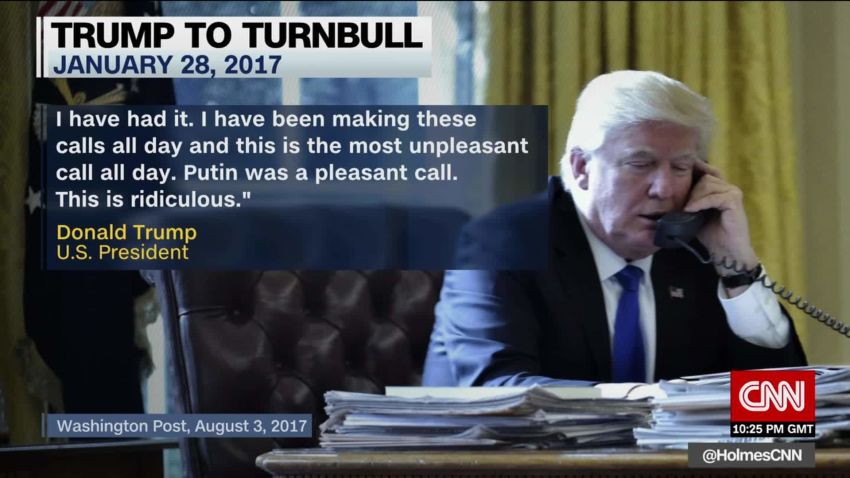 Different style between U.S. and Australia
Turnbull call focused on refugees
His call with Turnbull also centered on Trump's campaign vows, this time his pledge to bar refugees from entering the United States. He said an Obama-era agreement to accept 1,250 refugees would open him up to political criticism.
"Boy that will make us look awfully bad," Trump said. "Here I am calling for a ban where I am not letting anybody in and we take 2,000 people."
Later, he went even further, telling the Australian prime minister that accepting the refugees would "kill me."
"I am the world's greatest person that does not want to let people into the country," he said.
But despite Trump's tough rhetoric on immigration, he appeared impressed by the extent of Australia's border protection measures.
"We said if you try to come to Australia by boat, even if we think you are the best person in the world, even if you are a Noble [sic] Prize winning genius, we will not let you in," Turnbull told Trump according to the transcript.
"That is a good idea. We should do that too. You are worse than I am," Trump replied.
The transcript confirms reports from earlier this year that Trump and Turnbull held a contentious phone call that Trump ended abruptly.
Trump himself sought to downplay the reports after the call.
"Thank you to Prime Minister of Australia for telling the truth about our very civil conversation that FAKE NEWS media lied about. Very nice!" he tweeted.
Turnbull said he had a "warm relationship" with Trump on Friday after a leaking of the transcript, describing the call as a "courteous" and "frank" conversation.
"As President Trump said we're both adults and I stand up for Australia's interests and he stands up for America's interest," Turnbull said, adding "it's always better when these conversations remain confidential."
Correction: Trump's call to Peña Nieto was on January 27; his call with Turnbull was January 28.