Story highlights
John Dumoulin is the first American to win the Excel trophy
Competitors have less than an hour to show their skills in Word, Excel or PowerPoint
Most of us are never going to make it to the Olympics. But for fast typers who know how to work a spreadsheet, there's a whole other kind of world championship up for grabs.
For 16 years, tech-savvy teens have convened at the Microsoft Office Specialist World Championship, an annual cutthroat competition that gathers the best and brightest Microsoft Office whiz kids from around the globe.
At this year's competition, the first-place trophy in Microsoft Excel went to an American for the first time: John Dumoulin, a 17-year-old rising senior from Woodbridge, Virginia.
Dumoulin was among 150 participants from 49 countries who descended on Anaheim, California, last week for the final round. They beat out more than 560,000 candidates from 122 countries who had entered the competition.
"I wasn't initially totally expecting to win, just because I know the competition is pretty fierce," he told CNN. "It's the best in the world from every country."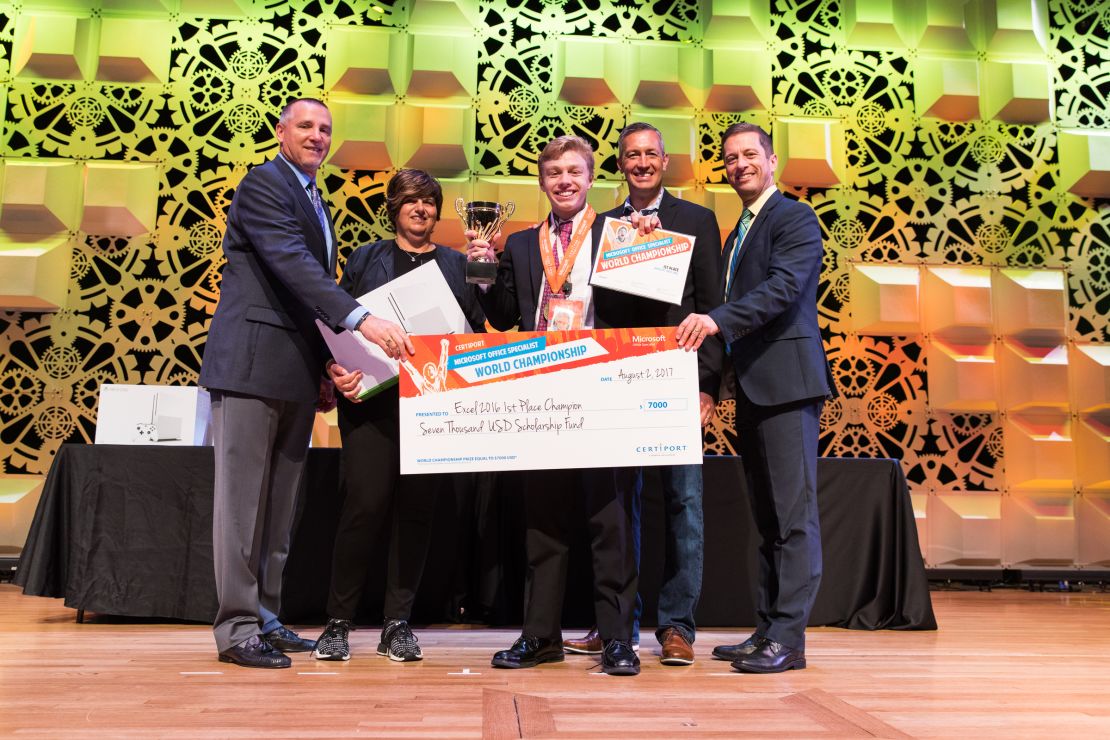 During the championship, participants had 50 minutes to show their skills in Microsoft Word, Excel or PowerPoint. There are six categories, with competitors using either the 2013 or 2016 version of their chosen program. In the Excel competition, Dumoulin said, participants are given completed spreadsheets to recreate.
Dumoulin had been using Excel for a while – he started making spreadsheets in middle school to track statistics from the Los Angeles Dodgers, his favorite baseball team. When he got to high school, he took a test to get certified in several Microsoft applications through his school's IT program, including Excel.
At the time, he didn't know about the championship, and he didn't know his certification test would enter him as a competitor – until he found out he got the highest score in Virginia. The championship is hosted by Certiport, a company that works to certify employees and students in workplace programs such as Microsoft Office, and anyone who takes a certification test can qualify for the competition.
Dumoulin moved on to the national championship in Orlando. His friends took notice and started asking whether he could teach them how to use Excel.
"My friends in my class, a few of them knew," Dumoulin said. "But they didn't think it was really a big thing … When I told them what it was and what skills you need to know to do it, they thought it was a pretty big deal."
Dumoulin said it was "pretty cool" to meet international teams. Sometimes, meeting the other Excel 2016 competitors could get pretty heated.
"They'd give me this really intimidating look, because you can tell it gets intense," Dumoulin said. "This is what these kids do."
The intensity makes sense, considering the hours of preparation that each teen puts in. Dumoulin said he would work for up to two hours a day, taking practice tests and building his own spreadsheets.
But the preparation certainly paid off: Dumoulin has won a total of $10,000, with $7,000 from the world prize and $3,000 from winning the national competition in Orlando.
The win comes with some other perks, too.
"They give you a big trophy and medal, and I got an Xbox as well," Dumoulin said.
Dumoulin, who will graduate in the spring, said he's applying to several different colleges. Right now, he said, his main focus is to do something with business and computers.
As for the possibility of working for Microsoft? "That would be nice."