Story highlights
Al-Shabaab has carried out terror attacks throughout Somalia
Mukhtar Robow was one of its founders and spiritual leaders
Former Al-Shabaab deputy leader and spokesman Mukhtar Robow Ali surrendered to Somali authorities on Sunday, according to a state official.
Robow, a co-founder of the Somali terrorist group, turned himself over to authorities in the town of Hudur, 400 kilometers southwest of Mogadishu, said Hassan Hussein Mohamed, minister of internal security for south west state.
Robow, also called "Abu Mansur," left Al-Shabaab in 2013 after falling out with its leader Ahmed Abdi Godane, who was killed a year later, in September 2014, in a US drone strike.
According to the US Department of State, Robow, born in 1969, had served as an al-Shabaab spokesperson and also served as the group's spiritual leader.
Robow and his loyalists had been battling Al-Shabaab militants in his hometown of Abal after initiating talks with the Somali government for his surrender.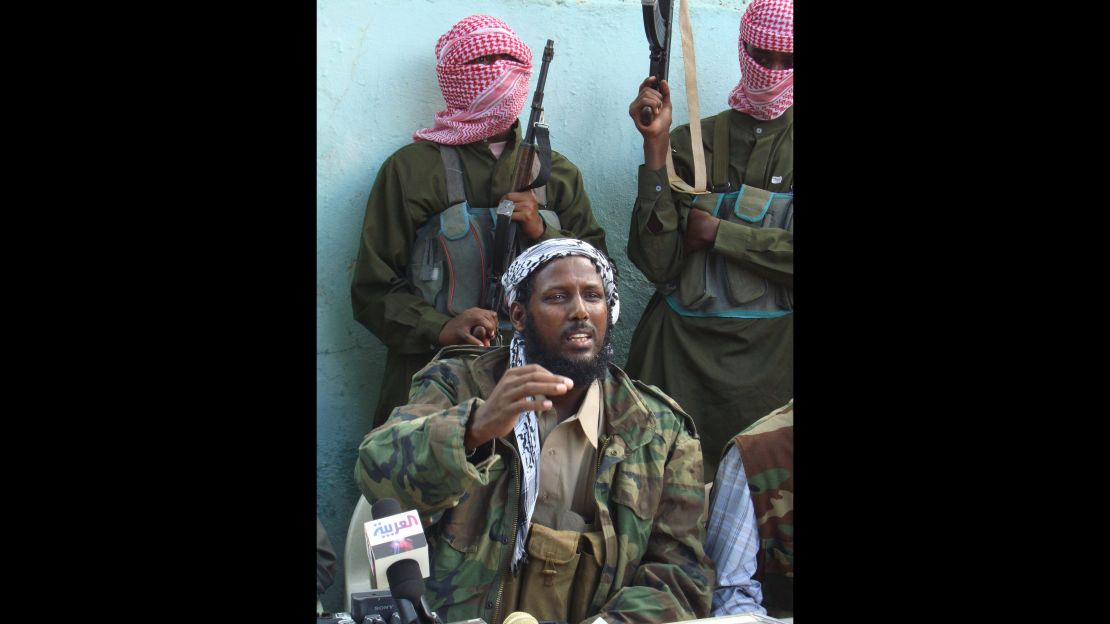 Somali Defense Minister Abdirashid Abdullahi Mohamed met with Robow in Hudur on Sunday, before Robow was flown to Mogadishu, where he is expected to hold a news conference.
Stig Jarle Hansen, author of "Al-Shabaab in Somalia: The History and Ideology of a Militant Islamist Group," told CNN in an email that while Robow won't be able to persuade many of today's Al-Shabaab fighters to surrender with him, his surrender is still important.
"Robow is one of the core early members of Al-Shabaab, and one of the core [members] of Afghanistan veterans that returned to Somalia. One of the few of that generation of fighters still alive, and he functioned as a press spokesman for the organization for several years. He is the highest ranking Al-Shabaab member ever to defect. This means that his defection is very ideologically and symbolically important"
Christopher Anzalone, a researcher at the Belfer Center for Science and International Affairs, said Robow's surrender was a victory for Somalia.
"It is a symbolically important victory for President [Mohamed] Farmajo, who vowed to defeat Al-Shabab within two years, but it is unclear if Robow's formal defection to the government will have any major reverberations inside the insurgency," he said.
Anzalone added that "Robow had effectively split from Al-Shabab by early 2013 when Godane and his loyalists began targeting and arresting, threatening, or killing internal dissidents, which raises questions about how much of a lasting impact his formal defection now will have."
The United States removed a $5 million bounty for Robow last June. The bounty had been in place since 2012.
Al-Shabaab aims to turn Somalia into a fundamentalist Islamic state. The group has been blamed for attacks in Somalia and neighboring countries that have killed international aid workers, journalists, civilian leaders and African Union peacekeepers.
CNN's Robyn Kriel, Holly Yan and Marilia Brocchetto contributed to this report.