Story highlights
Two men attempting longest hole of golf across Mongolia
Ron Rutland and Adam Rolston embark on 82-day journey
Would be a world record if successful
82 days, 1,850 kilometers across Mongolia – they're calling it the longest hole of golf ever played.
Most will be aware of 18-hole golf courses where par is a mere 72. This is being dubbed a par 14,000.
Adam Rolston, a scratch golfer, and Ron Rutland, serving as his caddy, are bidding for a world record. They started their journey across Mongolia in late June and hope to finish in September.
Each has his own individual challenges. Rolston is hitting between 160 and 180 shots a day, and prior to the trip was working to harden the skin on his hands to prevent them from blistering.
And Rutland, an adventure junkie who has previously cycled unsupported from his native South Africa to England, is tasked with hauling a 100 kg cart of equipment, including food, water, camping essentials and, most inconvenient of all, extra golf balls.
"We're definitely playing to our strengths," Rutland told CNN. "Adam is the refined golfer, and I've been tasked with hauling our stuff across the country.
"The most impractical thing is the 400 golf balls we're having to carry, which weigh about 25-30 kilos."
READ: 'Sky is the limit,' says Thomas after PGA Championship win
READ: 'Tiger makes winning look easy.. It's not,' says Spieth
Hot temperature, early starts, and dehydration
It all started when the pair met in Kenya and Rolston, inspired after hearing of Rutland's epic bike ride, suggested they embark on a golfing adventure.
Their record attempt, which is raising money for sports charity Laureus, isn't your average golf trip. Mongolia's diverse landscape and changeable climate couldn't be further from cozy clubhouses and manicured greens.
"The variety of weather makes it tough," says Rutland.
"Obviously it's summer, but at the beginning, at the most Westerly point, it's pretty much rock and glaciers – very cold, with snow on the ground.
"Then as soon as we got out of the Gobi Desert we have temperatures around 40 degrees. So we get up super early and get the majority of our day done by 8am."
READ: How Justin Thomas won his first major in Quail Hollow
READ: Matt Fitzpatrick's perfect day
The heat means carrying large stocks of water by day and sheltering from swarms of mosquitoes during the night.
For Rutland, a vegan, sourcing food provides an additional challenge in a culture largely dependent on local livestock.
"We're not really traveling across Mongolia for the cuisine," he jokes. "For us, the food is more as fuel: a lot of rice, a lot of pasta, a lot of beans.
"I have to pretty much be self-sufficient. We've spent a bit of money on dehydrated camping food that lean towards the vegan side of things.
"It will be a little bit trickier for me. It's more about making sure I get enough calories, but I think it's the lack of variety that might get to me in the end."
'Mongolians love golf; they just don't know it yet'
As of the end of the July, the pair had completed 766 km of their 1,850 km journey, with the end target of Mt Bogd Golf Club in the country's capital, Ulaanbaatar, getting closer each day.
"We actually putt out on the 18th hole of Mongolia's only golf club," says Rolston.
"We're taking a putter the whole way just to finish off at that one moment – a bit of useless kit we're going to carry for 82 days."
Golf is a relatively unknown sport among the Mongolian people, and the sight of two men clubbing a small white ball across their homeland has unsurprisingly generated interest.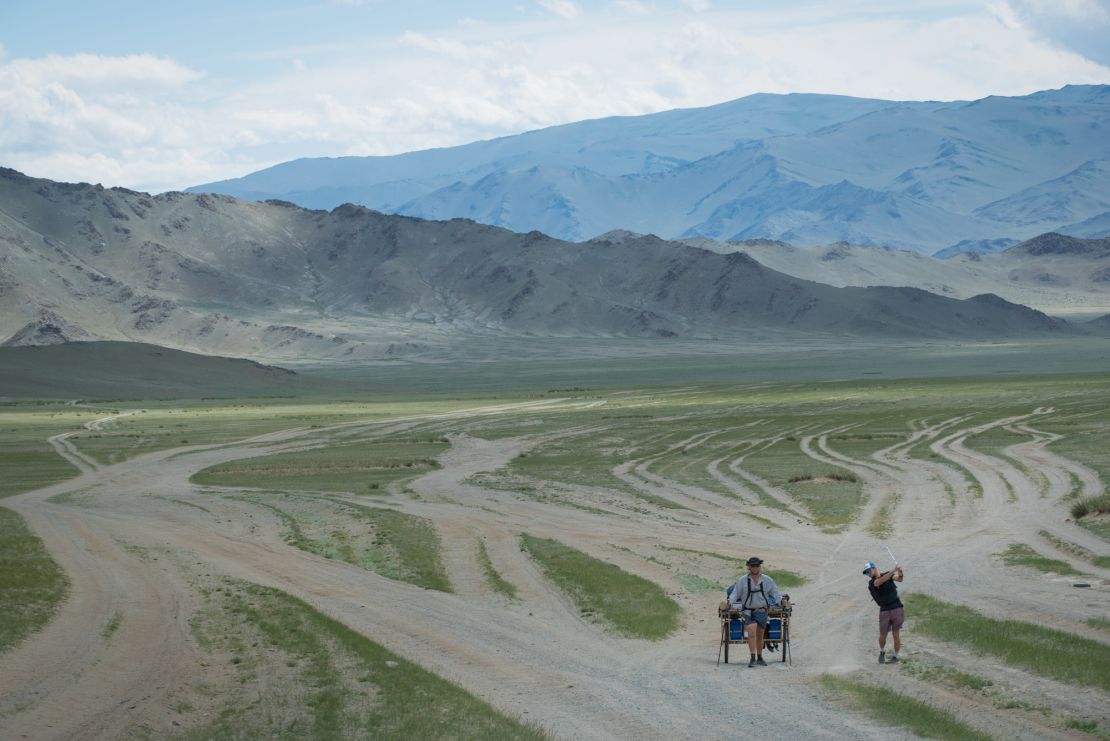 "They don't know about golf, but they absolutely love it," says Rolston.
"The first time we came to Mongolia – we did a sort of recce trip – and everyone's eyes seem to light up when you drop a white ball. They're super curious.
"You put this white ball into the sky and they just want to have a go. Mongolians absolutely love golf; they just don't know it yet."
Inspiring more people to take up golf is just one part of the challenge. There's also mosquitoes to ward off, blisters to heal and golf balls to hit.
But the two men, determined and resolute, are confident they'll soon be holing out on the greens of Ulaanbaatar, a world record within their grasp.
Visit cnn.com/golf for more news and videos
"Slow and steady is our mantra, we're just going to keep ticking away," says Rutland.
"It's an adventure, and it's only 80 days. If you put your mind to it, you can pretty much overcome anything in 80 days."