People took to the streets last week as some cities across the United States removed their Confederate monuments, while others left them in place.
The debate over Confederate monuments has intensified since last weekend's violence in Charlottesville, Virginia, where white nationalist and other far-right groups protested the removal of a statue of Gen. Robert E. Lee.
Many public and private monuments have been vandalized following the clashes in Charlottesville. Here's a state-by-state breakdown.
Arizona
Jefferson Davis memorial
A plaque commemorating Jefferson Davis at a state highway west of Phoenix was tarred and covered in feathers, CNN affiliate KPHO reported.
The Arizona Department of Public Safety is investigating the incident.
Confederate Troops memorial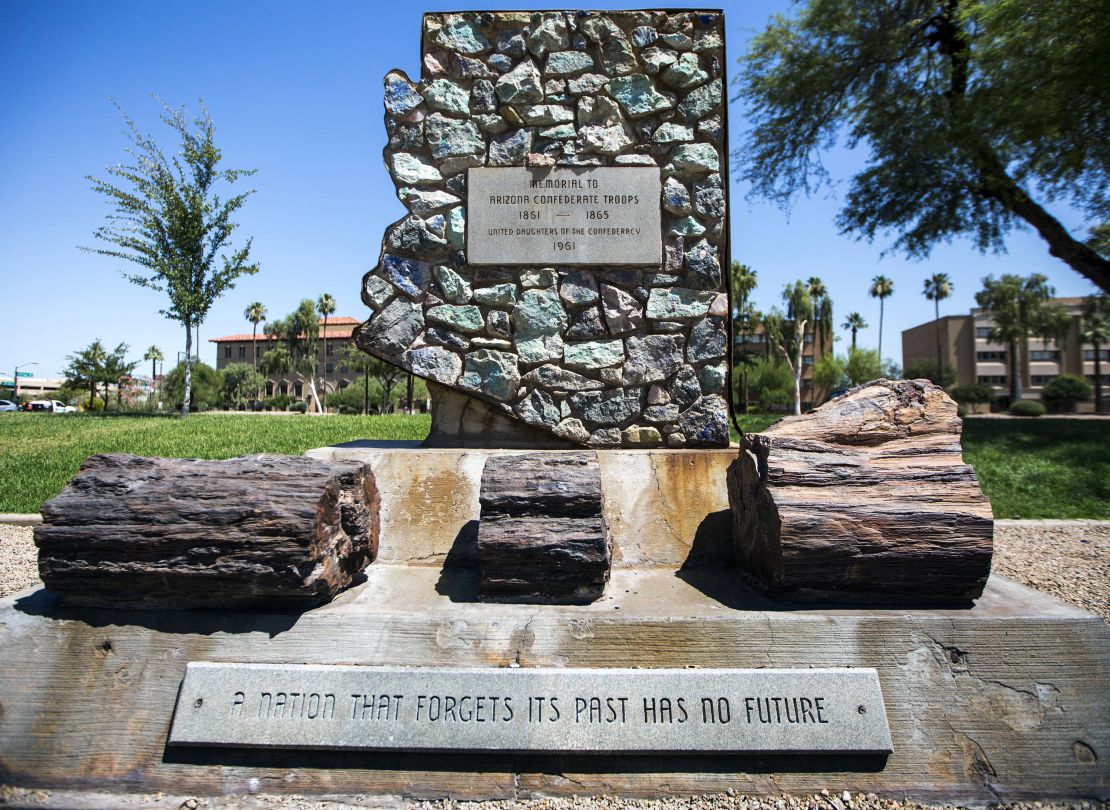 A memorial at the State Capitol in Phoenix was spray-painted. The memorial has been cleaned, but the investigation is ongoing.
Authorities are looking for a man in his 40s who was wearing a black hat and was last seen riding a bicycle in the area, said Kameron Lee, a spokesman with the Arizona Department of Public Safety.
Florida
Confederate Memorial Park
Vandals struck a private memorial park outside Tampa. The columns at the park were painted red, and some derogatory comments were written around the memorial, the Hillsborough County Sheriff's Office said.
The park, which is on private property, has been funded through private donations since 2009, CNN affiliate WFTS reported.
Confederate monument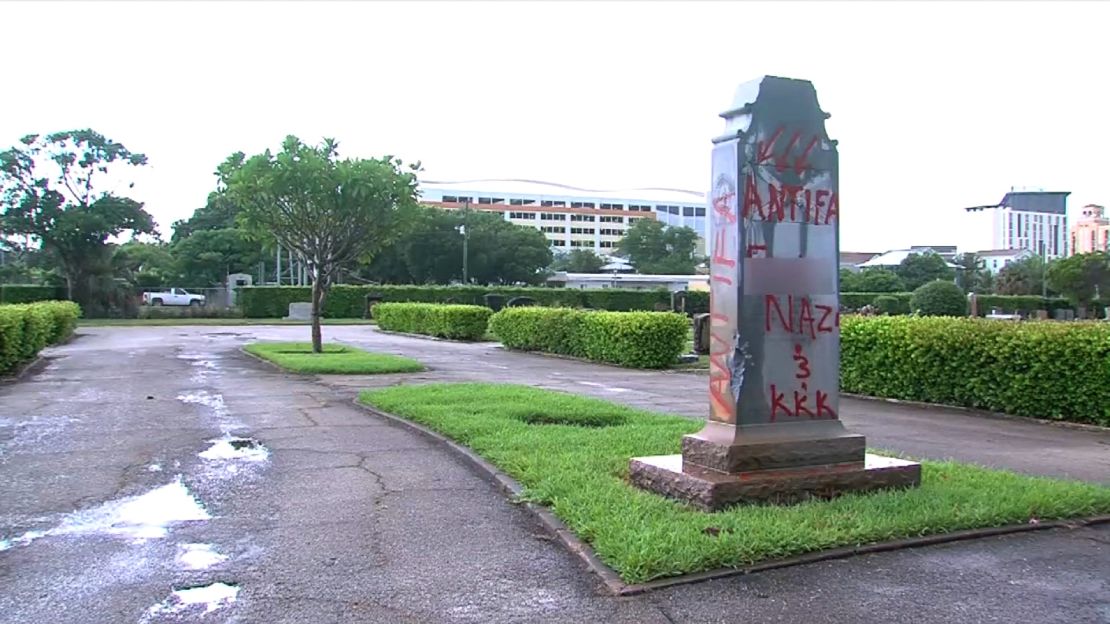 A Confederate monument was vandalized in West Palm Beach, the police department told CNN. Red graffiti was sprayed on the statue in Woodlawn Cemetery. Part of the statue, which depicts a Confederate flag, was damaged, according to CNN affiliate WPTV. Pieces of stone can be seen on the ground next it, according to the station. The monument is privately owned by the Daughters of the Confederacy, a national group dedicated to preserving the Confederate legacy. It was put up in 1941, according to WPTV.
Georgia
Peace Monument
Demonstrators defaced a statue in Atlanta's Piedmont Park depicting an angel holding an olive branch, standing over a Confederate soldier with a rifle. The statue was dedicated in 1911 to commemorate post-war efforts to bring together the North and the South. The demonstrations were held to support the woman who was killed in the violent protests in Charlottesville, Virginia, CNN affiliate WSB-TV reported.
Illinois
Bust of Abraham Lincoln
A bust of Abraham Lincoln in Chicago's Englewood neighborhood was set on fire and defaced late Wednesday, neighborhood representative Raymond Lopez said.
The bust was erected by Phil Bloomquist in 1926, when mostly German, Irish and Italian families lived in the neighborhood.
The bust has been a target for vandals for years, said Chicago police spokesman Jose Estrada, who couldn't confirm whether the damage was new.
Indiana
Confederate soldiers monument
A Confederate monument was vandalized in Garfield Park on the Southside of Indianapolis, the Indianapolis Metropolitan Police Department told CNN.
Police arrested a man who allegedly took a hammer to the monument, which is a burial marker for Confederate prisoners of war, according to CNN affiliate WISH.
Maryland
Christopher Columbus statue
A monument honoring explorer Christopher Columbus was damaged and video of the incident was posted online early Monday, Baltimore police said.
"A person dressed in dark clothing narrated it and put the video on YouTube with at least two other accomplices," said police spokesperson T.J. Smith. A sledgehammer was used in the attack.
There were no suspects.
While no damage has been observed to any other monuments in the city, Smith said, "We want to inform people that it is a crime to destroy property and if the person is identified who did this, they will be prosecuted."
Massachusetts
New England Holocaust Memorial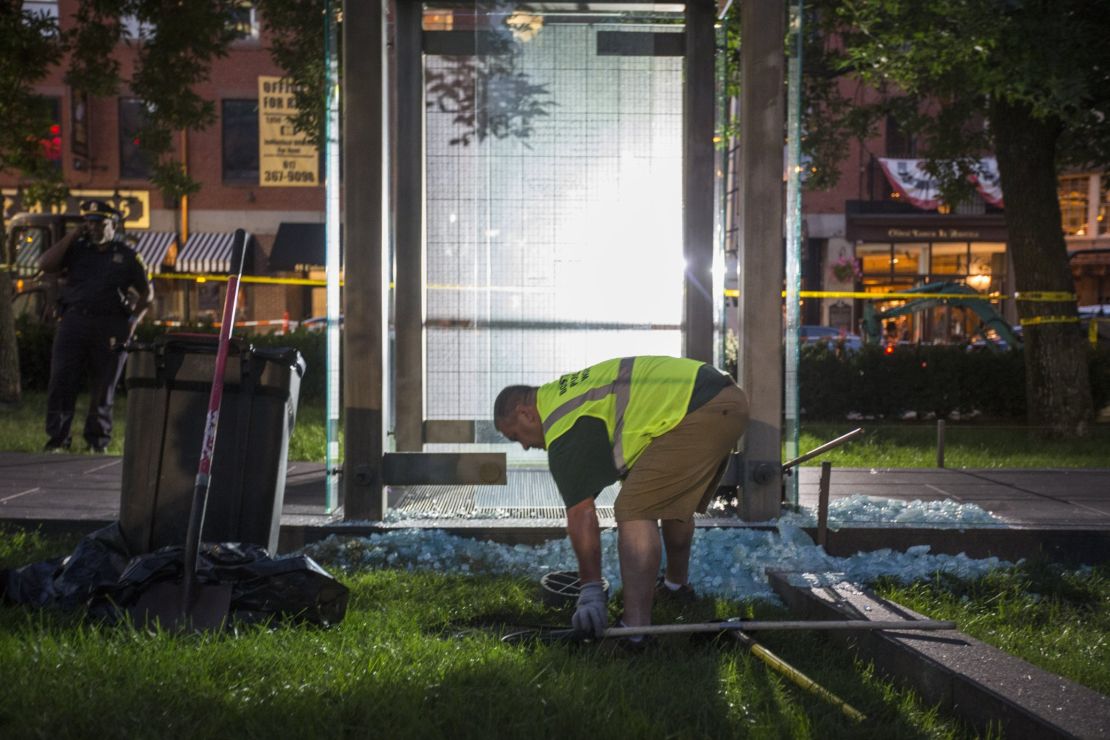 The New England Holocaust Memorial in Boston was vandalized on Monday. Witnesses told police they saw a man throwing what appeared to be a rock at the memorial, which is composed of six glass towers.
"Each of the panels is engraved with thousands of numbers representing the 6 million Jews murdered by the Nazi regime," Suffolk County authorities said.
A 17-year-old from Malden, Massachusetts, was charged with disorderly conduct, malicious destruction of property over $250, and causing injury over $5,000 to a church, synagogue or memorial, Suffolk County officials said.
Missouri
United Daughters of the Confederacy monument
Vandals spray-painted a red hammer and sickle on a pillar honoring the United Daughters of the Confederacy in Kansas City's Ward Parkway, CNN affiliate KCTV reported. A Kansas City chapter of the group built the monument in Ward Parkway in 1934. It features the UDC emblem wrapped in a wreath above the crossed flags of the Union and the Confederacy and the inscription, "In loving memory of the Loyal Women of the Old South." The Missouri Division of the UDC asked the Kansas City, Missouri Parks and Recreation Department to remove the monument to prevent further vandalism.
North Carolina
Confederate soldier statue
A statue of a Confederate soldier in downtown Winston-Salem was spray-painted, police said.
The base of the statue was defaced with graffiti, and black paint covered an inscription that reads, "Our Confederate Dead." The monument has been cleaned, CNN affiliate WGHP reported.
Confederate Soldiers Monument
The Confederate statue at the old County Courthouse in Durham was pulled down Monday during a protest to show solidarity with anti-racism activists. Eight people have been arrested. They face felony rioting charges and misdemeanor charges related to the damage, the Durham County Sheriff's Office said.
More arrests are expected, Durham County Sheriff Mike Andrews said.
Confederate Gen. Robert E. Lee statue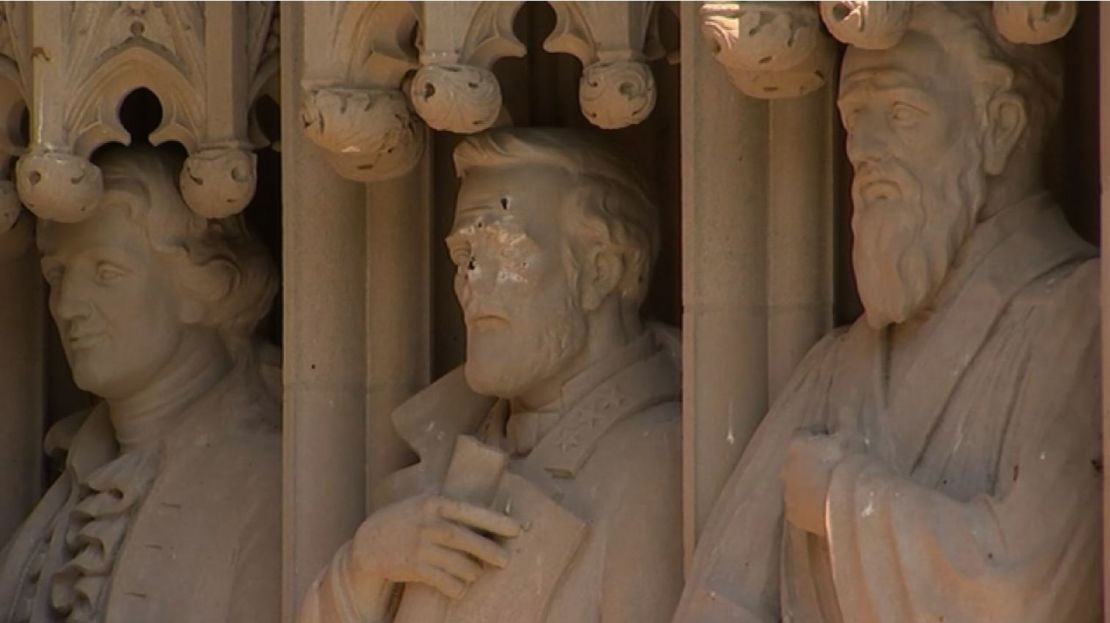 The face of a statue adorning the entrance of Duke University's chapel in Durham was found vandalized early Thursday.
The chapel's facade includes the Robert E. Lee statue and nine other historical figures. It sits between figures of Thomas Jefferson and Sidney Lanier, a poet who served in the Confederate Army, CNN affiliate WTVD reported.
In light of the incident, Duke University President Vincent E. Price announced that he had authorized the statue's removal on Saturday while the university considers how to best preserve it. He said he made the decision to ensure the safety of those who worship in the chapel and "to express the deep and abiding values of our university."
The removal presents an opportunity for the school community to learn and heal, Price said in a statement. A commission will be created to determine how to "navigate the role of memory and history" and how to memorialize historic figures on campus, he said.
Ohio
Confederate war dead statue
The head of a statue at a cemetery for Confederate soldiers who died in a prison camp was stolen by vandals, who knocked the statue off a stone arch.
"The destruction of property – and the desecration of any grave site – is unacceptable, regardless who was interred," Columbus Mayor Andrew J. Ginther said.
Police are looking for the vandals, who struck Camp Chase Cemetery in west Columbus on Monday night.
Pennsylvania
Frank Rizzo statue
A statue of Frank Rizzo, a former Philadelphia mayor and police chief, that sits outside a city government building in Philadelphia was spray-painted with the words, "Black Power," CNN affiliate WPVI reported.
The Philadelphia Police Department is investigating; no arrests have been made. The statue has been vandalized twice this week, WPVI reported.
Texas
Christopher Columbus statue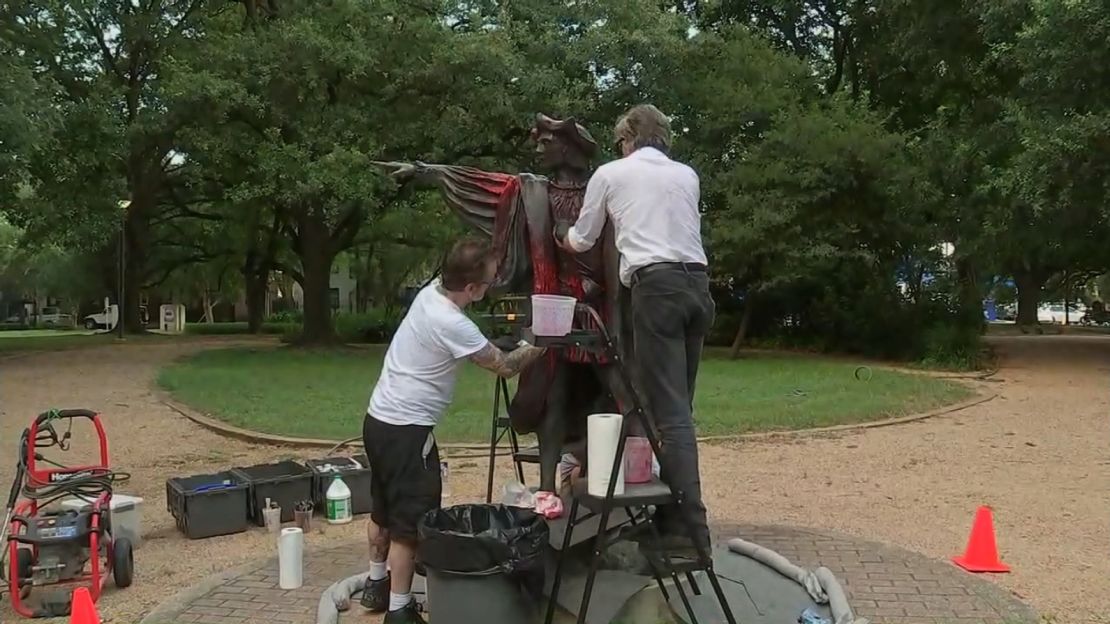 A statue of Christopher Columbus was vandalized in a Houston park late Thursday, the Houston Police Department said.
The statue, in Bell Park, was defaced with red paint, which dried by the time police arrived. It is unclear whether vandals thought the monument was a Confederate statue, said John Cannon, a police spokesman.
The Houston Police Department is investigating; there were no suspects as of Friday.
Dick Dowling statue
A 25-year-old man is in custody after he was found Saturday with explosive materials near the Dick Dowling Confederate monument in Houston.
Authorities said he had a bottle of liquid that turned out to be "most likely nitroglycerin," which is "one of the world's most powerful explosives" when undiluted, an FBI agent wrote in a criminal complaint.
In addition to the suspected nitroglycerin, authorities also found wires, a timer and a white powder that was "most likely HMTD," which is used in explosives, the FBI agent wrote.
Virginia
Confederate soldiers statue
A statue honoring Confederate soldiers outside a courthouse in the town of Leesburg was spray-painted.
The statue was marked with graffiti and obscene language was painted on its base, said Craig Troxell, a spokesman for the Loudoun County Sheriff's Office. The statue has been cleaned, and there was no permanent damage.
Video surveillance from a nearby street shows two possible suspects who are seen covering their heads as they walk near the courthouse at night. The sheriff's office posted the video online.
CNN's Joe Sutton, Tony Marco, Artemis Moshtaghian, Kwegyirba Croffie and Tina Burnside contributed to this report.