Story highlights
Neo-Nazis turn out to mark 30th anniversary of death of Hitler deputy Rudolf Hess
The march comes a week after deadly white supremacist rally in US
Neo-Nazis marched in the streets of Berlin on Saturday as counterprotesters assembled to meet them, a week after a white supremacist rally turned deadly in Charlottesville, Virginia.
Helmeted police in riot gear stood guard as right-wing demonstrators converged on the German capital to mark the 30th anniversary of the death of Rudolf Hess, Adolf Hitler's deputy.
About 500 people on each side turned out, police said.
Convicted at the Nuremberg war crimes trials, Hess served a life sentence at Spandau Prison and was the sole inmate there from 1966 until his death in 1987.
Nazi sympathizers revere Hess because he never renounced his beliefs decades after the fall of the Third Reich.
One of Saturday's banners read, "I do not regret anything," Hess' last words before his sentencing at Nuremberg. Another banner disputed the account that Hess committed suicide at age 93: "It was murder. Enough with the suicide lie."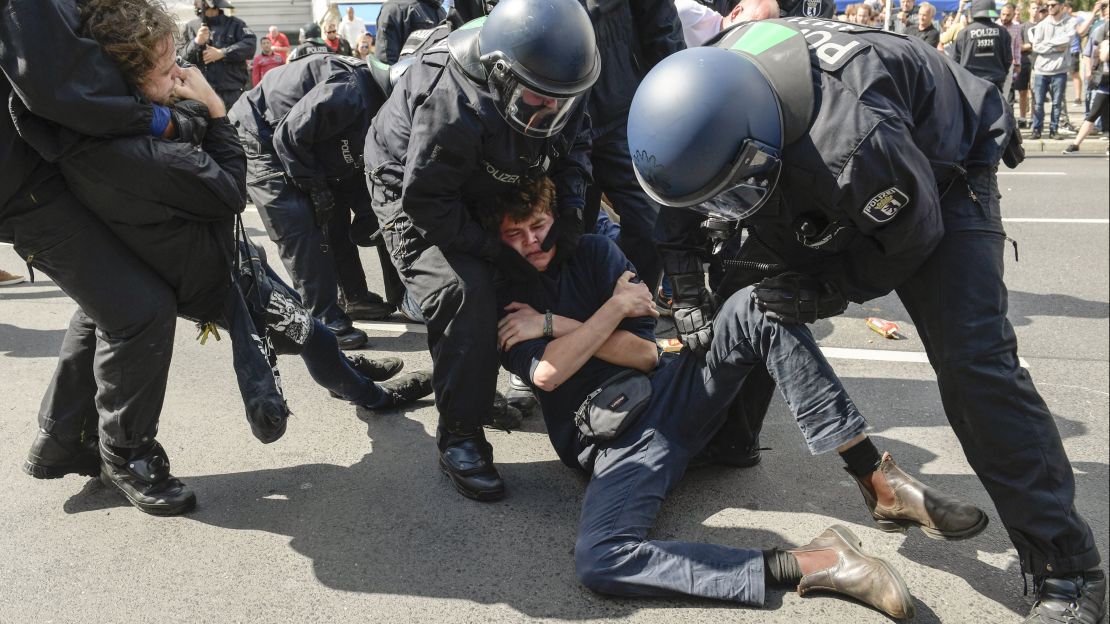 Forged in the ashes of World War II, strict laws in Germany ban Nazi symbols and hate speech.
Rally organizers told demonstrators not to play marching music and to walk silently to the site of Spandau Prison, razed after Hess' death. Every 25th person could carry an imperial German flag. They were not allowed to wear Nazi attire and display a swastika, the Nazi symbol.
Funereal music played from a truck as the right-wing demonstrators marched to the prison site.
Anti-fascist counterprotesters chanted "war criminal" at demonstrators, shouted "all Berlin hates the police" and advanced toward officers.
Residents played loud music from balconies countering the demonstrators, such as a Michael Jackson song declaring, "It don't matter if you're black or white."
A black woman held up a sign with a heart, prompting neo-Nazis to shout "go home." She replied, "Berlin is my home."
In contrast with the restrictions in Germany, US law protects the right of neo-Nazis, white supremacists, the Ku Klux Klan and other hate groups to hold public rallies and express their views openly.
Cities across the United States are bracing for a wave of far-right rallies in the coming days. Local and federal law enforcement officials have expressed concern about the potential for more violence.
At the Charlottesville rally last week, anti-Semitic and racist chants echoed through the city, and people openly marched with arms. Those demonstrators and anti-fascist counterprotesters skirmished.
One counterprotester – Heather Heyer – was killed when a car rammed into a crowd of people; an Ohio man was arrested and charged with second-degree murder in her death.