Story highlights
Protesters march in support of jailed pro-democracy leaders
Tens of thousands took to the streets to protest what they see as politically-motivated punishment
Tens of thousands of people braved blazing summer heat Sunday to join a march in Hong Kong protesting the jailing of three pro-democracy leaders for their involvement in the 2014 "Umbrella Movement."
Last week a Hong Kong court sentenced Joshua Wong, Nathan Law and Alex Chow – three young organizers of the protests that rocked Hong Kong three years ago – to jail terms ranging from six to eight months.
They were convicted of unlawful assembly after they stormed government property in September 2014, leading to the 79-day sit-in of major roads in the heart of the city's financial district.
On Sunday, demonstrators walked from the district of Wan Chai to the Court of Final Appeal, where the three activists are expected to lodge an appeal against their sentences.
Police told CNN the number of protesters during the peak period Sunday was about 22,000. While the protest organizers did not provide their own count, activist Agnes Chow told CNN it was the biggest protest since the 2014 Occupy movement.
"We were surprised that there were so many people coming out," she told CNN Monday by phone. "Originally we predicted a few thousand (attendees) but there were a lot more."
She said she saw a lot of anger on the streets towards the Hong Kong government over the decision to jail the trio, and that Sunday's turnout was a powerful message rejecting the judicial ruling.
"Yesterday showed the government failed," she said.
Mass protests
In 2014, hundreds of thousands of people crammed city streets to demand a say in the election of Hong Kong's leadership, and greater autonomy from China.
The trio were sentenced to between six and eight months' prison on Thursday. All three were initially given, and completed, community service sentences, but Hong Kong's Department of Justice appealed, arguing that those sentences were insufficient.
In a statement issued on Sunday, the Hong Kong government said the decision to appeal the original sentences was "in accordance with Hong Kong's effective legal system," and had "absolutely no political consideration involved."
Wong, 20, was sentenced to eight months in prison Thursday, reduced to six months on account of previous community service, while fellow defendants Nathan Law, 24, and Alex Chow, 26, were sentenced to 10 months, reduced to eight, and eight months, reduced to seven, respectively.
The government statement added that authorities were "aware that the community has different views on the judgment and notices that the relevant defendants have indicated to lodge appeals.
"The case should be handled in accordance with judicial procedures."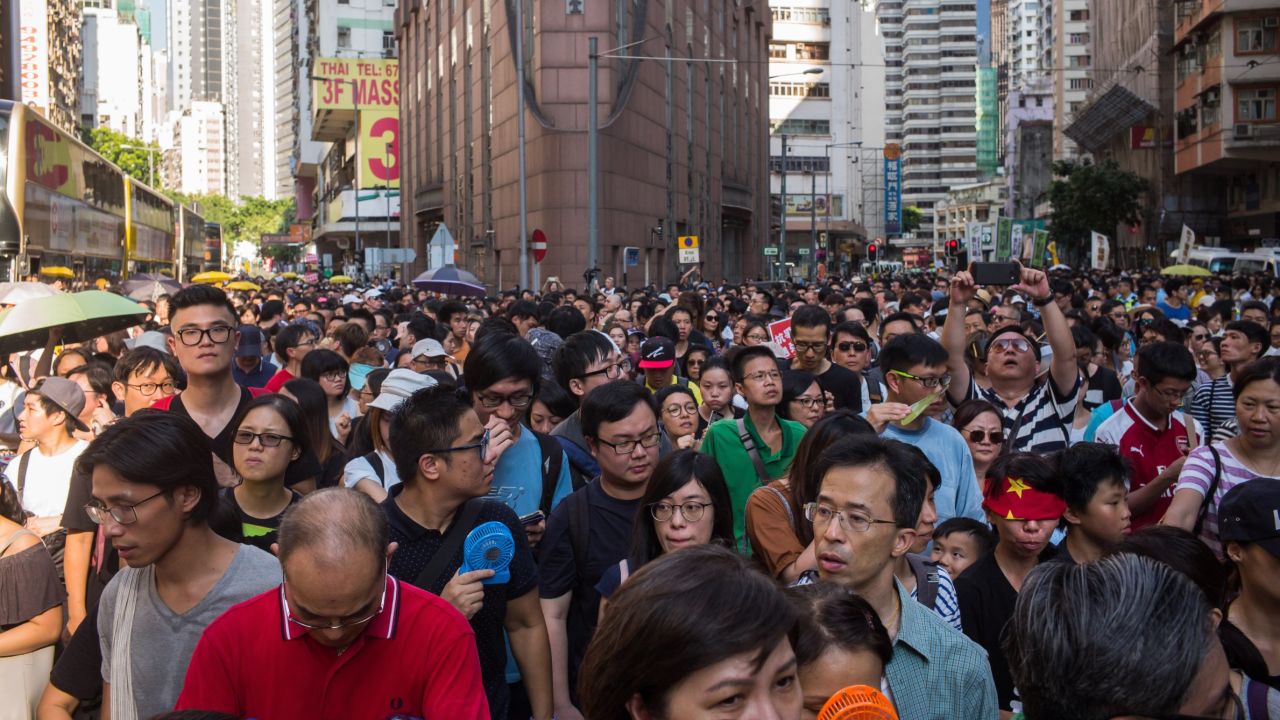 Defiance
Immediately following the verdict, Wong said on Twitter that the government "can lock up our bodies, but not our minds!"
Chow, who is a standing committee member of Demosisto, the political party founded by Wong in the wake of the Occupy movement, says that as "a person advocating civil disobedience" she is "not afraid to go to jail."
"I would say if they want to stop … Hong Kong people desire for democracy and participating in a democratic movement it's difficult to stop (them).
"The Hong Kong government and justice department use political ways to try to stop us but they would not succeed in stopping us."
In Hong Kong, people who have served sentences of more than three months are barred from holding political office for five years.