Story highlights
FC Barcelona fans honor terror attack victims
Barca was playing Real Betis in a league game
It's normally a place of celebration. A place where FC Barcelona's fans passionately support their team.
But the mood Sunday was altogether more somber as the football club's supporters congregated at the Camp Nou stadium to watch Barca's first league game of the season against Real Betis.
Both teams and fans honored the victims of the Thursday van attack in Barcelona that left 13 people dead and 120 injured.
The Barcelona football club, whose slogan is "more than a club" because of its defense of the Catalan culture and language, is one of Catalonia's most important institutions.
"Freedom of expression is what Catalonia is all about," Catalan artist Joan Miró once said, and that spirit was very much in evidence.
Ahead of the match, applause rang out as both teams gathered in the center of the pitch with the match officials next to a banner that said: "TotsSomBarcelona," or "We are all Barcelona." The Barca players wore black armbands.
A minute's silence was then observed, a mark of respect that was also made at other matches across Spain over the weekend.
L'Esportiu journalist Sergi de Juan told CNN Sport: "It was the stadium saying: 'We don't have fear.'"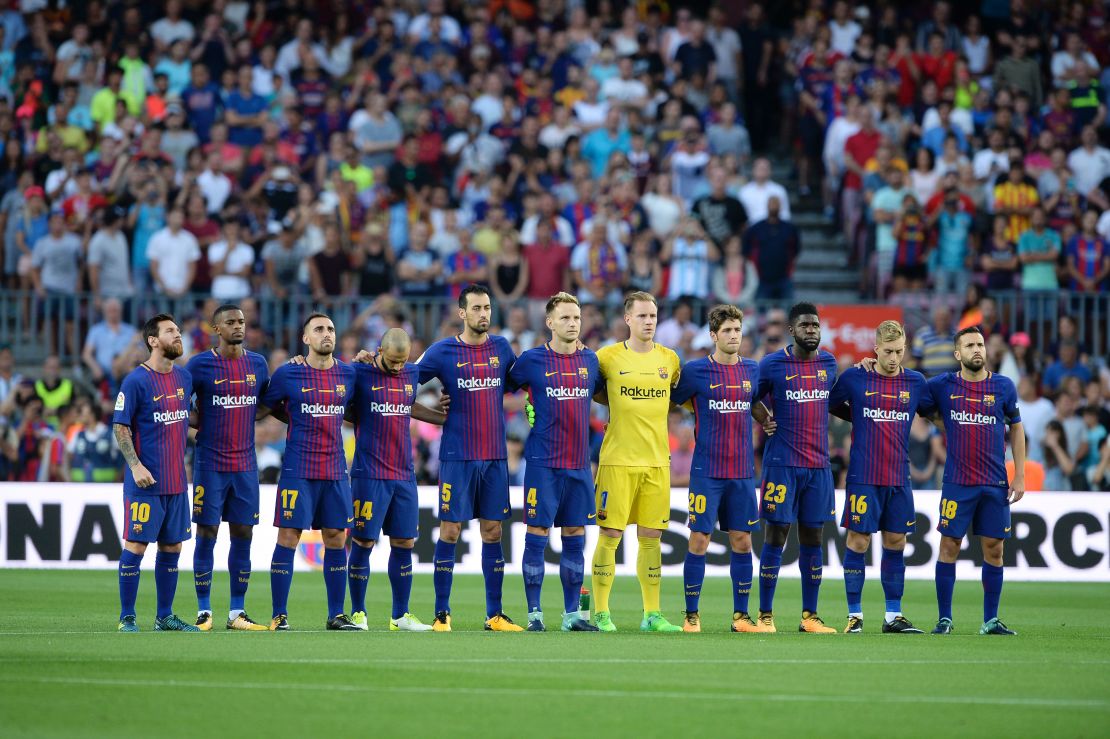 The front of the Barca players' shirts carried the #TotsSomBarcelona inscription, and Barcelona was inscribed on the back of the shirts rather than the players' names.
In the bleachers, one fan displayed a placard reading: "Let us stand against terrorism. Terrorism has no religion."
The attendance for the game was just over 56,000. Increased security included barriers at the Camp Nou entrances to stop vehicles.
Some fans, especially tourists, were reportedly deterred from attending the game and returned their tickets, with their money refunded by the club.