Few athletes have dominated their sport like Teddy Riner.
The six-foot-eight, 140-kilogram man mountain has spent his entire career making history and setting new, seemingly impossible benchmarks.
At the 2011 World Judo Championships in his home city of Paris, Riner became the first male judoka to win five world titles – he has gone on to win three more since.
Riner's last defeat came back in 2010 when he lost out in the final of the Tokyo World Championships.
In the intervening seven years, the Frenchman has won 128 consecutive bouts, including gold medals at the London and Rio Olympic Games.
Heading into the 2017 World Judo Championships in Budapest, "Teddy Bear" is undoubtedly the man to beat.
"Everybody wants to win against Teddy Riner, everybody wants my place," the 28-year-old told CNN. "I know when I go for the next World Championships I will have a lot of new opponents.
"I want a new title, I want a new medal because in my head I am younger. I did 20 years in my career but my body, my spirit is good."
Making of a legend
Riner was born in 1989 on the Caribbean island of Guadeloupe, a French territory, while his parents were on holiday.
Raised in the French capital, it was clear he was a talented sportsman from a young age and excelled in a number of different sports.
At the age of five, Riner's older brother introduced him to judo and he was immediately hooked due to its individualistic nature.
Being unable to control the outcome of team sports, particularly in defeat, frustrated him. So Riner instead opted to pursue judo, where he was solely responsible for the end result.
"I tried a lot of sports, judo, football, basketball, tennis and swimming," he recalls. "But I love judo because of the spirit of the sport, I love to fight.
"In this sport, you search for the ippon (winning throw) and I like this because it's difficult, it's not an easy sport.
"You search for a beautiful technique, for a beautiful ippon."
Though he dropped all other sports to focus on judo some years earlier, it wasn't until Riner was 16 that he believed becoming a champion was possible.
Remarkably, the Frenchman has only lost eight fights in his entire top-level career, something he attributes to a defeat – his "biggest lesson" – against his older brother in the final of a club tournament.
Riner would get the better of his sibling every day in training, so entered the fight showboating and thinking "it's cool, I'll win against my brother," he recalls.
While Riner was busy jumping around and waving to his family, his brother remained focused.
"Five seconds, just five seconds my brother attacks very fast and I lose this fight," he says. "I underestimated my older brother during this final.
"After this fight I never underestimated another opponent, never again."
During his youth days, Riner was fortunate to attend the Paris Saint-Germain judo club which, at the time, was also home to some of the great French judokas.
Every day he learned by watching first-hand the likes of Olympic champions David Douillet and Djamel Bouras and world champion Frédéric Demontfaucon.
But it wasn't until he witnessed his first professional competition that he was really awestruck by the sport.
"I remember it was wonderful, a big event, a lot of international sportsmen and … wow," he remembers excitedly.
"With many people and … wow a big competition and I'm a little kid – oooh," he laughs.
Legends of judo: Teddy Riner, the best ever?
Professional career
In 2007, at the age of only 18, Riner became the youngest ever judo world champion by winning gold in Rio de Janeiro, just a year after claiming the junior title.
Since then, he has gone on to claim seven more world titles, two Olympic golds and five European crowns. No judoka past or present comes close to equaling his achievements.
Riner puts his success down to not only practicing daily, but to "listening every day, listening to all things everybody tells me."
He believes much of his career is down to "the touch of God" and is grateful for what he describes as the three most important moments of his life.
"When I had my first baby, this is the biggest moment," Riner says. "The second is the first time I won the Olympic Games because it was London.
"The French people and everybody said, 'Teddy come on"' … wow this is a beautiful day.
"And the third is the World Championships in Paris because I won at home and this was a special event with my family, with my country everybody … wow.
"I am lucky because a lot of sportsmen wouldn't fight or win at home and me, I had one chance."
Riner describes that World Championship victory on home soil as a "dream."
Not only was he crowned world champion on home soil, it also marked the first time in history any judoka had won five world titles.
"When I was younger my first title was the champion of Paris," he recalls. "When I was younger – wow I am the champion of Paris!
"And now I am the world champion, Olympic champion, European champion, it's different.
"A title for life, for your family, for your country, you have your national hymn, it's wow, this is a dream. Everybody wants this. And just special people have this."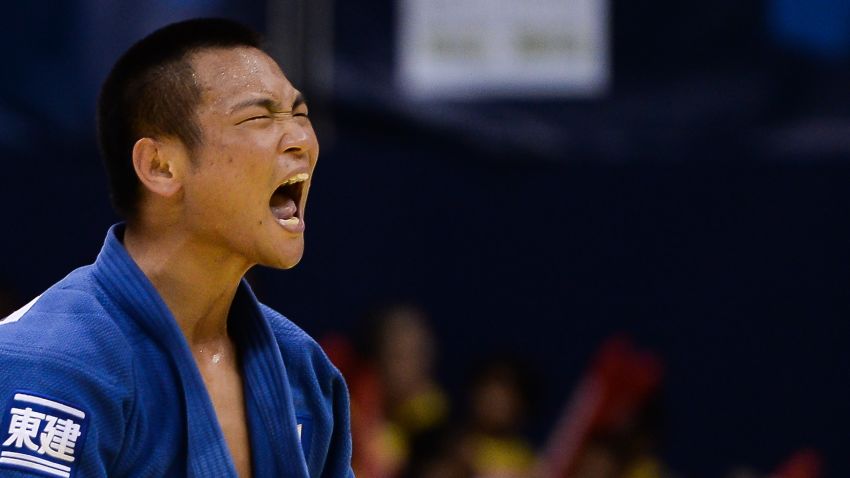 Legends of judo: Masashi Ebinuma
READ: Judo – what you need to know
Spreading the sport
An avid PSG fan, Riner lists former Brazilian footballer Ronaldinho as his only sporting hero, comparing the infectious smiles they both wear "every day."
He believes judo is a beautiful sport, which makes him smile, and admires the values it instills in all judokas.
"In this sport you need courage, in life you need a lot of courage," he says. "If you need things in life you work hard.
"When I prepare a world championship I have a target, I watch my target and I work hard. If you want this gold medal you work hard. In my life everything is like this."
Riner acknowledges judo is an aggressive sport, but is keen to stress it is important to remember it's a martial art and does not mean he is an aggressive person.
"Aggressive on the tatami (judo mat), a gentleman off it" is his mantra.
"When you go on the tatami, this is the fight, when you exit off the tatami you are back to being a gentleman," he explains. "Focus on the tatami, normal in life.
"Because I practice a martial art and I have aggression doesn't mean I am not a gentle man in my life.
"It's important that you are aggressive on the tatami but when I am back in my life I am very gentle. It's very different."
Having won everything there is to win – and then some – Riner says his next aim is to help judo break through into the mainstream.
"I want to see on every TV channel judo," he says. "I want my sport in the top five world sports, I want just this, because this is a beautiful sport with a beautiful athletes."
An earlier version of this story contained incorrect information about Teddy Riner's number of consecutive wins. It was updated on 22/8/17