The happy couple wore matching cream flower garlands in their hair but, although they were married in front of thousands of witnesses, their union isn't legal.
Jane Mahoney, 28, and Josie Lennie, 26, danced and kissed in front of the crowd after a celebrant officiated a "mass illegal wedding" in Melbourne, Australia Saturday.
"We've been together for over four years and we just want to be able to make it official in the future," Mahoney told CNN.
The couple were among as many as 20,000 people who marched through the streets of Melbourne, in the state of Victoria, to call for same-sex marriage to be legalized.
The rally comes weeks before the start of a nationwide postal vote on whether the law should be changed to allow same-sex unions.
Australia is one of the few Western nations where same-sex marriage isn't legally recognized, and the issue has become increasingly divisive.
Amid competing campaigns for a "yes" or "no" vote are calls for the postal vote to be scrapped altogether, to spare the gay and lesbian community a public debate about the validity of their relationships.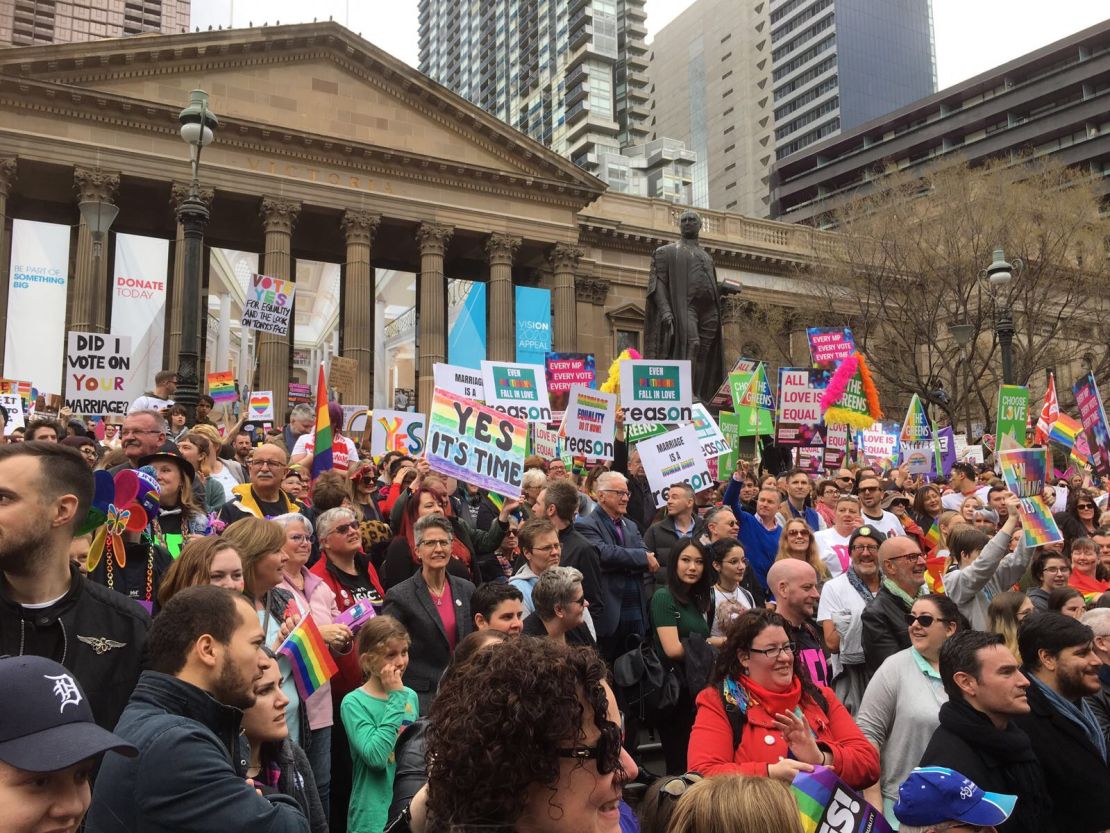 Thousands on streets
Students, couples and children joined politicians, celebrities and leading advocates as they marched through the city's central business district.
The crowd was so unexpectedly large that authorities were forced to close tram routes and nearby streets.
Canadian tourist Erin Dietzel, 26 and Joel West, 28, a film set dresser from Melbourne, arrived early to wave placards and raise awareness of the issue.
"It should just be done already, it's a long time coming," Erin told CNN.
"Humans should be treated equally and no one should be denied this basic right."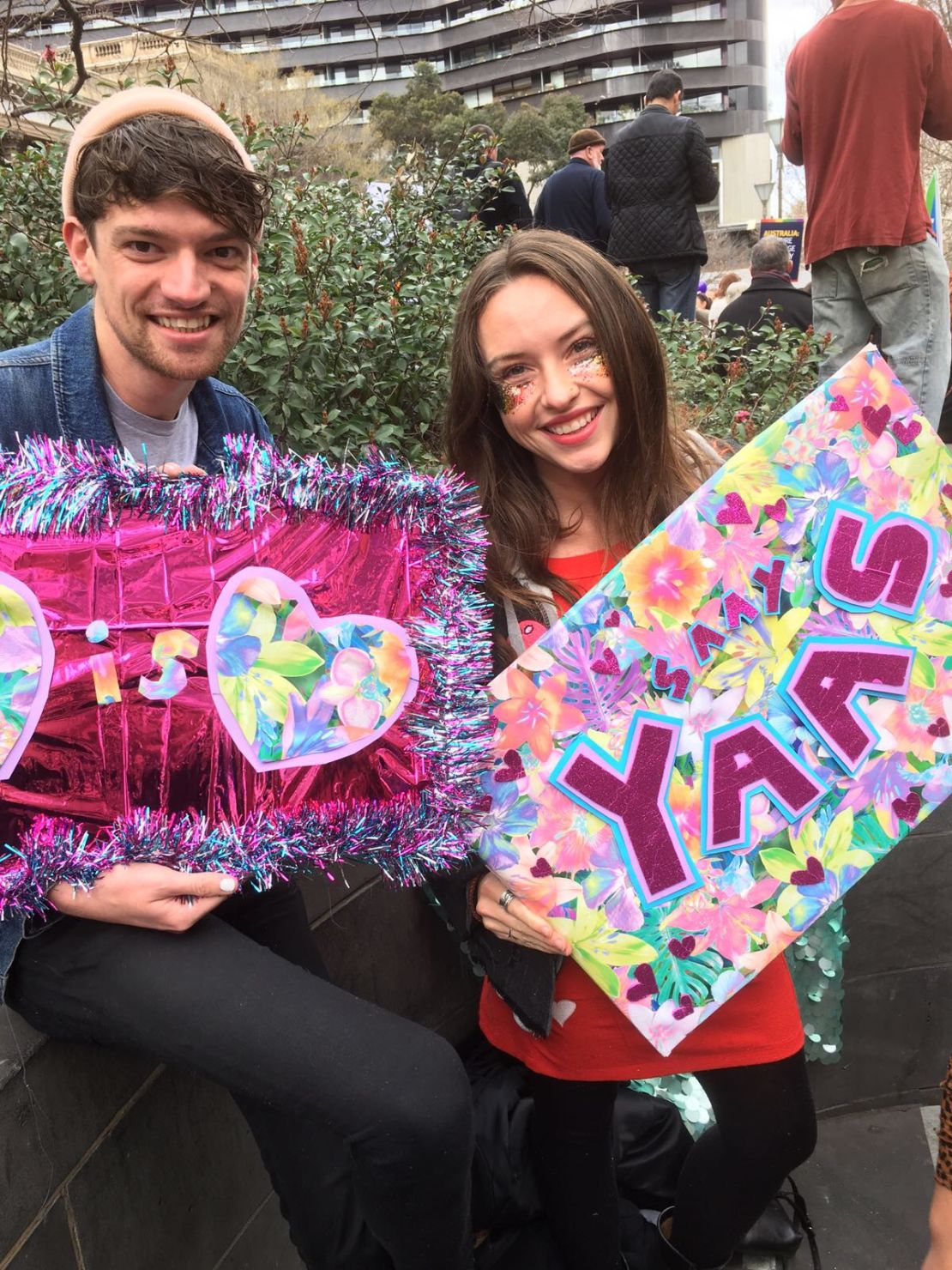 Protesters chanted "marriage equals human rights" and many waved rainbow-painted banners with slogans including "love is love."
Other banners pointed out equal marriage is already legal in many other countries including the US, New Zealand and Canada.
Competing arguments
The government had intended to hold a compulsory national vote, or plebiscite, in February this year.
But after fierce objection from lesbian and gay groups – who did not want a popular vote to decide what they see as an issue of equality – opposition parties blocked the proposed plebiscite in the Senate.
The government then decided to hold a postal survey which doesn't need legislation to be passed.
It's not officially a referendum as they're only held on matters regarding the constitution.
As a result, the plebiscite is non-binding, but the government says a "yes" vote will lead to a conscience vote on the issue in Parliament, where politicians can cross party lines.
A no vote means the official debate is effectively over.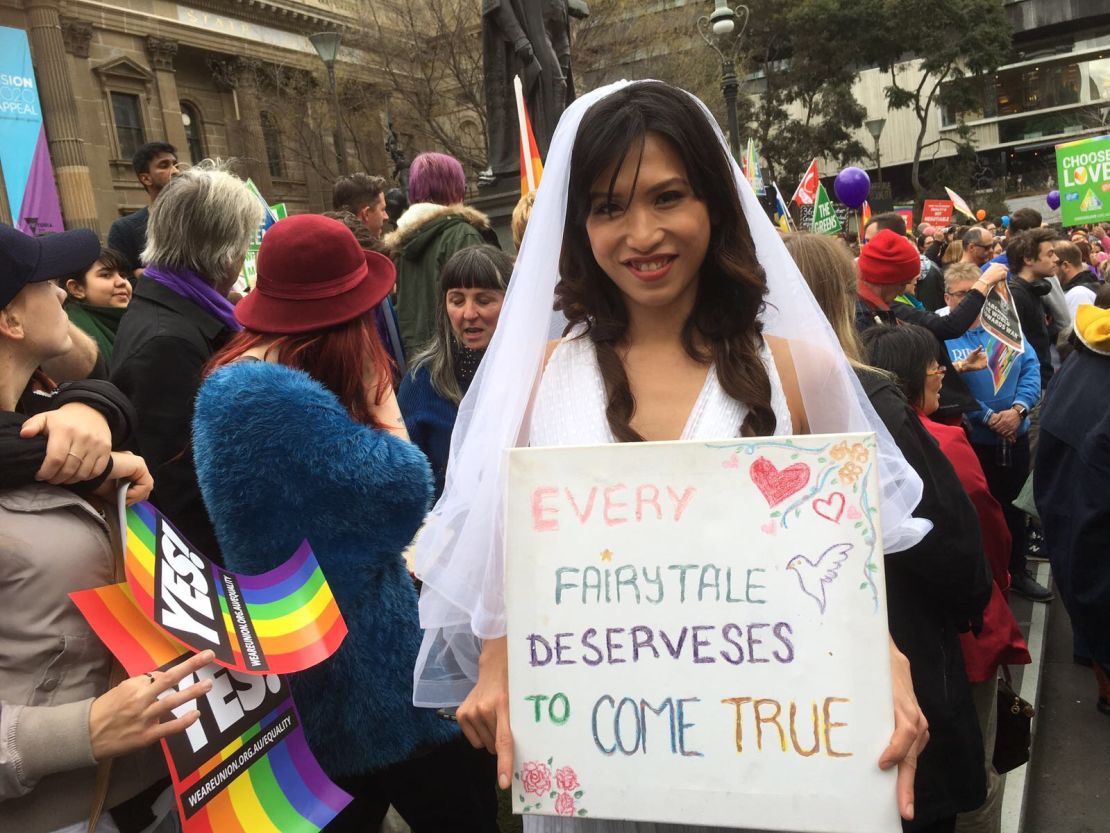 Anti-gay attacks
Speaking at the Melbourne rally, Shadow Attorney-General Mark Dreyfus said marriage equality will make Australia "a better country."
However, he said the survey process could lead to homosexuality being attacked by those in the "no vote" camp.
The gay community has already been angered by the recent appearance of anti-gay posters and insulting social media posts.
"I want to see this campaign conducted with grace and kindness, and those who are campaigning for a no vote to show respect for their fellow Australians," Dreyfus said.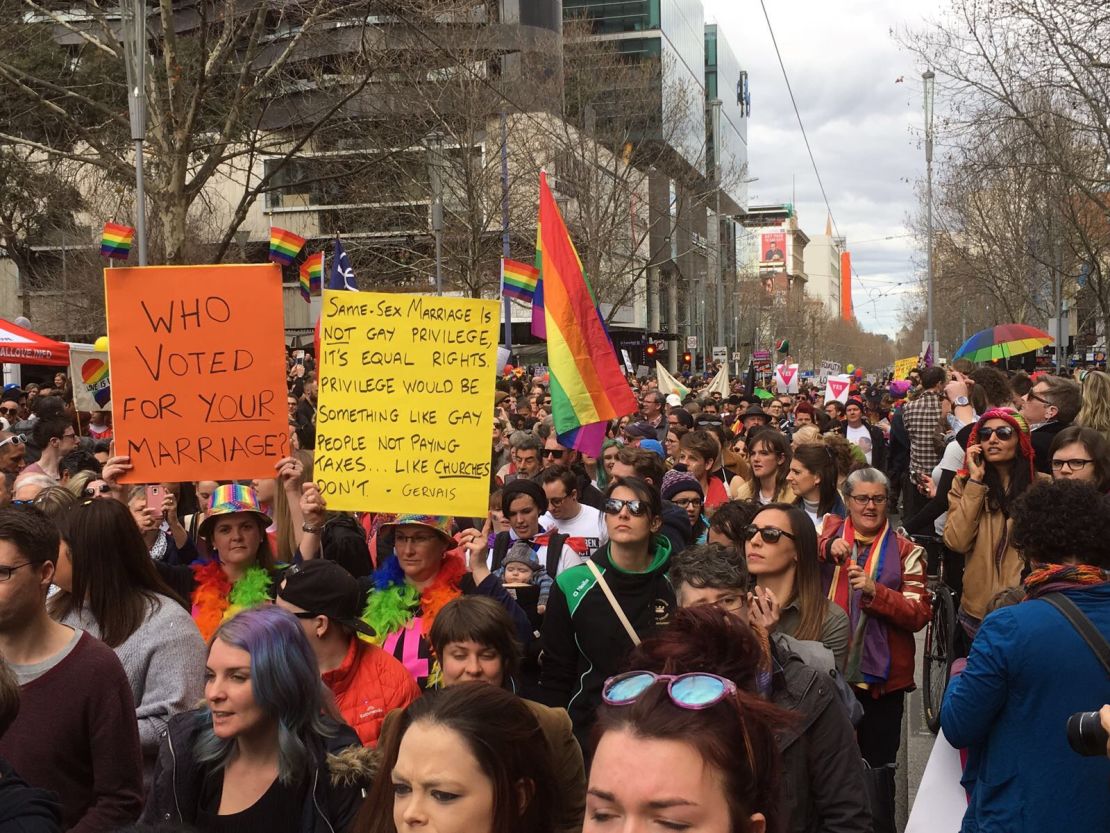 'Stigma.. is a thing of the past'
At the rally, State Minister for Equality Martin Foley described the postal survey as "pointless" and a waste of the A$122 million ($97 million) it's costing taxpayers.
He said asking the country to decide to amend the current marriage laws, instead of the government themselves voting, was "creating stigma" for the gay community.
"Stigma in every manner is a thing of the past," he said.
"We are a fair go society for everyone….your sexuality does not define you as a second class citizen."
The state government is spending over A$1 million ($80 million) on extra support and counseling services for the gay community during the campaign period, he said.
After a short but vocal march through the central business district, the crowd returned to the steps of the State Library to take part in a mass "illegal wedding" led by a female celebrant.
Dozens of couples interspersed in the crowd cried, hugged and held hands as she led the traditional vows.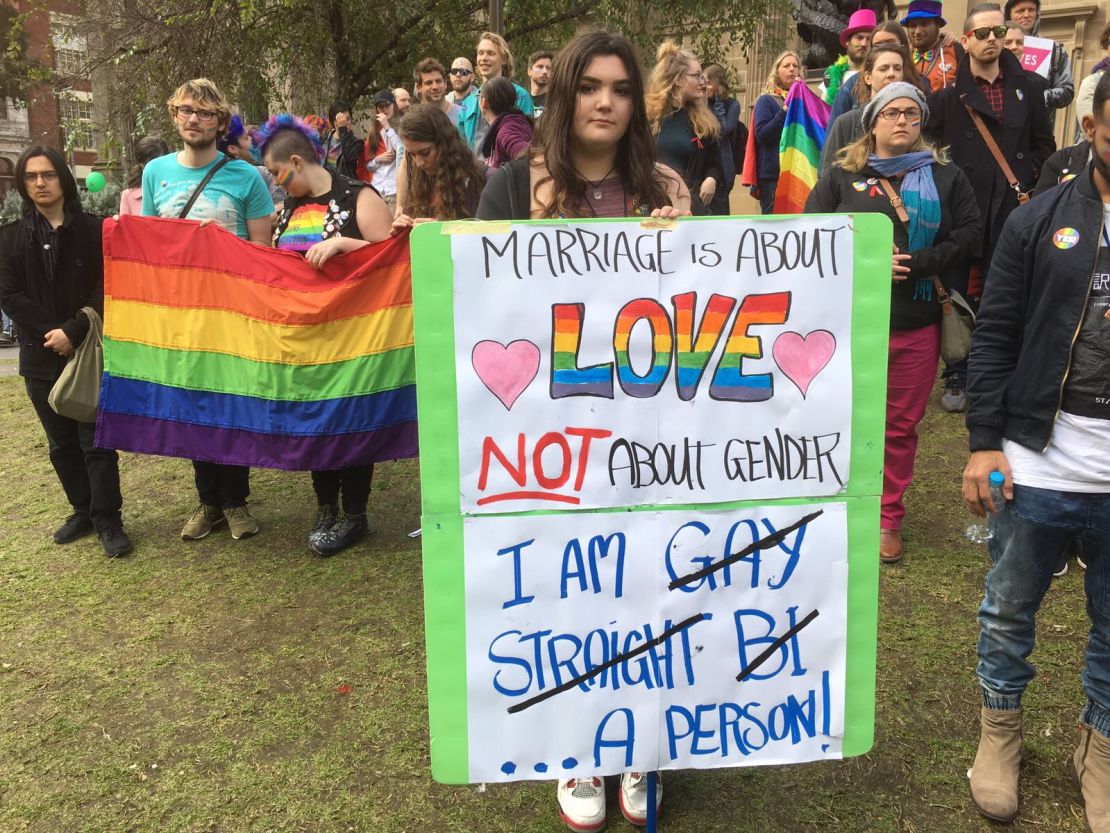 Postal vote challenged
Equality advocates are still hoping a High Court legal challenge will kill off the federal government's postal survey on same-sex marriage.
A push to stop the controversial survey will be heard in the High Court in early September just days before the vote is scheduled to begin.
While the "yes" vote campaign is gaining momentum in Australia, many leading conservative public figures strongly oppose gay marriage.
On Friday, the Archbishop of Melbourne, Denis Hart, wrote an open pastoral letter to the country's 5.2 million Catholics.
Archbishop Hart said it was important the church's "story" continued to be heard on important debates that shaped society, including marriage equality.
"Yes, human rights are important," he wrote. "But so are human responsibilities. We are responsible for the impact of our decisions on future generations."
His comments came after a week Hart controversially warned the church's own 180,000 staff employees that they would be sacked if they attempted to marry a partner of the same gender.
Other leading public figures joining in the fight against same sex marriage include former Prime Minister Tony Abbott.
The former PM, who was dumped in 2015 by his own party in a leadership challenge, said it would amount to an "officially sanctioned de-gendering of marriage."
The result of the postal vote – if it goes ahead – will be announced in November.