Story highlights
Mayweather's record is now 50-0
It was McGregor's first boxing match
In a result that shocked few, Floyd Mayweather Jr. defeated Conor McGregor by technical knockout before a crowd of 14,623 at T-Mobile Arena in Las Vegas on Saturday.
McGregor, though, surprised many by going toe to toe with Mayweather until the 10th round.
"He's a lot better than I thought he was," Mayweather said after the bout.
Mayweather's record is now 50-0, surpassing Rocky Marciano, who went 49-0. After Saturday's win, Mayweather said this was the final fight of his career, calling McGregor "a hell of a champion."
"A win is a win, no matter how you get it," Mayweather said. "Rocky Marciano is a legend, and I look forward to going into the Hall of Fame one day."
Living up to the hype
The only certainty of this fight was that it would be a spectacle not seen before. It lived up to the hype.
Two different sports worlds collided into a 12-round junior middleweight boxing match: Mayweather, considered one of the best defensive boxers of all time, coming out of retirement at age 40, his last fight a unanimous decision victory over Andre Berto on September 12, 2015. McGregor, 29, is the current UFC lightweight champion and the most exciting draw in mixed martial arts today – but it was his first professional boxing match.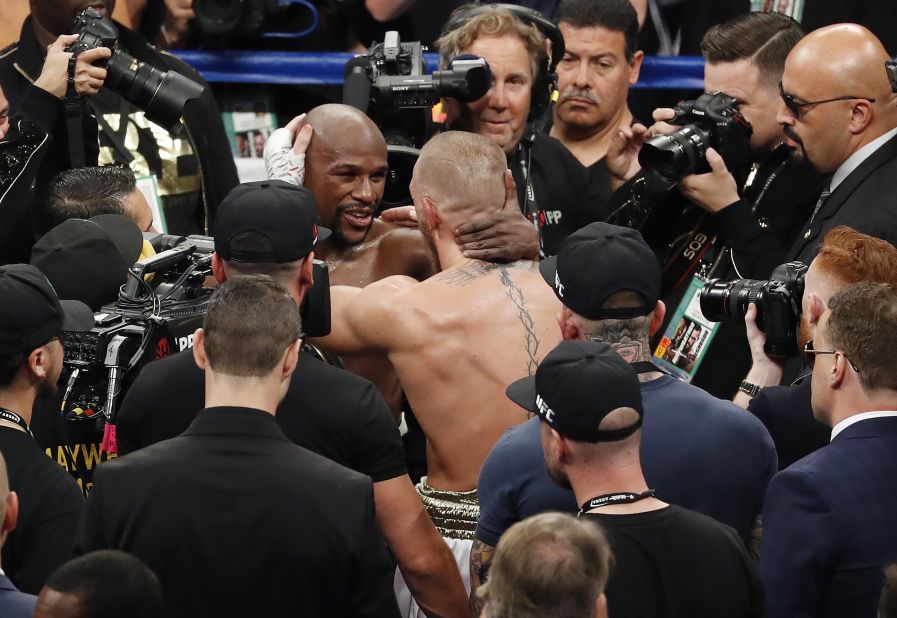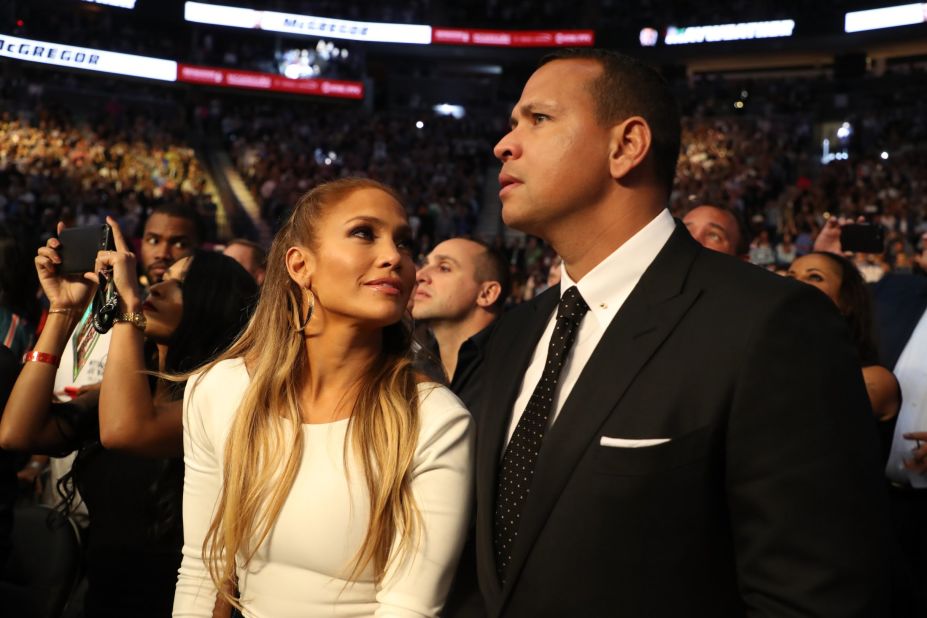 Mayweather finishes McGregor in 10th round
It was billed as the first boxing-UFC crossover bout in history. It pitted youth vs experience. But it was a boxing fight with boxing rules, meaning McGregor couldn't kick or wrestle like he would in a UFC bout.
The speculation in the weeks leading up to the fight undeniably had Mayweather – who hasn't lost since 1996 in the Olympics when he was an amateur – as the heavy favorite. Heading into Saturday night, boxing aficionados viewed the fight as a joke.
It was no joke.
McGregor came out aggressive, throwing several punches in the first three rounds. Mayweather controlled the next three rounds, and it was close to an even fight through six.
But McGregor was running out of steam, and Mayweather took advantage, landing several blows on the exhausted Irishman in the 10th round.
Mayweather landed more punches than McGregor, 130-60, in rounds six through 10 after McGregor had a 51-40 edge in the first five rounds.
"Our game plan was to take our time, go to him, let him shoot his shots early and then take him out down the stretch," Mayweather said. "We know in MMA he fights for 25 minutes. After 25 minutes, he started to slow down. I guaranteed to everybody that this wouldn't go the distance."
McGregor said he thought it was an early stoppage by the referee.
"I get a little wobbly when I'm tired," he said. "But get me in the corner and I'll recover and I'll come back. There's a lot on the line here – he should have let me keep going until I hit the floor. I was just a little fatigued. (Mayweather) was a lot more composed, especially in the later parts of the fight."
When asked if he would box again, McGregor said, "I don't know. I'm having a ball."
Will he return to UFC? "Of course," he said.
Stars turning out for the spectacle
This was hardly viewed as a matchup against equals in the boxing ring. Sure, McGregor has held UFC championships in two weight classes. But the sheer thought of McGregor knocking out the veteran Mayweather felt borderline absurd.
Additionally, the lead-up to the bout had a disturbing dark side.
The two fighters embarked on a four-city media tour this summer spanning the United States, Canada and England. Though there were no physical blows at those, Mayweather, who has a record of domestic violence, and McGregor exchanged verbal jabs full of profanity, racism, homophobia and misogyny.
Yet, despite the hatred on full display by both men, fans and celebrities expressed interest in this fight. The stars were out in full force Saturday at T-Mobile Arena, including LeBron James, Mike Tyson, Jennifer Lopez, Alex Rodriguez, Bruce Willis, Jamie Foxx, Olivia Munn, William H. Macy, Don Cheadle, Jeremy Piven, Nick Cannon and Ozzy and Sharon Osbourne. Earlier this summer, estimates of 10,000 fans attended the media tour in Los Angeles. There were 15,000 in Toronto, 13,000 in New York and another 10,000 in London.
And maybe the thought of McGregor pulling off the unthinkable was a reason why people shelled out $99.95 to watch the fight on pay-per-view in the United States. But not all viewing went smoothly. According to Showtime Sports, there were reports of "scattered outages" from various cable and satellite providers and the online offering. Showtime Sports delayed the start of the main event slightly to allow for systems to get on track. It was a short delay.
But after all that jawing and waiting, did it really matter who won? Both fighters are expected to leave the ring with hefty paydays. According to CNNMoney, industry experts have speculated that the fight could surpass $500 million, which was a record set by the Mayweather vs. Manny Pacquiao fight in 2015.