A day after predicting "global catastrophe" if North Korea's nuclear tests lead to anything other than talks, Russian President Vladimir Putin has said the situation may be "impossible" to resolve.
Putin made the comments after meeting with South Korean President Moon Jae-in on the sidelines of the Eastern Economic Forum in Vladivostok, Russia.
Putin repeated his assertion that sanctions and pressure won't be enough to rein in North Korea.
"Do not succumb to emotions and drive North Korea into a corner. Now more than ever, everyone needs to be calm and avoid steps that lead to an escalation of tension," Putin said.
Without the political and diplomatic tools, it is extremely difficult to move the situation around. And to be more precise, I think it is impossible at all," he added.
Tensions over North Korea's nuclear program intensified this week after Pyongyang's boast Sunday that had it successfully tested a hydrogen bomb that could be mounted on a missile.
The weapon that makes N. Korea more dangerous
During his Russia visit, Moon spoke warmly of his relationship with Putin, saying the two were "friendly" and shared the same aims. "Especially regarding the new East policy you are pursuing and the new defense policy I am pursuing, it makes me feel that we are dreaming the same dream," said Moon.
However, he had own stark message about the situation on the Korean Peninsula: "If North Korea's provocation doesn't stop here, I think could fall into an uncontrollable situation."
Russia has played a much more visible role in the North Korea crisis since the nuclear test.
John DeLury, a professor at Yonsei University in South Korea, says the meeting in Vladivostok is part of Putin's efforts to increase Russia's presence in East Asia.
"Because the Americans are sending mixed signals, Putin probably sees an opening to take the lead," he said.
While US Defense Secretary James Mattis warned of a "massive military response," US President Trump suggested a massive clampdown on trade with countries that do business with North Korea. That would include China.
Trump is scheduled to have his first conversation with Chinese President Xi Jinping since the nuclear test at 9 a.m. ET Wednesday.
Putin was in China the day of the nuclear test and has already had an audience with the Chinese leader.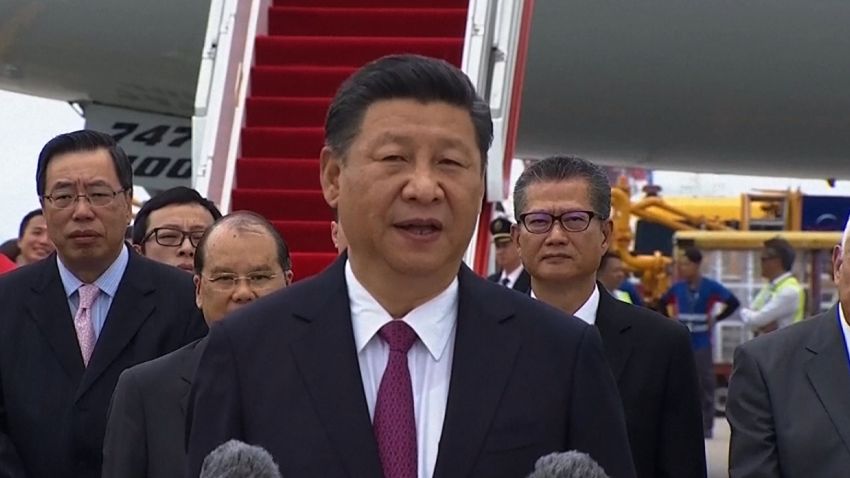 China to hold bilateral talks with Russia
'No bright future'
On Thursday, Putin will hold separate talks with Japanese Prime Minister Shinzo Abe, who on Wednesday warned North Korea to reconsider its current path.
"We should make North Korea understand that it has ​no bright future if it continues its current path, and change its current policy. Japan and Russia will work together in the international society for that," Abe said in a televised statement.
Meanwhile, Japanese Defense Minister Itsunori Onodera said the explosive device detonated deep under a North Korean mountain Sunday had a yield of up to 160 kilotons. Previous estimates have ranged from 50 kilotons to 120 kilotons.
"It is far bigger than past (North Korean) nuclear tests," said Onodera. "The fact that a nuclear bomb with a certain level of energy output has been developed, is a large threat not only for Japan but for the international society."
Amid soaring tensions, the South Korean Defense Ministry said Wednesday it had been given approval to install four remaining launchers for the US anti-missile defense system THAAD (Terminal High Altitude Area Defense). These are in addition to two THAAD launchers already in place at the country's Seongju base.
Both Russia and China have criticized the THAAD deployment. Chinese Foreign Ministry spokesman Geng Shuang warned that it "can only severely damage the strategic security balance in the region," harm the strategic interests of other countries such as China and cause further antagonism on the Korean Peninsula.
'Gift package for the US'
North Korea has shown no signs of changing its tone or ambitions. The country's official news wire quoted a senior official Wednesday expressing pure joy over Pyongyang's nuclear prowess.
"Picturing to myself the US, the cursed state of aggression, being submerged in a sea of fire by our H-bomb-loaded ICBM for its slightest provocation, I cannot repress my excitement," Ko Hyok Chol was quoted as saying.
And, at a Conference on Disarmament in Geneva on Tuesday, North Korea's ambassador to the United Nations called Sunday's nuclear test a "gift package" for the US – and warned there would be more.
"The US will receive more gift packages from my country as long as it relies on reckless provocations and futile attempts to put pressure on the DPRK," Han Tae-song said, referring to the acronym for the country's official name, the Democratic People's Republic of Korea.
The most alarming aspect of North Korea's nuclear test is that it's developing the technology alongside efforts to improve the accuracy and payload of its long-range missiles.
North Korea claims it now has a nuclear warhead that's able to be mounted on an intercontinental ballistic missile. Those missiles, successfully tested twice in July, have the ability to reach the US mainland, North Korea says.
Experts say the distance and trajectory achieved in recent missile tests show that North Korea's claims to be able to hit the US could be legitimate.
Either way, it's too dangerous to assume North Korea is bluffing.
South Korean navy stages new live-fire drills
US, China Presidents to speak
While it's not clear how – and if – the North Korea issue will be resolved, the US has flatly rejected a Chinese proposal, backed by Russia, for a suspension of hostilities on both sides.
Known as "freeze for freeze," the proposal calls for Pyongyang to freeze its nuclear program in exchange for the US and South Korea suspending their joint military drills.
"The idea that some have suggested a so-called 'freeze for freeze' is insulting," US ambassador to the UN Nikki Haley said Tuesday.
Haley: Kim Jong Un is begging for war
"When a rogue regime has a nuclear weapon and an ICBM pointed at you, you do not take steps to lower your guard. No one would do that. We certainly won't."
Daniel Pinkston, professor of international relations at Troy University, in the US, agrees the "freeze for freeze" deal doesn't make sense.
"I don't think it's an equitable exchange. On the one hand it's asking North Korea to freeze or do what it's already supposed to be doing under international law," Pinkston said.
"In terms of exercises, all militaries train and do exercises … If the military does not train and they're not prepared … South Korea will be more vulnerable. They'll be weak and they'll be more susceptible to North Korea exploiting that power. So I think that helps stabilize the situation," he said.
Xi has made few comments since Sunday's test, and all but ignored the issue in closing statements to the BRICS summit on Wednesday.
China has consistently called for an easing of tensions and has backed Russia's calls for talks.
Clarification: Some quotes in this story have been altered to match the official translation.
CNN's Stella Ko, Taehoon Lee and Nanlin Fang contributed to this report.