Story highlights
THAAD rollout began earlier this year
The system is highly controversial both within South Korea and with its neighbors
South Korea says it expects another North Korea intercontinental ballistic missile (ICBM) launch "on September 9," according to the country's Prime Minister Lee Nak-yon.
"The situation is very grave. It doesn't seem much time is left before North Korea achieves its complete nuclear armament," the prime minister told a meeting of defense ministers in Seoul Thursday. "Some believe North Korea may launch another intercontinental ballistic missile (ICBM) on the 9th; this time at an ordinary angle"
"A special measure is urgently needed to stop their recklessness."
Earlier Thursday, the final parts of a controversial US missile defense system arrived at a base in South Korea as hundreds of protesters thronged the area amid a huge police presence.
Protesters scuffled with armored riot police as they attempted to block the road where US Forces Korea were transporting four additional THAAD missile interceptor launchers to a base in Seongju, around 300 kilometers (186 miles) south of Seoul. Two launchers have been operational at the site since May.
That rollout was "temporarily" completed Thursday, a spokesman for South Korea's defense ministry said, adding it was necessary to counter increased threats from North Korea.
South Korea President Moon Jae-in met with Japanese Prime Minister Shinzo Abe Thursday morning in Vladivostok where they're attending the Eastern Economic Forum, hosted by Russian President Vladimir Putin.
After the meeting, Abe and Moon issued a statement saying "now is the time to further increase sanctions and pressures against the North as much as possible rather than seeking dialogue," according to Moon's spokesman Yoon Young-chan.
The two leaders felt Russian and Chinese involvement was paramount and agreed to work towards that goal, Yoon said. Abe is due to meet Putin separately later today.
THAAD fallout
Opposition to THAAD has been fierce both within South Korea and without.
As the additional missile launchers arrived in Seongju late Wednesday, they were met by hundreds of protesters, who believe the system's presence could lead to environmental and health problems.
THAAD has also been opposed by peace campaigners, who have held rallies in Seoul and other cities warning it could lead to an escalation of tensions with North Korea.
Speaking to CNN this week, Moon Chung-in, a special adviser to South Korean President Moon Jae-in, said the government had dropped its previous skepticism over THAAD "partly because of American pressure and partly because of the heightened threat of North Korea."
It has also caused diplomatic rifts between South Korea and its neighbor China, which Seoul says imposed unofficial sanctions on it after deployment began, with Chinese tourist groups encouraged to boycott South Korea and Chinese consumers attacking Korean companies online.
Chinese Foreign Ministry spokesman Geng Shuang warned this week that further THAAD deployment "can only severely damage the strategic security balance in the region," harm the strategic interests of other countries such as China and cause further antagonism on the Korean Peninsula.
Russia has also criticized the move.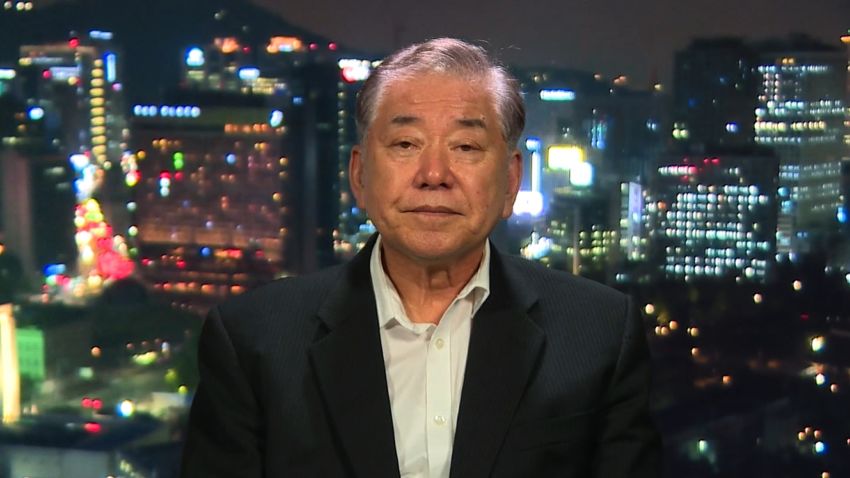 S. Korea Adviser: President Moon 'agonizing' over N. Korea
Seoul-Washington rift
During his election campaign earlier this year, President Moon was a noted skeptic of THAAD, and called for greater dialogue with North Korea.
His efforts have been hampered by bellicose rhetoric on all sides of the North Korean issue, and worsening relations between Seoul and Washington.
US President Donald Trump criticized Moon this week for seeking "appeasement" with Pyongyang, while in August, Moon issued a forceful statement rebuking Trump's threats of "fire and fury" against North Korea, saying that any military actions on the Korean Peninsula must be made in consultation and with agreement from Seoul.
Though he took a more critical view this week, Moon previously raised the notion of military talks between North and South as a way to possibly ease the growing strain. Trump, who also once favored talks with Pyongyang, recently said this was "not the answer."
He has also publicly weighed scrapping a US trade deal with South Korea in a bid to fulfill promises he made during the election campaign, and threatened to make South Korea pay for THAAD, even though it was Washington pushing for the system's deployment.
"If we work together, we can come up with a collective solution to the North Korean problem," Moon Chung-in said.
He pointed to the Iran nuclear deal, which was negotiated successfully by the Obama administration but has looked fragile under Trump, saying "if the US had spent even one fifth of the time and effort on the North Korean issue compared with the Iranian case, then the North Korean nuclear issue could have been resolved."
Correction: a previous version story wrongly attributed the headline quote to the South Korean defense minister, not the prime minister. It has now been updated.
Taehoon Lee reported from Seoul, South Korea. James Griffiths reported and wrote from Hong Kong.